Millennials are just not that into credit cards—or at least that's what PayPal co-founder Max Levchin is betting on as he pursues his newest venture, an online consumer finance startup called Affirm.
Affirm is a new type of online lender that lets shoppers buy things like televisions and mattresses from online retailers at the point of sale and pay for them over time through a set payment plan. Unlike with layaway programs, shoppers receive their goods right away. Consumers still incur interest charges (10 to 30% APR), but unlike credit cards, Affirm doesn't charge compounding interest, and shoppers must commit to pay off the purchases over three, six, or 12 months.
On Wednesday (May 6), Affirm announced an influx of cash it says it will use to sign up merchants and attract new users. The $275 million in debt and equity financing was led by Spark Capital Growth and also includes Jefferies and Andreessen Horowitz. The money follows $45 million in VC funding last year. Affirm declined to disclose its current valuation.
Levchin tells Quartz the idea behind Affirm is that people don't want to burrow into debt—or pay the high interest rates of retail store cards—just to pay for a new watch or a Christmas gift. However, they do want the option of paying off a bigger purchase over a longer time frame. They just don't want to use a credit card to do it.
Younger consumers in particular have fallen out of love with credit cards, according to a recent Affirm survey (which mirrors previous Federal Reserve data). American millennials increasingly don't trust banks and are taking on less credit card debt.
Fewer than 20% of people aged 18 to 24 prefer using a credit card, and while debit beats out all other payment methods, many still choose to pay in cash before they would charge a purchase, according to the Affirm survey.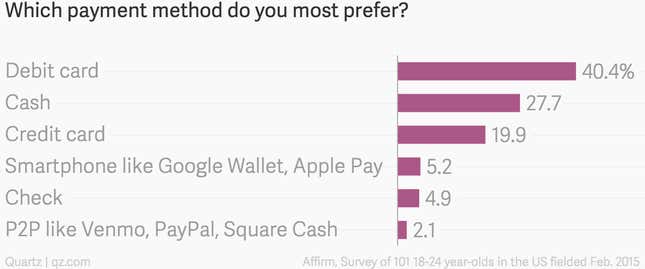 Since many of its customers are under age 30 and have little credit history, traditional assessments of borrower risk don't cut it, Levchin tells Quartz. So instead of just using popular credit score data (such as the widely used FICO score), Affirm brings in a bunch of other data from public sources such as Facebook and LinkedIn. It turns out, the amount of time a person has been employed can be a good indicator of creditworthiness since it helps explain how consistently cash comes in, Levchin says.
"You can't replace the traditional debt to income ratio with your Facebook friend count, but you can use nontraditional data to reduce risk and better analyze customers," he says.
But there's still a long way for Affirm to go if Levchin wants to come close to replicating the success he enjoyed at PayPal, which bought a merchant financing arm in 2008 (formerly Billmelater.com) that serves Walmart and thousands of other retailers. Newly empowered by its impending split from parent company eBay, PayPal could dive even deeper into this business.
Since Affirm launched in 2012, the company has signed up only about 100, mostly smaller retailers. And it faces plenty of competition from other flexible financing upstarts such as Dwolla, as well as from e-commerce giants including Alibaba, Google, and Amazon, which each have their own payment systems.