It might not be Whole Paycheck much longer.
Whole Foods, the high-priced premium food retailer, is doubling down on its push to cut prices. Recently, it began slashing prices in cities around the US. Now it says it's developing a new store concept specifically targeting millennials and featuring "value prices." The stores will begin opening in 2016.
And as a result, Whole Foods' financials are going to look a lot more like that of a traditional grocery store, complete with the increasingly thin profit margins. In fact, it's already happening.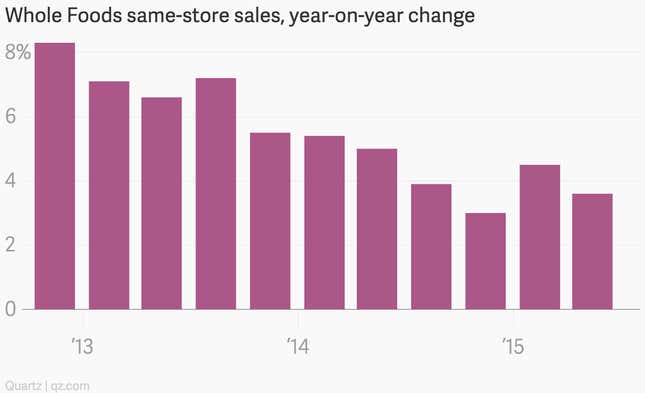 Whole Foods' stock plunged today (May 6) in response to the company's second-quarter earnings report and its new-store announcement, falling more than 11% in after-market trading today.
And for good reason. Same-store sales were up 3.6% in the second quarter, compared to the same period last year. That's down from the 4.5% annual growth that Whole Foods posted in its first quarter, so the lower-price strategy isn't exactly generating gangbusters top-line growth. At the same time the price cuts are pressuring profit margins. And that's not exactly a healthy recipe for any business.