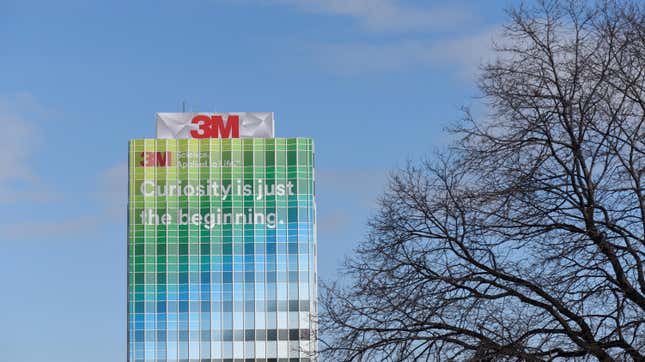 3M fired an executive who had been at the company for 30 years weeks after promoting him to a top role.

The company, which produces tape, surgical masks, and other industrial products, fired Michael Vale "due to inappropriate personal conduct and violation of company policy," it announced in a press release yesterday (May 15), without addressing the specifics of the wrongdoing. Vale was dismissed on May 12, after the company learned of and verified the alleged violation.
The Minnesota-based maker of Post-It Notes clarified Vale's termination had nothing to do with the company's operations or financial performance. In fact, Vale had been promoted to 3M's group president and chief business and country officer on April 25. He was put in charge of three of the company's three business groups (safety and industrial, transportation and electronics, and consumer), customer operations, country governance, and emerging markets, reporting directly to chairman and CEO Mike Roman.

Who will replace Michael Vale at 3M?
The company initiated a search for Vale's replacement, it said in its press release. In the interim period, the leaders of each of the three individual units Vale oversaw will report to Roman directly.
One big number: Vale's million-dollar paycheck
$1.62 million: Vale's yearly cash compensation as of April 1, 2022, according to a May 9 company shareholder report. He was among the five highest-paid 3M execs last year.
Company of interest: The Toro Company
Three days after he was fired from 3M, on May 15, Vale resigned as a board member of landscaping equipment firm The Toro Company, effective immediately. "Mr. Vale's resignation was not the result of any disagreement with TTC on any matter relating to TTC's operations, policies or practices," the Minnesota-based company said. They did not specify why he resigned.
One more thing: Job cuts at 3M
While announcing first-quarter results in April, 3M said it was cutting 6,000 positions worldwide, including senior roles, as part of restructuring efforts to bring annual costs down by $900 million. This was in addition to the 2,500 manufacturing jobs it said it would slash in January.
Related stories
🗣 3M's CEO makes it his business to diversify leadership, even if it means bigfooting his own managers
👀 NBCUniversal's CEO has quit after having an "inappropriate relationship" with a colleague
✋ Five things American Apparel's Dov Charney didn't get fired for