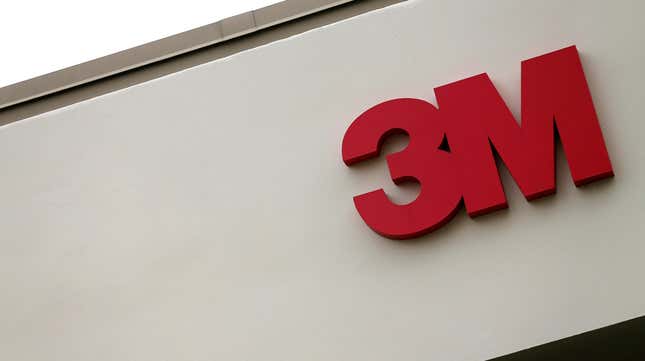 3M has agreed to pay more than $5.5 billion to resolve some 300,000 lawsuits claiming it sold defective combat earplugs to the US military—just a little over half of what its litigation liability would gave been otherwise.
Should you keep investing in Big Tech?
The St. Paul, Minnesota–based equipment manufacturer will pay over the next five years, according to Bloomberg, which first reported details of the settlement on Aug. 27.

The litany of lawsuits allege that 3M knew its earplugs—standard issue for soldiers in Afghanistan and Iraq between 2003 and 2015—were too short and didn't form a proper seal to prevent inner ear damage. They also charge that the company failed warn the US government or users, or take steps to fix the product.
Without this settlement, the maker of Post-It Notes and Scotch Tape was looking at upward of $9.5 billion in potential liability from the defective earplug lawsuits, according to Bloomberg Intelligence.

A brief timeline of 3M's combat earplugs lawsuits
April 2008: 3M buys personal protective equipment maker Aearo Technologies.
May 2016: A whistleblower suit accuses 3M of selling "dangerously defective" earplugs.
July 2018: 3M agrees to pay $9.1 million to resolve allegations that it knowingly sold the less-than-effective earplugs to the US military "without disclosing defects that hampered the effectiveness of the hearing protection device," according to the US Department of Justice.
April 2019: The 3M defective earplug cases are consolidated in multi-district litigation before a federal judge in Florida.
July 2022: In an effort to contain fallout from the cases, 3M tries to get Aearo Technologies to file for bankruptcy.

June 2023: A bankruptcy judge tosses out Aearo's case, saying the bankruptcy filing was "fatally premature" because 3M faced no financial insecurity due to the numerous earplug lawsuits. The company appeals.
3M settlement of interest: PFOA and PFAS, or "forever chemicals"
It's been a summer of settlements for 3M.
In June, the company agreed to pay at least $10.3 billion over the next 13 years to settle current and future claims over dumping so-called "forever chemicals"—the colloquial term for man-made chemicals perfluorooctanoic acid (PFOA) and perfluorooctane sulfonate (PFAS)—in drinking water systems across the US. With the deal, the industrial giant resolved a number of cases, including a trial that was delayed at the last moment as settlement talks wrapped up.
3M, which invented the chemical C8—the PFOA named after its eight-carbon chain structure, infamously used in Teflon non-stick—in 1947 and manufactured it until 2000, isn't done with PFAS-related lawsuits. It faces a spate of them, including those filed by individuals with personal injury and property damage claims. Others are by US states over harm to natural resources such as rivers and lakes, damage that wasn't accounted for in the June settlement.
3M's faulty combat earplugs lawsuits, by the digits
6.1%: 3M's stock bump in premarket trading Monday (Aug. 28) on the news of the settlement
10 out of 16: Early trials over the earplugs that 3M has lost so far
$265 million: Total awarded to 13 plaintiffs who have sued over the earplugs to date
971,990: Tinnitus claims lodged with the US Veterans Administration in 2012, according to government records
336,995: Lawsuits filed as of June 15, 2023, according to the US Judicial Panel on Multidistrict Litigation. Of these, 254,943 cases were still pending
Related stories
⚖️ 3M's $10.3 billion "forever chemicals" settlement is also an armor against future lawsuits
💸 California's lawsuit against "forever chemicals" makes bold demands for contamination compensation
🏭 Dupont and 3M knowingly contaminated drinking water across the US, lawsuits allege