Filmmaker Wes Anderson has a knack for creating fictional spaces with attention paid to the last excruciating detail. His latest space is real, though, and even better, you can get a drink there.
On May 9, the Fondazione Prada, which is fashion brand Prada's foundation to support the arts, architecture, film, and "philosophy projects" is opening its newly expanded Milan complex to the public. Three new buildings, which were part of a century-old distillery and transformed by renowned Dutch architect Rem Koolhaas, will now house art rather than alcohol. But for the thirsty there's also a new bar, called Bar Luce, that Anderson designed himself.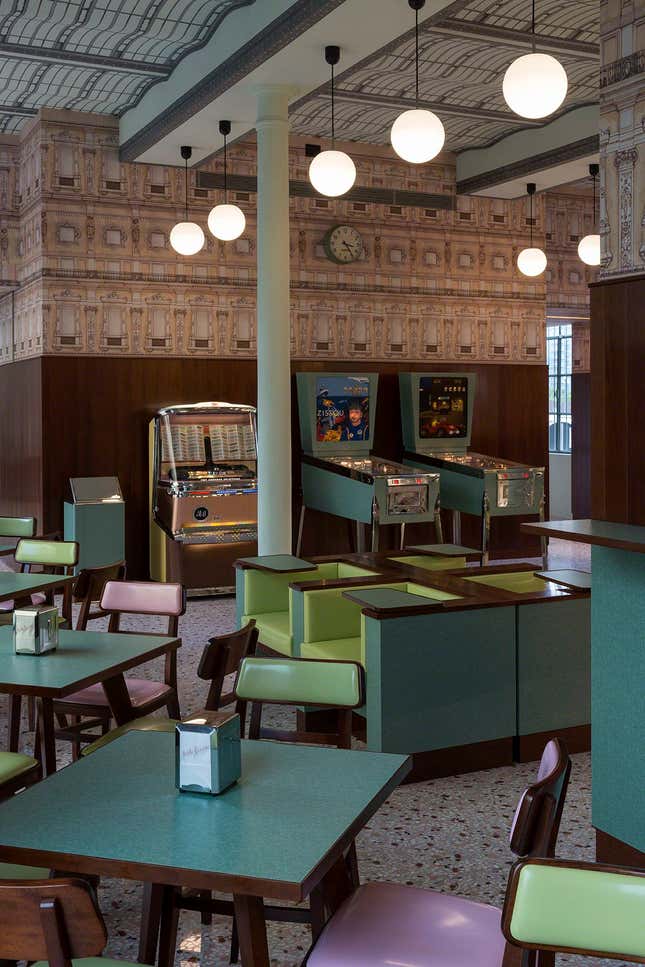 According to the press release, it's modeled after a "typical Milanese café." Being that this is a Wes Anderson project, however, that "typical" café is from the 1950s, and it's got his fingerprints all over it.
Sage and pale pink, as well as Anderson's beloved wood panelling, which filled the aging Tenenbaum manor in "The Royal Tenenbaums," dominate the decor. It also has pinball machines, one based on his movie "The Life Aquatic with Steve Zissou," a juke box, and last but not least, a beautifully lit bar.
"The seats, formica furniture, floor, veneered wood wall panels and the range of colors employed are reminiscent of Italian popular culture and aesthetics from the 1950s and 1960s," the press release states.
Anderson evidently wanted it to be the sort of place people could spend a few hours in, sipping espresso or Negronis.
"It is for real life, and ought to have numerous good spots for eating, drinking, talking, reading, etc." he said in a statement. "I tried to make it a bar I would want to spend my own non-fictional afternoons in."
It's also a good place to get a bite to eat, if you need a quick recharge as you walk the complex grounds.
The complex's attractions go far beyond the bar. The first exhibition in the new space, "Serial Classic," examines the way Roman artists copied their Greek forebears. It includes a series of stunning sculptures assembled in an equally stunning space.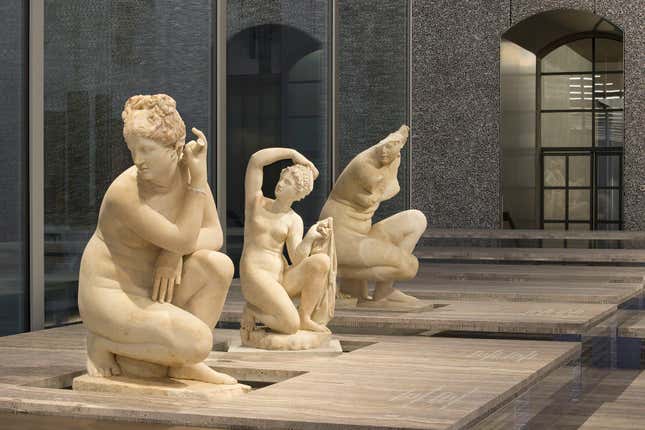 The collection isn't strictly classical either. It spans a range of styles and includes this curious object by Damien Hirst.
There's plenty to see, well-suited for a long layover in Milan, perhaps on your way home from the Venice Biennale.