So it looks like Spotify wants to take on YouTube in video.
This morning the Swedish based streaming music company sent out an invite to reporters for what looks like a major product announcement in a couple of weeks time. Shortly after, a report surfaced on the Wall Street Journal (paywall) stating that the company is about to unveil plans to enter the online video business.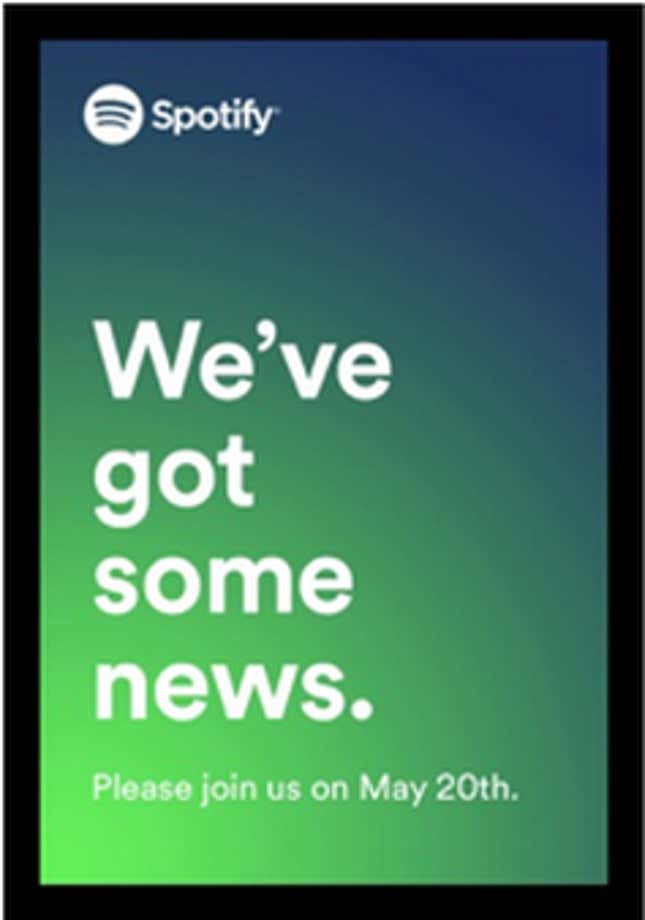 It's been talking to YouTube creators,  digital outlets and even traditional media companies about original content partnerships, according to the report. The Swedish streaming music provider, which just raised a big wad of cash from investors, isn't responding to calls and emails from Quartz.  CEO Daniel Ek did send out this cryptic tweet, which, for what it's worth, seems to presage a move into online poetry.
As others have cleverly pointed out, a move into video could make sense for Spotify, simply because it's so hard to make money in streaming music. Any media company worth its salt is exploring digital video at the moment. Online outlets can charge more for video ads than they can for traditional web (display or banner) ads. Spotify already has a video advertising product, that gives users of its free service the ability to unlock blocks of free listening by watching them.
Free online video is a huge and rapidly growing market. It is also an extremely crowded one. YouTube, is the dominant player, with 1 billion users, but the Google-owned video upload site is facing stiff competition from Facebook and  Yahoo, all of which have far bigger audiences than Spotify. (It said it had 15 million subscribers and 60 million active users in January).
Spotify is primarily a subscription-based business. If it decided to go down that same path in online video it would be joining an equally crowded market, one currently dominated by Netflix. But it wouldn't be the first streaming music provider to attempt this. Rdio had a shortlived online video service, offering downloads and streaming subscriptions. It lasted barely six months. 
So Spotify's (apparent) plans to jump into video  seem a little bit hazy right now. But at least we won't have to wait long for its plans to come into focus.