Fitbit, the maker of myriad step-tracking devices, has taken the first step to going public, lodging IPO documents with US regulators this afternoon.
There have been a string of high profile IPOs lately involving loss-making companies. Think Twitter in 2013, cloud storage company Box or most recently, Etsy. Fitbit, on the other hand, looks as healthy as its own employees are.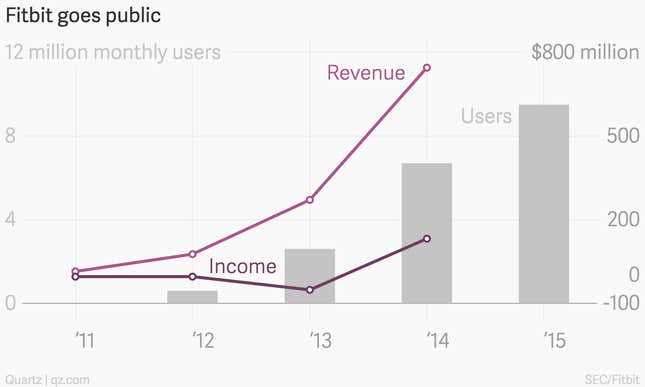 The company made a profit of $131 million in the last fiscal year, on $745 million in revenue. 2014 was the first profitable year for Fitbit, which according to an NPD Group report quoted in the IPO filing, now controls 68% of the US activity tracker market.
But Fitbit warns that while device sales and the (very literal) number of active users are trending up, there is still some work to be done to ensure long-term success:
While we achieved profitability in 2014, we have not consistently achieved profitability on a quarterly or annual basis. We expect expenses to increase substantially in the near term, particularly as we make significant investments in our research and development and sales and marketing organizations, expand our operations and infrastructure both domestically and internationally, develop new products and services, and enhance our existing products and services.