When two of the world's largest retailers start working together, it's worth paying attention.
Alibaba and Walmart said today (May 13) that they are teaming up to allow Walmart customers in China to make store purchases using Alipay Wallet, Alibaba's mobile payment service. And to entice consumers to pay at Walmart chains with Alipay, they will get cash back of up to RMB 15 ($2.42) on their purchases for the next month.
What's more, Alibaba said in a statement that the company will "explore further collaborations with the supermarket chain." A Walmart spokeswoman didn't immediately respond to a request for comment.
The partnership between the mammoth companies is unusual because Alibaba is one of Walmart's most formidable competitors.
For years, Walmart hopped from country to country opening up stores and earning the title of the largest brick-and-mortar retailer on earth (It operates 11,000 stores in 27 countries). In fact, when Walmart first came to China in 1996, Alibaba did not even exist yet.
Alibaba has rocketed to become China's—and the world's —largest e-commerce retailer. It's also become one of the most valuable tech companies on earth with its tentacles extending into more than a dozen kinds of businesses from wealth management to mobile messaging.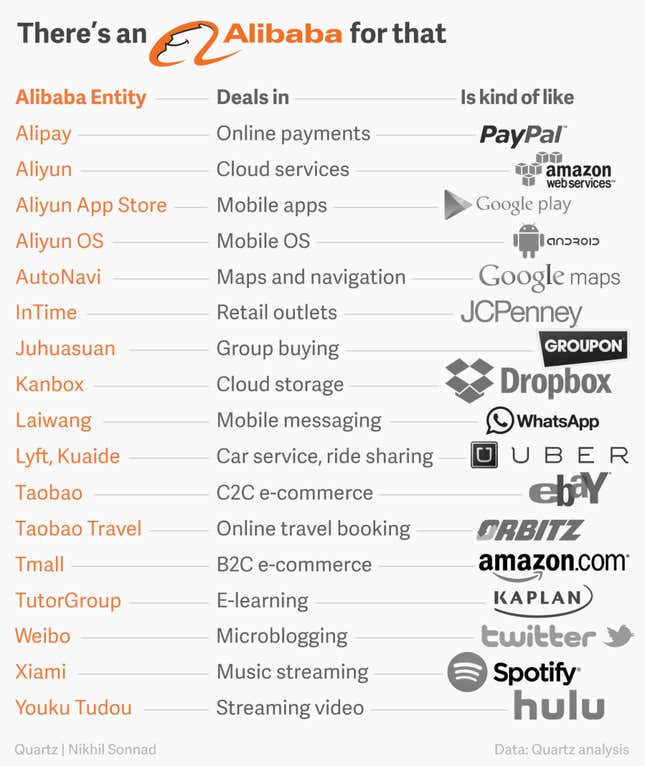 Meanwhile, Walmart's business in China has been struggling (paywall) to keep up with the rapid shift to online and mobile commerce, as well as food safety and labor concerns. Today it operates about 400 stores in China, as well as an online grocery store called Yihaodian.
The adoption of Alipay in China raises the question of whether Walmart is using the partnership as a test for how the retailer might be able to implement mobile payments in the rest of the world. Now that mobile phones are practically ubiquitous globally, retailers and tech companies are racing to find ways to make it easier for consumers to use their phones to pay for things inside stores. Gartner predicts mobile payment transactions will soar to $721 billion with more than 450 million users by 2017.
Companies including Google and PayPal, as well as phone companies and retailers, have tried to make inroads in mobile payment transactions for years, but consumers just haven't been all that interested. It remains to be seen if Apple will speed up adoption with last year's introduction of Apple Pay.
In the US, where many retailers quickly began accepting Apple Pay, Walmart has been the biggest and most vocal holdout (paywall). It has so far refused to accept payment through Apple's iPhones in favor of holding onto a mobile payment application it announced more than three years ago forged by a dwindling partnership of dozens of retailers. The move is aimed at avoiding the fees charged by credit card and mobile payments companies.
CurrentC is still in pilot mode and many retailers, including Walmart and Target, agreed not to accept mobile payment forms in the US from competitors including Apple Pay.
Alibaba's Alipay Wallet now has more than 270 million active users across 40,000 retail stores in China. If Walmart can boost sales or customer satisfaction by partnering with Alipay in China, it might consider other competitor partnerships elsewhere in the world.