Update (July 7): Harry Shearer will actually stay on The Simpsons, after negotiating a new four-year contract with Fox.
Ned Flanders. Principal Skinner. Mr. Burns. Smithers. Kent Brockman. Reverend Lovejoy. These are among the many distinguished supporting characters that actor Harry Shearer has voiced on The Simpsons for the past 26 seasons. Today, Shearer announced that his time with the legendary cartoon sitcom has ended.
Showrunner Al Jean confirmed the news in a statement, saying that the show will now try to recast his roles. Shearer's departure is reportedly the result of a contract dispute. If Shearer's Twitter account is any indication, the prominent actor and voice actor, who has worked on Saturday Night Live and starred in the cult mockumentary This Is Spinal Tap, was frustrated with the show's unwillingness to let him work on other projects. Jean, in his statement, claimed that Shearer, "was offered the same deal the rest of the cast accepted, and passed."
The obvious question now: What will happen to all of Shearer's characters? Initial reaction from fans on Reddit and Twitter seems to be that The Simpsons will never be the same without him. But the show must go on.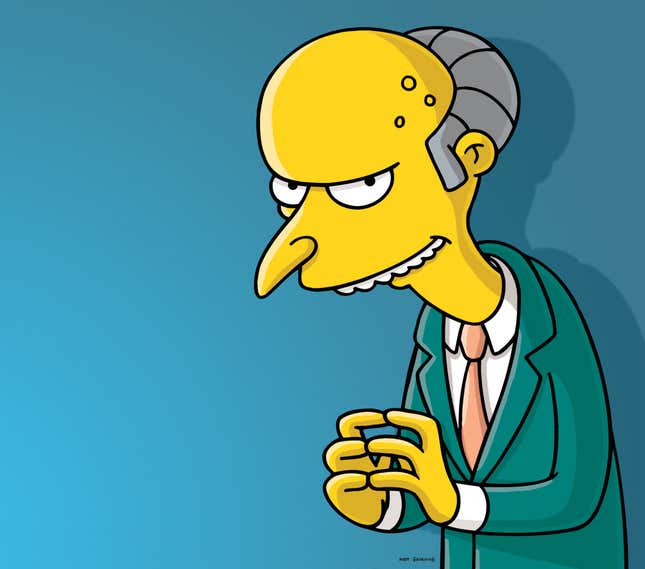 Some, or all, of the roles could be given to current cast members (like Dan Castellaneta, who, in addition to Homer Simpson, voices dozens of supporting characters) and they could attempt to mimic Shearer's voice. But more likely is the show will recast the roles with new people, and the results could vary. Some characters may sound nearly identical to how Shearer voiced them; others could sound completely different.
Another option is for the series to gradually phase Shearer's characters out of the story. While characters like Mr. Burns and Ned Flanders appear in episodes frequently, and are fan favorites, they aren't necessarily essential for the show to continue on. Jean is lucky that Shearer didn't voice anyone in the actual Simpsons family.
But should the show go on? Not only has the show, which debuted in 1989, arguably declined in quality over the past few years; its ratings have also plummeted. In January, its ratings fell to an all-time low, with just over 3 million people watching. Its 25th season averaged 5 million viewers per episode; in 2004 it was 11 million, and in 1994 it was 19 million.
The Simpsons is currently under contract for two more seasons, so it will run at least through 2017. But Shearer's departure is a sign of the decline of one of America's longest running and most celebrated series of all time.