As Urban Outfitters has fought to recapture the imagination—or at least the market share—of millennials, its Anthropologie brand has carried the company with strong sales of its more mature women's offerings. (Hemlines at Anthropologie generally fall much lower on the legs than those at Urban Outfitters, and "rompers" do not warrant categorization on the website.)
But in the first quarter of 2015, Anthropologie's overall performance, which showed just one percent growth in same-store sales, was a "disappointment and a bit of a surprise," said David McCreight, Anthropologie's CEO, on an earnings call yesterday.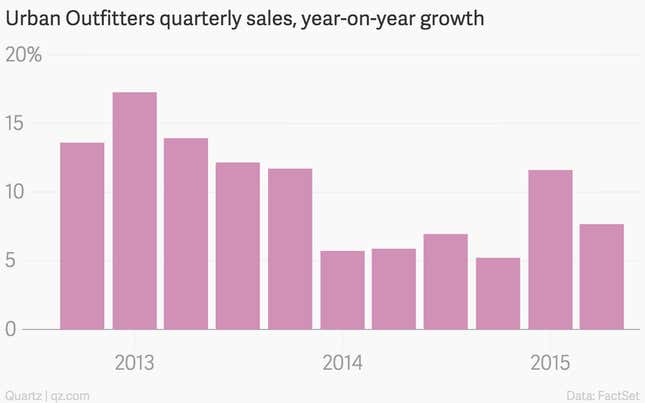 That said, McCreight said Anthropologie found a bright spot in its Bhldn (pronounced "Beholden") line, a collection that will not offer you a vowel, but will offer you and your bridal party romantic gowns to wear on your wedding day.
"Sales at Bhldn have skyrocketed," said McCreight. "Our unique and inspiring gowns have resonated with thousands of brides, and in the coming year, we will turn an eye to bridal party styles, with dresses and separates for bridesmaids and mothers."
Not only does Anthropologie have its eye on mothers-of-the-bride—a tough audience to please, to be sure—the company is also wants to get onto wedding gift lists. McCreight said home goods showed double-digit comparable store sales growth for Anthropologie—much stronger than other categories—and suggested those numbers were bolstered by the recent addition of a wedding registry service, which he didn't offer specific numbers on but said "has attracted thousands of brides."
What's more, McCreight said, the registry is like a gateway drug to the brand: 40% of the gift-givers have never shopped at Anthropologie before.
Come for the earthenware latté bowls, stay for the birdhouses and maxi-dresses.