You have probably heard by now that a woman wearing flat shoes—albeit, flats with rhinestones—was turned away from the red carpet at the Cannes Film Festival this week, due to inappropriate footwear. It seems this happened to a handful of women above the age of 50 (who knew they were even allowed at Cannes!?) and even to one amputee.
Festival organizer Thierry Frémaux has since said the confrontation was "the result of one security guard's excess of zeal." Quartz has contacted the Cannes Film Festival, and will update this post should we receive a relevant comment, but it takes only a quick scroll through red carpet photos to see that at Cannes, the women wear heels.
Men, of course, have no such obligation. Director Denis Villeneuve declared that he and actors Josh Brolin and Benicio del Toro would wear high heels to the May 19 premiere of their new movie, Sicario, in protest of the sexist, archaic dress code.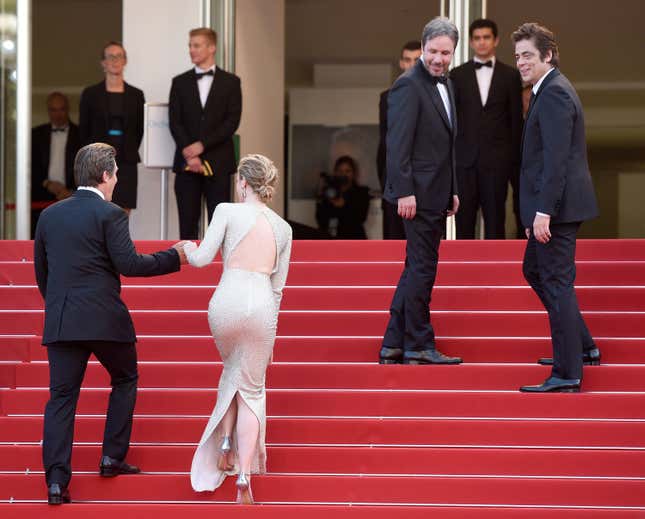 But in the end, they backed down. "I tried!" Del Toro told New York Magazine's Jada Yuan, at the film's after-party. "I tried to find high heels, but, sadly, I can't walk in them."
It's too bad, because not only would the men have likely looked lovely in their heels, it would have been in keeping with a historical sartorial precedent—just the sort of tradition that overzealous security guard seemed intent on maintaining.
Elizabeth Semmelhack, who is senior curator of Toronto's Bata Shoe Museum where the exhibition "Standing Tall: The Curious History of Men in Heels" is currently on show, said she closely followed the kerfluffle at Cannes.
"It really does prove the power the clothing, and how much we rely on it to either perpetuate gender stereotypes or to maintain some kind of social order," she told Quartz. "History has proven that the heel has no intrinsic meaning, it is simply given meaning through culture."
The higher the heel, the closer to God
According to Caroline Weber's essay in the book Killer Heels, some 2,000 years ago male Greco-Roman actors wore thick, cork-soled platforms to exaggerate their heights as they portrayed gods and royalty, bringing to mind the more recent adage, "the higher the heel, the closer to God."
It was likely Persian cavalrymen who brought heels into Western fashion in the last millennia, via global trade centers such as 16th-century Venice and the sartorial influence—and globalizing force—of the Persian ruler Shah Abbas, whose impressive military and diplomacy pushed Persian style into the European consciousness.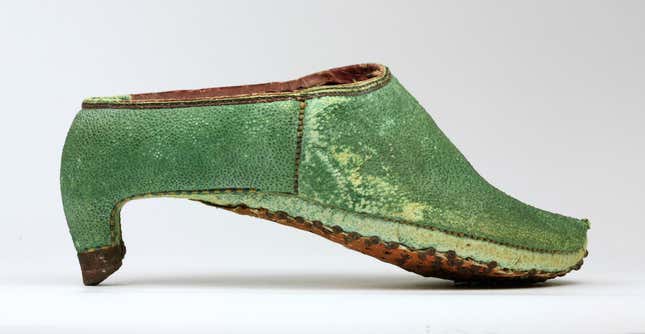 Ottoman Empire-inspired chopines ranging in height from six to—brace yourself—20 inches became de rigeur for women in Venice, where they not only held women's feet high above the sodden streets, they also implied a similarly high social stature. (Some accounts imply vertiginous shoes were for courtesans, not nobility; just as today opinions differ on whether towering stilettos are trashy or classy.)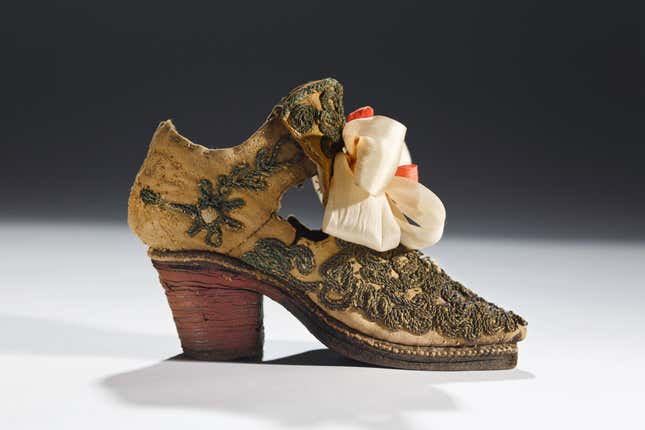 While womens' chopines had sex appeal—they were backless, so easy to kick off with reckless abandon—men wore heels too. They'd probably have you believe it was for mere practicality, easier to stand up in one's stirrups on horseback and so on, but they also conferred the appearance of status upon the wearer. According to the Bata Shoe Museum, the shape and height of the heel at left indicates that it belonged to a wealthy young boy in 17th century Europe. (Looks like Rachel Comey to me.)
King Louis XIV loved a good silk-covered heel, and wore them in red, which indicated social rank even in a pre-Louboutin age. Such a bourgeois association would later contribute to the decline of men in heels.
Don't blame Napoleon
Though some credit Napoleon Bonaparte's dislike of the male high heel with killing it—and wouldn't it be funny if history's favorite small man buried it?—Semmelhack said the trend's end was nigh before Bonaparte and his flats stepped onto the scene. (Seems he wasn't that short after all, either.)
"It wasn't driven by a single man and his ideas," said Semmelhack. "It was driven by a larger cultural trend."
And that trend was enlightenment thinking, which had the rather unenlightened effect of attributing feminine qualities to items of clothing seen to be frivolous, while associating less decorative clothing with the values of enlightened reasoning, and thereby, masculinity.
Or, as Semmelhack put it: "Heels are a little bit more irrational off the horse."
Au revoir, man heels.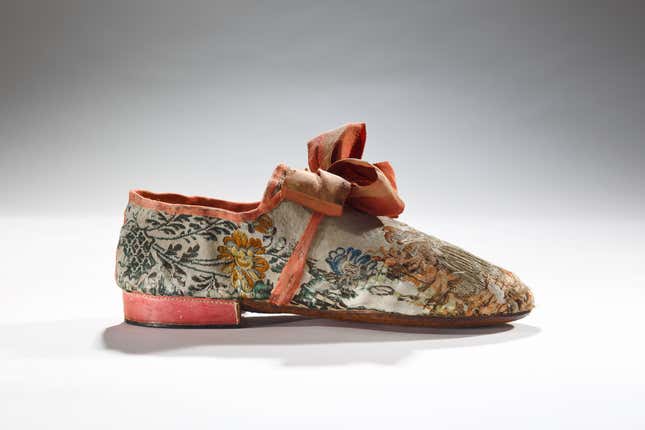 Rockstars and cowboys
As Quartz's Marc Bain has written, the Victorians solidified those traditional gender-based fashion rules. In recent decades, the high heel has been relegated to the men most secure with their sexuality: rockstars and cowboys.
"The cowboy is such a symbol of rugged masculinity," says Semmelhack. "And yet, he wears high heels."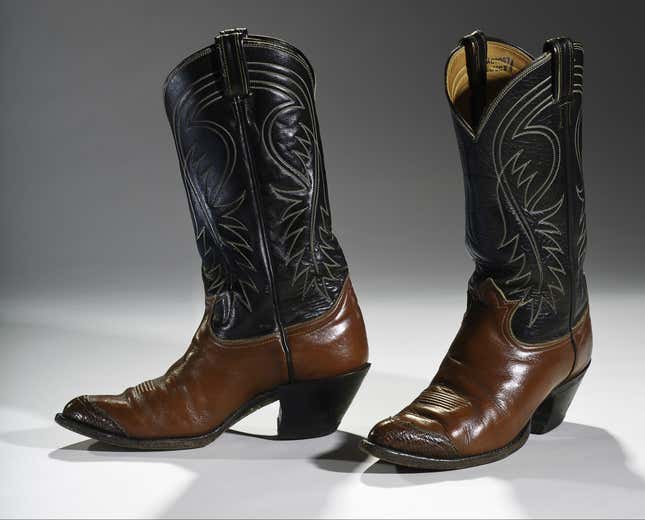 And he doesn't just wear them on the horse, he wears them when he drives his truck, he wears them to the bar, he even sings songs about wearing them out with his lady.
Meanwhile, for women, the high heel in the last century has taken on qualities of both empowerment and eroticism—forces that peacocking male rock stars such as Prince, Elton John, and David Bowie (who wore platforms in the '70s, and stilettos in the '90s) embraced to their fullest. (Also, this man.)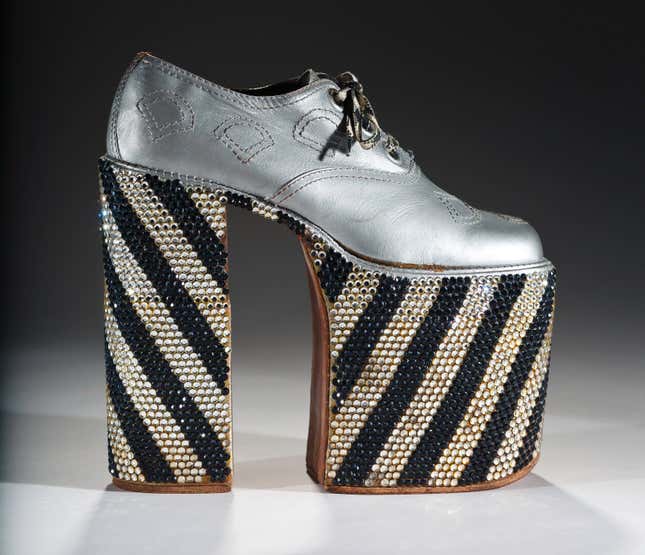 Even their mellower predecessors, including John Lennon and Bob Dylan, understood the appeal of a generously heeled Chelsea boot. According to the Bata Shoe Museum, Chelsea boots like John Lennon's, pictured below, verged from tradition by borrowing the elevated heel of a flamenco boot.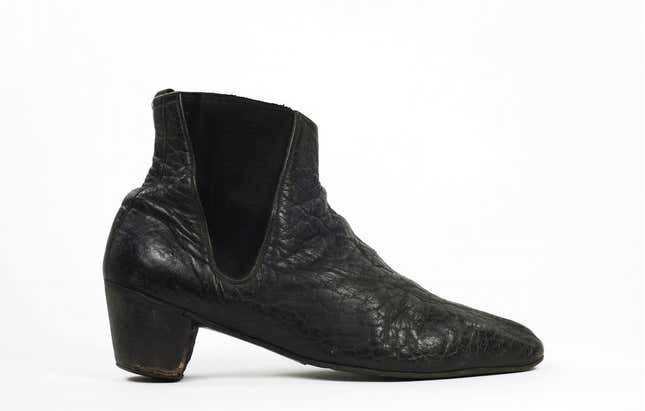 Dylan's embrace of the style even inspired the title track of Traffic's 1971 album, " The Low Spark of High Heeled Boys."
And yet, today, says Semmelhack, it's hard to imagine mainstream men stepping into heels in our lifetime. They are powerful to be sure, but that power has become extremely gendered.
"There would have to be a seismic shift in gender equality for the power of the high heel to be transferrable to men," says Semmelhack.
And if that were ever to happen, as Benicio del Toro learned, they'd have to learn to walk in them.