We know. We know.
There's a huge temptation to ignore yet another announcement in which a US bank is arm-twisted into eating a bunch of mortgage bonds it churned out during the worst of the mortgage mania that swept the US in the middle of the last decade.
At first glance that's what we have this morning, in Bank of America's announcement that it has struck a deal to resolve "outstanding and potential" problems relating to its origination, packaging, and sale of mortgages to the government-sponsored Federal National Mortgage Association, better known as Fannie Mae, from 2000 to 2008. As part of the more-than-$10 billion—with a "b"— deal, BofA will fork over a cool $3.6 billion in cash to to Fannie Mae and it will also repurchase $6.75 billion from the agency.
Why should you care? Because one way to read this deal is that Bank of America is getting ready to get back into the US mortgage business again. That would be a big deal for the US economy.
In recent months, it's been an oft-overlooked fact that BofA, the US's second-largest bank by assets, has largely been on the sidelines of the current mini-boom in mortgage lending that is going on in America—a boom that has been fueled by the the Federal Reserve's most-recent effort to push mortgage rates to record lows. Here's a look at the number of mortgages made by Bank of America that have been packaged into Fannie Mae mortgage bonds, by month. You can see BofA shriveling over the last couple years.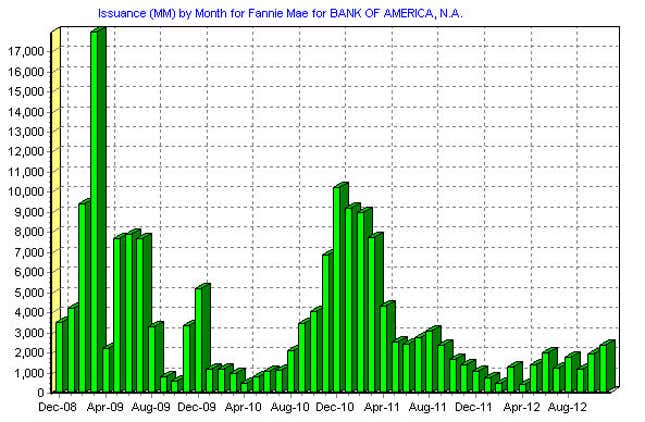 Over the same period, check out how Wells Fargo has been churning out mortgages.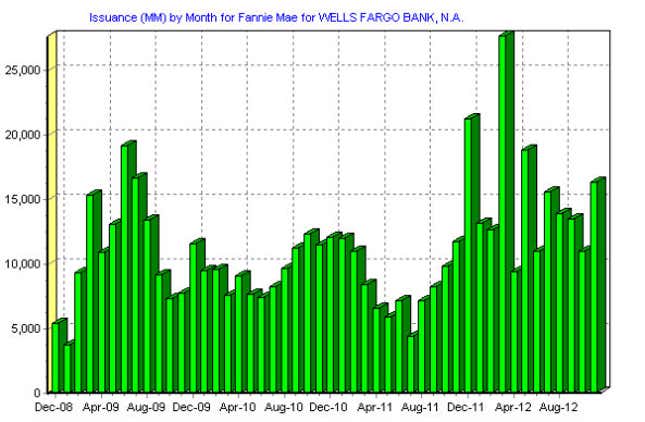 It looks like Wells made the right decision. BofA's third-quarter earnings were downright awful. The Wall Street Journal reported in October that BofA only had about 4% share of the US mortgage market.
(Meanwhile, rivals like Wells Fargo and J.P. Morgan were rolling in dough because of mortgage lending as we've explained time and time again. Despite the fact that mortgage rates are at record lows, there is still a ton of cash to be made in mortgage lending.)
There have already been indications that Bank of America wants to make more mortgages. For one thing, they are hiring mortgage makers.
But this could be a big deal for those beyond BofA shareholders. If Bank of America focuses on competing for mortgages, that would be a big deal for would-be homeowners and refinancers across the US. We've argued before that part of the reason that mortgage banking remains so profitable for banks is because the market has become so concentrated. Adding a giant bank with the financial firepower of BofA to the mix will likely lower rates for consumers.
BofA has also been noted to be one of the most sluggish to refinance home loans. Today's deal could help change that. Boosting refinancing is one of the main reasons that the Fed has been trying to push mortgage rates lower. Refinancing allows consumers to use less of their monthly income to pay for housing, freeing up other cash to be spent elsewhere.
In short, this could be a very big deal for the US economy.