It's tough to know who at a company makes what, or what the average salary is. Companies tend to be cagey about that information, so employees and jobseekers are generally left in the dark.
But a new database created by Bay Area engineer Théo Négri from a government form US companies submit for high-skilled foreign workers seeking visas sheds some light on salaries at the top US tech companies—on position by position basis.
The form, the Labor Condition Application (LCA), is filed when US companies are trying to get a potential employee an H1B visa (a temporary work visa earmarked for highly skilled employees), and it includes the worker's promised salary.
In addition to showing a general run up in salaries for highly skilled workers immigrating to the US to work in tech, it gives a sense of which companies tend to pay the most.
This isn't a full sample—it's restricted to well-known companies, highly valued startups, and those that have submitted a great deal of visa applications. Some high-profile companies such as SpaceX and Snapchat were left out because of a small sample size (less than 20 applications in 2014). The data includes salary and job title, and whether the application was certified, denied, or withdrawn, but no names.
The salaries listed may skew higher than the overall company average, because there are a limited number of these visas, and a large proportion go to comparatively highly paid engineers and executives. But for these elite jobs, the salaries may skew lower than salaries for a comparable American worker, because hiring from overseas is often used as a way to get cheaper engineers and other highly educated and skilled people.
Newer companies seem to usually pay more. There's a good amount of spread among startups, possibly because of variation in equity compared to base pay (these numbers include only salary, and don't include things like stock options), and because many have small sample sizes.
But the biggest spender of all? The streaming video company Netflix. Here's the full ranking. (We used 2014 numbers in order to get a full year's sample.)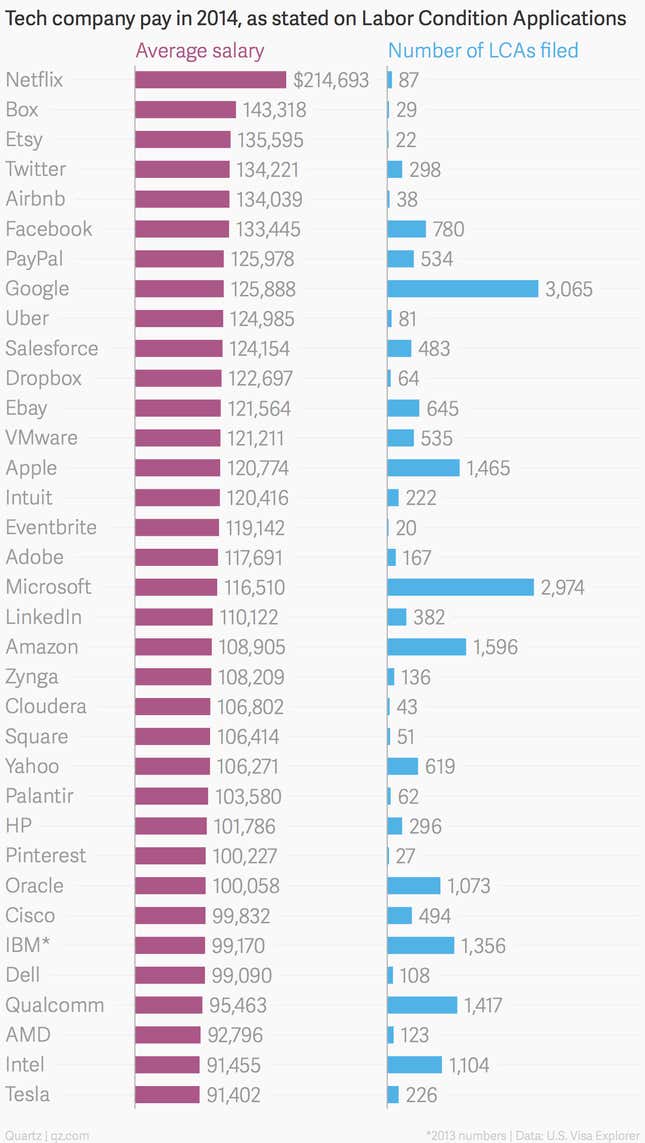 So why is Netflix so high? This doesn't appear to be a fluke. All the salaries cited in the company's 87 applications were above $110,000. There are a few significantly higher salaries (A director of advertising for Europe making $560,000, a director of marketing in Latin America making $425,000), but there are no extreme outliers.
And the hiring has not slowed down. In fact, Netflix has submitted as many applications so far in 2015 as in all of last year, with a similar salary profile (the average is even higher, at $239,874).
One possible explanation? As Netflix seeks prestige by producing its own high-quality content, it is bringing on some very expensive creative and entertainment industry people. So in addition to paying up for top tech talent (a salary of $350,000 is listed for one "senior performance architect"), the company listed $375,000 as the salary for the director of one of its original series in 2014.