The "Eastern Star" cruise ship that overturned in the Yangtze on Monday night was one of dozens of huge leisure boats plying Asia's longest river, offering super-cheap tours to a growing number of Chinese retirees and elderly people.
Most of the over 400 passengers feared drowned are tourists between the age of 50 and 80, the People's Daily reported, and over half are over 60, according to a passenger list. On Tuesday one 65-year-old woman was rescued from the hull of the ship.
The Eastern Star's passengers paid  998 yuan ($161) for a 13-day cruise through eight provinces along the Yangtze River, as well as the Three Gorges Dam, the world's largest hydropower project.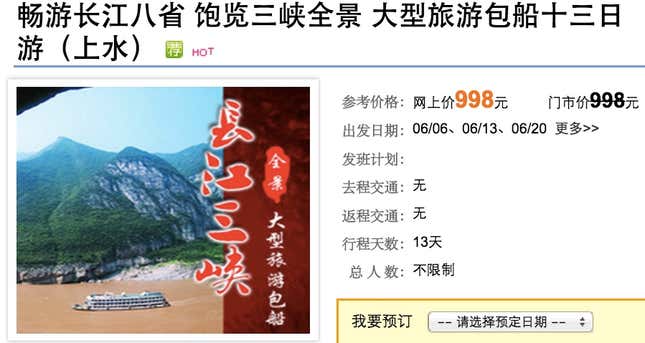 "We offer you the best price-quality ratio in services," reads an advertisement from Shanghai Xiehe Travel, which operates the cruise, boasting quiet afternoons drinking tea and admiring the scenery from one's room. Another line, taken from a Ming Dynasty poem, seems aimed specifically at older residents. "It takes a century of cultivation for two people to ride on the same boat," the ad reads.
Travel operators in China are increasingly targeting elderly and retiring citizens, a fast-growing and important segment of the country's expanding domestic tourism market, with cheap, all-inclusive deals. China's population of residents age 60 and above already numbers more than 200 million, and is expected to account for a third of the population (p.4) by 2050.
At the same time, Chinese officials have been working on developing a domestic cruise industry, as well as tourism along the Yangtze, in order to boost economic consumption. China's cruise ship industry is expected to expand to 4.5 million passengers a year by 2020, making it the world's largest cruise market after the United States. Cruise passengers on the Yangtze alone were predicted to hit 1 million this year.
Many of those cruising passengers will be older Chinese travelers. Thanks to a lifetime of mostly low wages, many of these older Chinese are still far from affluent, as the Boston Consulting Group points out (pdf, pg. 7). That's one reason why cheap deals like the one operated by Shanghai Xiehe Travel appeal.
Even before Monday's accident, though, these Yangtze cruises have had a string of safety problems. In April 2013, another ship following the same route, carrying a group of over 300 elderly tourists, caught on fire. There were no casualties. In February, a passenger ship and a cargo ship collided in the same area where Monday's ferry sank, leaving eight people dead.
The Nanjing Maritime Bureau investigated 10 Yangtze River tourist boats and said in 2013 that six of them (link in Chinese) had safety issues—in one, officers faked evacuation drill records and staff did not know how to properly put on life jackets. In another investigation, life jackets on a boat were locked up.
It is still unclear what happened to the Eastern Star. The ship's captain, one of the few to survive so far, blamed the accident on a "cyclone," and officials have not disputed his account, or made any comments on the accident's cause. (The captain and chief engineer of the boat have been taken into police custody for questioning.) No one has offered analysis of how the boat could have avoided the storm on the Jianli section of the Yangtze in Hubei province where it sank. Rescuers told Chinese media that the boat did not appear overloaded and had enough life jackets.
But Xiehe Travel is already facing heat. Angry relatives of the missing passengers have been collecting outside of the travel agency's Shanghai office, which remain closed today with a note saying that those responsible were busy at the scene of the rescue operation.
Additional reporting by Zheping Huang and Josh Horwitz.