As China races to rescue hundreds of people still trapped inside a capsized cruise ship on the Yangtze River, authorities are following a familiar playbook of media control and online censorship.
More than 24 hours after the Eastern Star yacht carrying 458 people sunk after reportedly getting caught in a tornado on Monday evening, questions are being raised over why the ship sailed into a storm. Only 14 passengers have been rescued, including the ship's captain and chief engineer who are in police custody for questioning. Eighteen are confirmed dead and over 400 are still missing.
The atmosphere at the rescue scene has shifted from frantic to resigned:
Chinese media continue to publish hourly updates and extensive coverage—a contrast to previous information blackouts during national tragedies—but within the confines of the propaganda department's directives. Officials have ordered outlets not to dispatch their own reporters to the scene and local journalists already there have been recalled. Chinese journalists have also been told to focus on the"positive part" of the story, like successful rescue accounts, and ordered to use only information released by state-run outlets.
Some foreign journalists have also been blocked from the rescue site in Hubei province where a police cordon has been set up with checkpoints.
Journalists are being barred from speaking to relatives of the missing passengers.
Authorities are also shutting down discussions and criticism online, and blocking Chinese language news reports that don't follow government parameters for coverage.
Today "Eastern Star" was the most censored term on the microblog Weibo, according to Free Weibo, which copies and republished censored Weibo posts. Comments calling into question officials' explanation of weather problems and claiming that the ship's captain ignored several weather warnings were deleted. So was a Sina news report that tracked the trajectory (link in Chinese) of the boat in detail before it over-turned: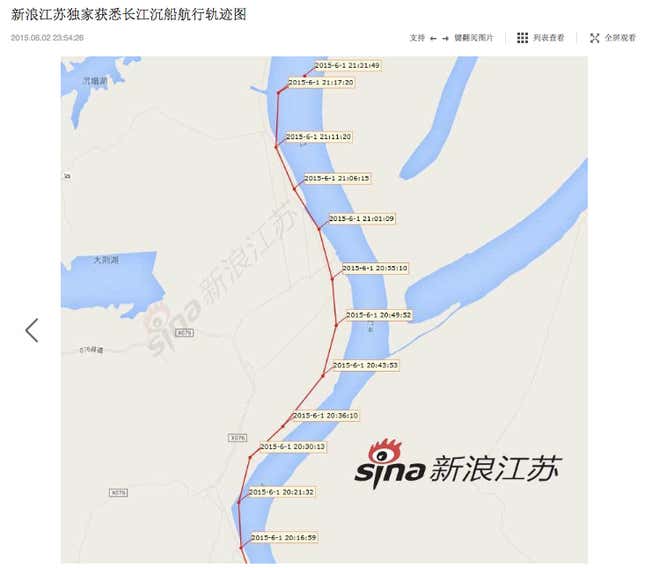 The ship's captain has said that the ship sunk quickly after hitting a tornado. China's meteorological agency says that a tornado may have hit near the ship's location on the Jianli section of the Yangtze, with winds as strong as 80 miles per hour. The Changjiang Maritime Safety Agency is responsible for issuing weather warnings to ships, but the agency has not responded to questions from media. (One official told the Wall Street Journal it was not convenient for him to answer questions.)
Ever since a wave of public criticism over a faulty high-speed train that crashed and killed at least 40 in 2011, Chinese authorities have taken pains to control the reporting of national tragedies, public discussion, and any outpouring of emotion lest it get out of control. Similar measures were taken after a deadly stampede in Shanghai this past New Years' Eve.
Richard Macauley contributed additional reporting.