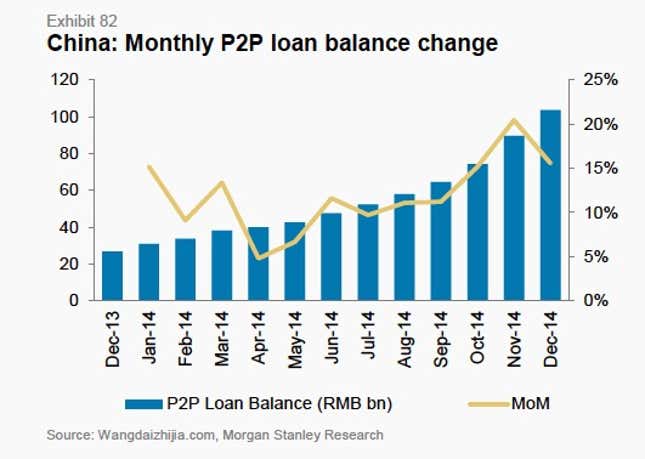 Online lending websites that connect borrowers with lenders are failing at an alarming rate in China, but that hasn't scared people away from the country's booming 276 billion yuan ($44 billion) peer-to-peer lending market. 
The country's big banks have for a long time pretty much ignored small-fish borrowers in favor of providing corporate loans to big companies.
The mostly unregulated market has drawn in companies that make everything from fireworks to copper, who now want to copy US leaders such as Lending Club and Prosper and set up their own marketplace lending operations.
That has led to a huge boom in the number of peer-to-peer lending platforms in the country, which numbered more than 1,500 in 2014, compared with fewer than 200 in the US, according to a research report from Morgan Stanley.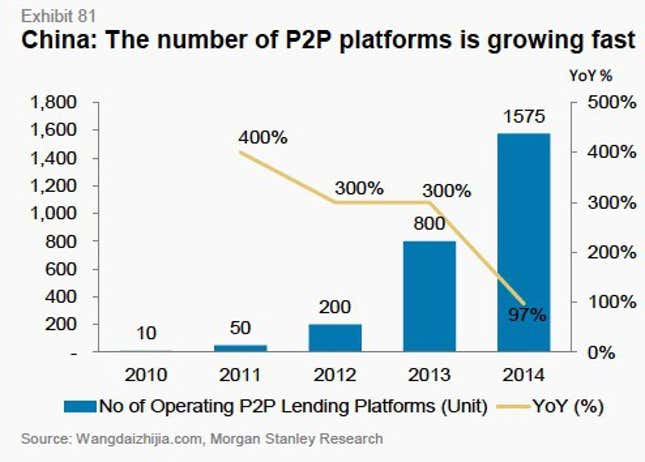 But more than 370 peer-to-peer lenders have already shuttered since China's first peer-to-peer lending website launched in 2007, according to the Morgan Stanley report.
The bulk of the failures, more than 270, came in the last year, it said.
"On average, there were 9.3 new platforms at risk of failing  every month in the first half of 2014, rising to 92 by December," the report said, noting that fraud and cash flow difficulties remain the biggest culprits. A slowing economy and tightening monetary policy hasn't helped.
Stories like one from the Xinhua news service about an investor who failed to get back his 300,000 yuan ($48,000) when the peer-to-peer lender Tianlidai shuttered are not uncommon. And in April, the CEO of China's biggest peer-to-peer lender, a company called Lufax, told Bloomberg he expects as few as one in 20 marketplace lenders to survive (noting, of course, that the fallout will be a good thing for the biggest, surviving platforms such as Lufax).
China's government says it is paying attention. In January, the China Banking Regulatory Commission announced it was setting up a division to oversee peer-to-peer lending, and said it would put forth new lending rules for the sector by the second half of 2015.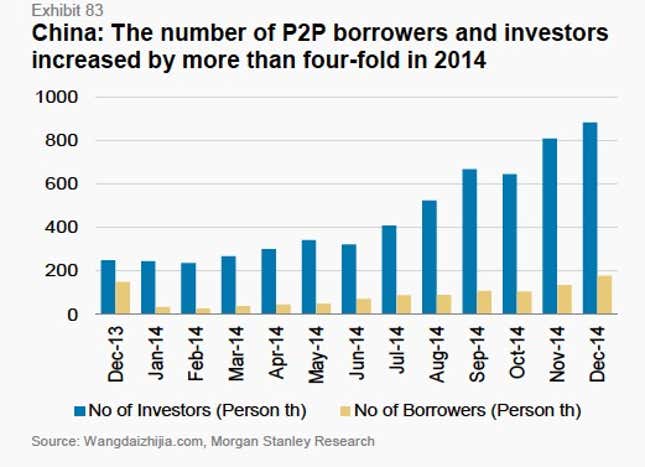 Amazingly, the turmoil hasn't deterred people from the market at all. The number of borrowers and lenders are still climbing at a fast clip—growing four-fold last year. At least one of the major online lenders is considering an IPO, and venture capital firms continue to pour money into the space (paywall).
For Chinese investors, perhaps the plan is to keep on dancing right up until the music stops.