A torch was passed today, as Netflix's stock market value surpassed Yahoo's in intraday trading.
The shift highlights Netflix's strong year so far, in which the company (current market capitalization: $39.21 billion) has been trouncing the S&P 500 and taking down old media stalwarts.
It also cements Netflix's status as one of the great American internet giants of its age, thus creating an apt comparison with Yahoo (current market capitalization: $39.12 billion), whose strategy has evolved in order to play catch-up. The former has made a name for itself as a studio with attention-getting series like House of Cards and Orange is the New Black. The latter has recently boosted its investment in original video, including a revival of NBC cult hit Community and as part of an 18-series slate of original programming.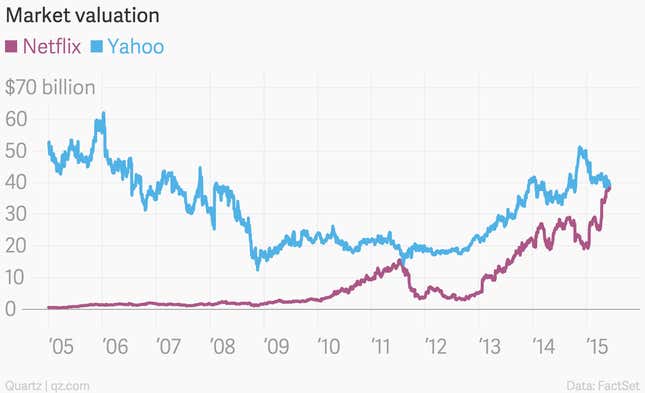 "I'm not suggesting at all we're going to be Netflix," said Yahoo CFO Kenneth Goldman on an earnings call in March "But we do see video more and more in a way we think about how we're going to grow our business."