The great law school exodus continues, propelled by a weak job market for lawyers and securer, better paid opportunities in other professions. According to updated data from the US Law School Admissions Council (LSAC), as of June 5 the number of applicants to accredited American law schools are down 2.5% from the same point last year. As of this week in 2014, 95% of applications had been received so there aren't likely to be many more coming in: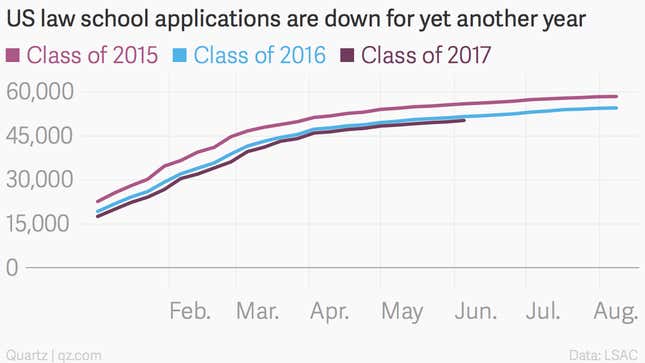 We won't have the latest enrollment data until later this year, but lower application volume likely signals a further decline in law school enrollment, which is already way down, according to the ABA: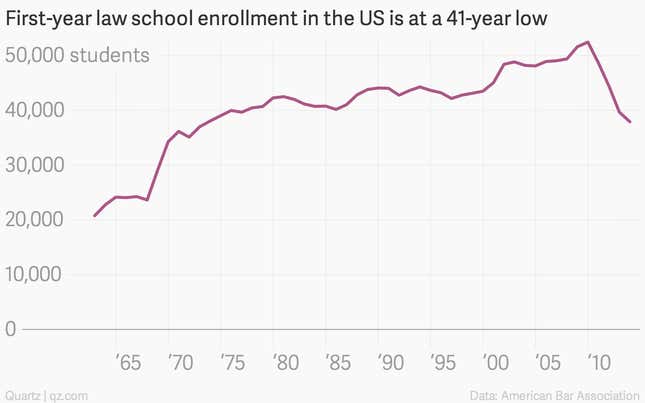 While it's bad news for law schools, especially low-tier institutions facing a cash crunch, it might be good for others in the profession by making the labor market for lawyers a bit less saturated.
Where are people going instead? Engineering school, where graduates see some of the highest salary increases from investing in the degree. The numbers below somewhat understate the overall decline in law school enrollment, as they only include the subset of prestigious schools ranked by US News. Lower-tier law schools, which have much shakier career outcomes, have been the hardest hit by enrollment declines: