China's consumer price index (CPI), a key measure of inflation, rose 2.5% year-on-year in December and 0.8% from the month earlier, the biggest monthly increase in a year (in Chinese). Last month's CPI is the highest since January 2010, and the hint of an uptrend now threatens the relatively stable level in place since June.
The culprit seems to be a brutal cold snap, which has plunged much of China into the chilliest winter in 28 years. While non-food CPI was up 1.7% from a year earlier, food prices increased 4.2%. Agricultural products were responsible for a good amount of that: fresh vegetables, which are the staple of Chinese diets, rose a staggering 14.8%. Of all the food components, the 14.8% price increase for vegetables affected consumers the most, said China's National Bureau of Statistics.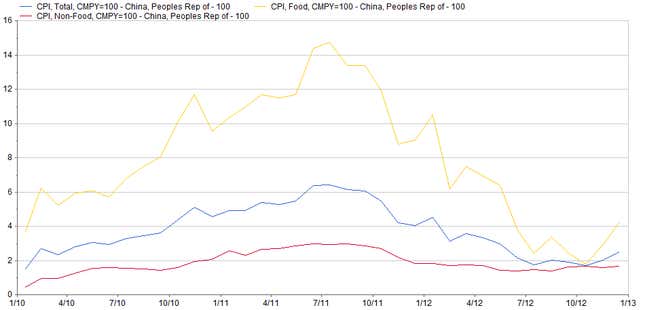 The benchmark Shanghai Composite Index tumbled 1.3% as China's stock market shed eight weeks worth of gains on the news, with investors likely reading the data to suggest that the government will continue to keep lending and investment relatively tight. The signs that CPI is ticking steadily higher come after yesterday's release of strong export data, along with a sharp slowdown in official lending. Taken together, they suggest that China's manufacturing base is chugging along, boosted by a revival in global demand, even without the aid of aggressive private-sector credit policies (though, as my colleague Naomi Rovnick points out, the unofficial channels are indeed pumping out funding.) Since loosening its monetary policies to brace against the global financial crisis in 2008, the government has struggled to keep the lid on inflation, wrestling it to more comfortable sub-4% levels only in February 2012 after a brief reprieve in 2010.
Moreover, the inflation outlook shows few signs of improvement. Recent week-on-week pricing data suggest that soaring vegetable prices showed little sign of abating as 2013 approached. Prices for cabbage, likely the most common green eaten in the winter in northern China, rose 9.3% in the last week of December, compared with a week earlier, reports Bloomberg. The cold is continuing to hurt farmers as well, of course—and reports are beginning to trickle out about the weather's impact on agricultural output. Just yesterday, Guizhou province projected losses of about $10 million due to iced-over fields. Meanwhile, blizzards in the north have killed some 180,000 cattle. If the cold snap continues well into January, inflation will likely intensify. Though still negative, the downtrend in the producer price index (PPI) slowed in December (in Chinese), and since PPI is often thought to be a leading indicator of CPI, monetary loosening looks unlikely in the near term.