This post has been updated.
Here's how bad things have gotten at home for McDonald's. The AP reports that for the first time since at least 1970, the number of McDonald's restaurants in the US is going to go down, as the fast-food giant closes more restaurants than it opens this year.
The decision is one of many that McDonald's has made recently in attempts to revamp its business to reverse its constantly declining sales. It has tried closing stores at home and overseas, cutting out middle management, and changing its menu. But customers, whose preferences have changed towards more transparent and healthier options, continue to choose Chipotle and Shake Shack over the Golden Arches.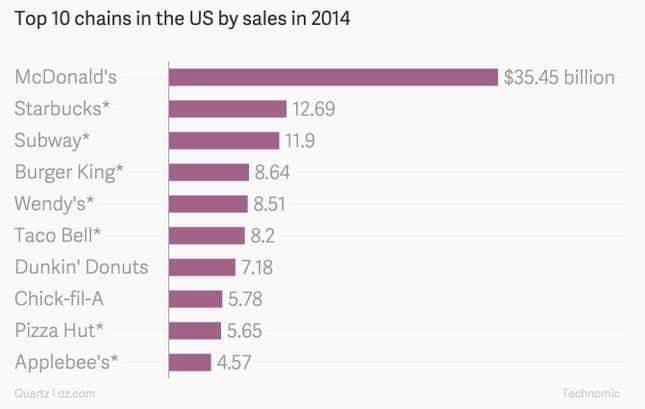 In sales alone, though, McDonald's still reigns supreme in the US, with revenue more than four times higher than that of its closest rival in the hamburger business, Burger King. A McDonald's spokeswoman told the AP that the total number of restaurant closures, on a base of more than 14,300 locations, would be "minimal." Symbolically, however, shrinking its US presence is yet another sign that, despite its continued dominance in the US fast-food business, it will not be easy for McDonald's to regain the favor it has lost in its home market.
McDonald's has confirmed the closures to Quartz.