Facebook found itself shut out from China in 2009. Twitter got blocked the same year. In 2010, Google pulled its search services from China after a government hack. Beijing, it seems, was sending a message to high-profile American internet companies: play by our rules and censor content, or don't play at all.
After Google's exit, those three firms have yet to come back. But in recent years, other American internet companies have found a degree of success in China—or at least a bit more stability than their predecessors.
The solution involves sacrifice—hand over data and control, and the Chinese government will hand you the keys to the market.
"If you want to develop an internet business in Chinese now, you have to be willing to work with the Chinese government, even if that means censoring content or sharing access to your data," Ben Cavender, principal at the China Market Research Group, told Quartz.
Evernote's 'Elephant Notes'
In 2012, Evernote, the California-based note-taking software makes, said it was introducing a standalone product just for its Chinese users. The company assigned a local team to run its Chinese business with near-autonomy, under the name Yinxiang Biji, or which literally means "Impression Notes" and puns on Evernote's elephant logo. The company launched a separate API for its app that ran independently of global Evernote, along with tweaked social sharing features, localized payment services, and a China-only help desk.
And Evernote bowed to authorities. In a June 2012 blog post announcing the move, CEO Phil Libin said data for Chinese Evernote would be stored in China—where authorities "may have the right to access" it. Data for global Evernote would still be stored in California, he said.
The China move directly contradicts the company's long-held general policy, that "there are certain things that matter to us, that we fight for, and that define virtually every decision that we make"—namely that user data is "yours," "protected," and "portable."
The strategy appears to have paid off, at least in terms of user acquisition. In November 2014, Libin said that Evernote had 11.5 million users in China, making it the company's second largest market after the US.
With this popularity came new government demands. In January 2015, the company disabled a public note-sharing feature that had grown popular among activists during Hong Kong's Umbrella movement.
LinkedIn's China skills
Linkedin, the job-centric social network, has also openly admitted that it censors content in China.
After starting a standalone Chinese site in February 2014, LinkedIn, like Evernote, began storing user data on Chinese soil. Soon after, the company faced a PR crisis when Australian journalist Fergus Ryan discovered it was making content censored in China inaccessible outside of China too. LinkedIn later changed its policy to only censor content from within China.
LinkedIn CEO Jeff Wiener has been candid about how accepting censorship is a trade-off for the company as it tries to grow. "We are strongly in support of freedom of expression and we are opposed to censorship," he told the Wall Street Journal. "…[But censorship] is going to be necessary for us to achieve the kind of scale that we'd like to be able to deliver to our membership."
The tactics appear to have paid off. In June of 2014, the company claimed to have grown its Asia Pacific revenues 64 percent to $46 million, with much of that coming from China.
Uber's push for social stability
Uber appears to have shrewdly navigated China's stormy waters, despite its foreign passport and tendency to incite protests. Barely a year after its arrival, CEO Travis Kalanick claims the company is booking 1 million daily rides across China (though some believe that number is highly inflated), has hooked a weighty investor and partner with Baidu, and is asking for a fresh $1 billion to fund expansion in the country.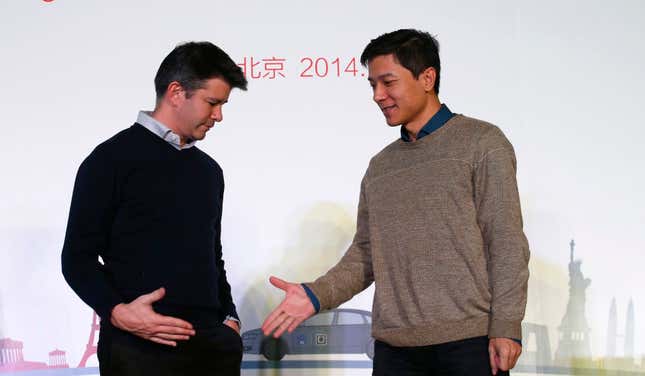 Uber is different from most internet companies because its business has a direct impact on the local economy. Locally, Uber puts taxi drivers out of work but creates new job opportunities for others, making it far more controversial than LinkedIn or Evernote, and much closer, at least on the disruptive scale, to Google and Facebook.
At the local level in China, Uber has acted just as aggressively as it has in other markets, ignoring bureaucratic fist-shaking, municipal crackdowns, and repeated calls for its departure.
Despite this seemingly cavalier attitude, Uber has made it clear that it sides with the central government on some issues—namely Beijing's definition of social stability. When protests supporting ride-hailing companies broke out in Hangzhou and Guangzhou, two southern cities, Uber issued statements opposing the demonstrations.
It also reportedly tracked its drivers via GPS and threatened to fire them should they approach the demonstration cities. If the state government ever accuses Uber of inciting instability, the company can point to these measures as evidence of the opposite.
This marks a huge contrast from Uber's behavior in the US, where it ceaselessly encourages passengers and drivers to rally on its behalf.
Uber, like Evernote and LinkedIn, also stores data in China for its users there. This means the Chinese government could potentially get access to the movements of the company's users and drivers. In Uber's case, at least, its China privacy policy doesn't seem to be too dissimilar from its US privacy policy, which is drawing criticism.
Idealism or growth?
Should Evernote, Uber, and LinkedIn be shamed outside China for agreeing to give Beijing access to their users' data, and censoring the content that users can see and share?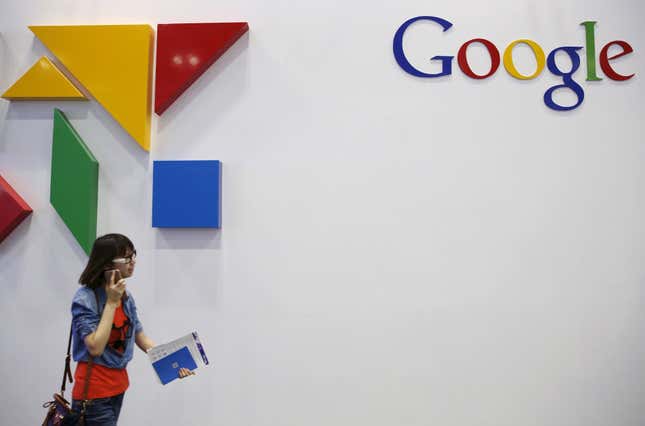 By now, some may say that question sounds downright passé. Google and Facebook, the posterboys for internet companies shut out of China, are now knocking on its door. Facebook has reportedly opened an office in Beijing and aspires to develop a consumer-facing product. Mark Zuckerberg's China infatuation seems carefully staged. Google, meanwhile, is rumored to be working on an app store for China, as a way to reach consumers without relying on its search engine.
"Google decided to take a stand, and they effectively locked themselves out of the market," Cavender said. Businesses must ask, "How important is China to our growth and what is our long-term perspective on what to do there?" he adds.
Charlie Smith, the pseudonymous spokesperson for censorship watchdog group GreatFire, believes it's possible for firms to make money in China without entangling themselves in these ethical dilemmas. He points to Twitter as a good example of a firm that earns money in China by selling ad space to Chinese businesses, but avoids the ethical pitfalls of running a censored social network there.
"They realize that these [issues] exist in China and that they can't go and self-censor the platform—or they could, but they decided that's not what they're about," says Smith. "But they're in China, presenting at conferences, trying to get Chinese advertisers to advertise on Twitter. That's great."
Yet Smith believes that LinkedIn and Evernote are setting a dangerous precedent for other internet firms eying the Middle Kingdom. "More US companies are going to decide that treating the Chinese like second class information citizens is fine," he says.