In the age of instant-streaming from Netflix and massive flatscreen TVs, America's second-largest movie theater chain is betting on a more low-tech solution to boost business: crimson-colored reclining seats.
AMC Entertainment, which shows movies on nearly 5,000 screens across 342 theaters in the US, is spending more than half a billion dollars to remove worn, uncomfortable, and outdated movie chairs to make room for comfy recliners.
It's outfitted 700 screens in 60 theaters with the new plush recliners over the past four years and expects to complete seating makeovers at more than 1,800 screens by the end of 2018, according to a new research report from the Benchmark Company, an investment firm.
The move comes as the movie theatre business continues its slow and steady decline: Last year marked the lowest number of North American moviegoers in nearly two decades.
And raising prices and releasing more films—two tactics used by the movie industry to move the needle–haven't increased sales nationwide.
Since 2009, total box office sales have barely budged even though average ticket prices are up 9% over that time to $8.17 in 2014 and the number of films released in major movie theaters are up 27% to 707 films.
So now AMC is turning to better chairs—and it seems to be working.
Ticket sales at AMC theaters featuring the new recliners are outpacing the industry and AMC's non-recliner theaters, even as the recliners led to a 62% reduction in average auditorium seating capacity.
According to the company's 2014 annual filing:
Where two to three rows of seats may have existed in the past, only one will exist now, and, as the recliners are typically six to 10 inches wider than a conventional seat, more seats are lost. For an industry historically focused on quantity, this reduction in seating capacity could be viewed as counterintuitive and harmful to revenues.

However, the quality improvement in the customer experience is driving, on average, an 80% increase in attendance at these locations.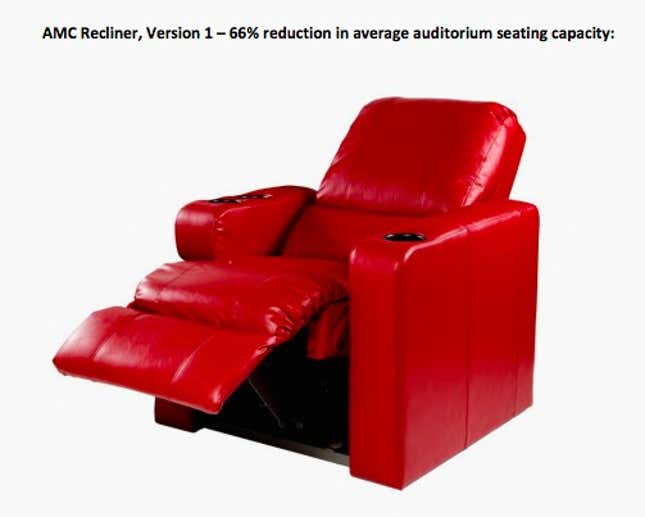 However, the theater facelifts seem to be more of a quick fix than a lasting strategy.
The first year of a recliner conversion can lead to a 70% to 80% increase in ticket sales, according to Benchmark. But the cash cushion starts to deflate by year two, returning to single-digit growth by year three, Benchmark said.
AMC did not immediately respond to a request for comment.
The short-term lift is in line with a big body of marketing research on retail store remodels that show a store renovation boosts revenues initially but tends to fizzle over the long run as the consumer's perception of something new and shiny fades. And at what Benchmark estimates is about $3.2 million in expenses per theater, new doesn't come cheap.
Still, Benchmark says the makeover "establishes the value of enhanced comfort," helping the theater company justify a 10% ticket price increase each year after a theater conversion, compared to its typical 2% to 3% annual price increase.
In other words, comfort comes at a cost.