The ultimate insult for a CEO is when the company's shares jump on news of your departure. That's what's happening at Barclays today, with shares rising by around 3% in early trading after the big British bank announced the ouster of chief executive Antony Jenkins. In essence, the bank has gained some £1.4 billion ($2.2 billion) in market value by jettisoning its CEO.
The move doesn't signal a change in strategy, per se. In exquisite corporatespeak, what Barclays needs is "to accelerate the pace of execution going forward," it says. In other words, it wants to cut costs deeper, faster. The better man to do it, the bank reckons, is John McFarlane, who took over as chairman in April and will take on executive responsibilities until a permanent successor to Jenkins is named.
The bank doesn't seem in a big hurry to name a new CEO. McFarlane has a reputation as a fearsome cost-cutter gained from his experience at other financial firms (paywall), most recently insurer Aviva. At Barclays' most recent annual general meeting, shareholders urged the chairman to take a "chainsaw" to the business in order to boost the bank's lackluster returns generated in recent years: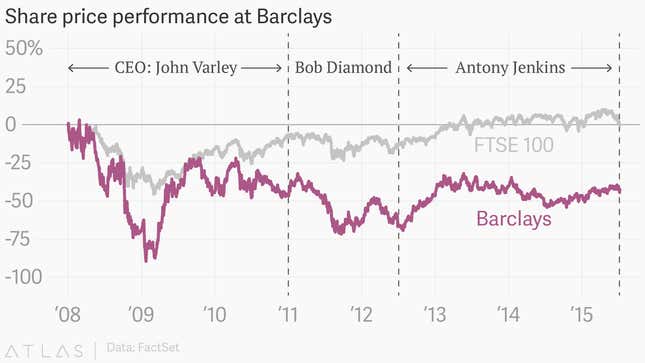 Fittingly for a bank boss these days, Jenkins' tenure at Barclays was bookended by two big legal fines—a $450 million fine for manipulating interbank lending rates cost his predecessor Bob Diamond his job in 2012, and a $2.4 billion fine in May for rigging currency markets cast a pall over the last few months of Jenkins' reign.
Jenkins talked a lot about improving the values and culture at Barclays, trying to rebuild its reputation among customers, investors, and regulators. But scandals have continued to haunt the bank, sapping its resources in the process: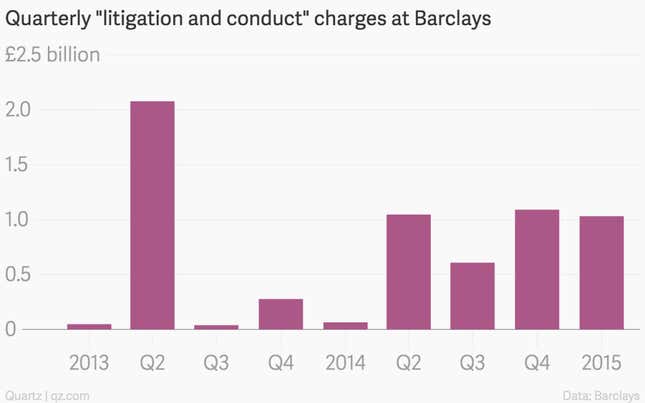 The legacy of Barclays' ambitions to build a world-beating investment bank—primarily via the purchase of Lehman Brothers's US assets—has been another drag on returns. Jenkins took heat from investors last year when he suggested that bigger bonuses were necessary to attract and retain the best talent, suggesting a lukewarm commitment to cutting costs.
Although later plans to ring-fence toxic assets in a "bad bank" and cut 7,000 investment-banking jobs were welcomed by the markets, investors grew exasperated with the pace of the payoff. Indeed, the bank is nowhere near to hitting its return-on-equity target of 12%:
"We need to be much more focused on what is attractive, what we are good at, and where we are good at it," McFarlane said in a statement today. The same goes for several other big European banks struggling to put their troubled past behind them—Jenkins is the fourth CEO to go so far this year, after Standard Chartered, Credit Suisse, and Deutsche Bank cut their bosses loose for broadly similar reasons.