The sun emerged just as the first model appeared in the runway entrance at designer Marina Hoermanseder's Spring 2016 show, in the back garden of Berlin's Kronprinzenpalais (Crown Prince's Palace) on July 10. In stiletto heels that tipped her onto her toes, and a bell-shaped skirt of hard, molded leather, she looked like a ballerina emerging from a music box.
The models that followed revealed a pastel-hued collection that included thousands of handmade leather flowers, bondage pencil skirts made entirely of straps, a 3D-printed rose gold vest, and anatomically molded leather bodices, lacquered to a glossy shine. It was as if a dominatrix from the future had fallen down the rabbit-hole and awoke in the Queen of Hearts' garden.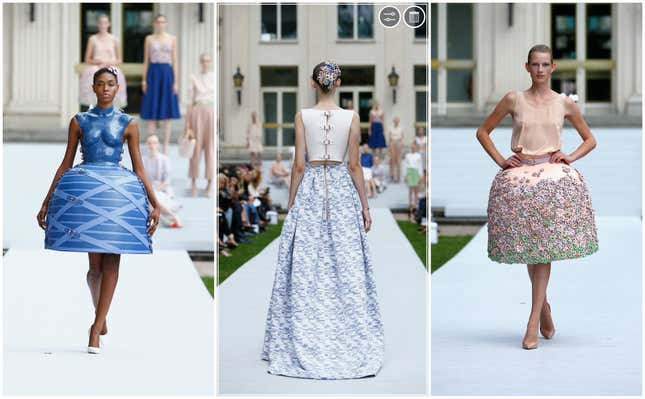 Hoermanseder's show was phenomenal—but also, actually, practical. Peppered throughout the collection, in shades of cream, wheat, and periwinkle, were also blouson jackets, Marlene Dietrich pants, tidy eyelet blouses, and clean-cut coats.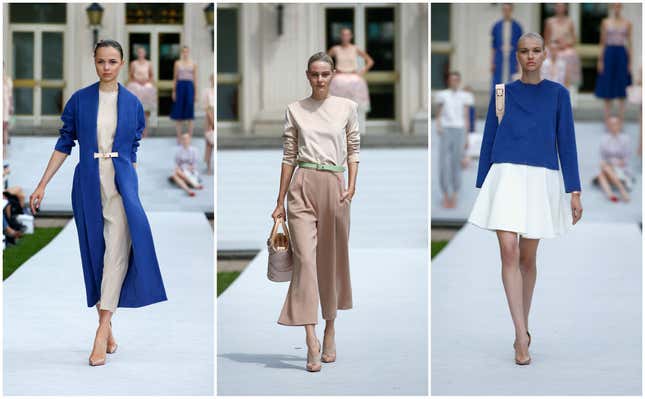 And that music box-ballerina who opened the show kicked off her heels at the end, taking her final turn on the runway barefoot. The crowd—the vast majority of which wore sensible shoes—cheered.
"It's art, on one hand," the young Austrian designer, who studied business and economics before moving to Berlin for fashion school, told Quartz after her show. "But only art is not going to sell forever."
A similar desire to satisfy customers and dress real women was palpable at Dorothee Schumacher's morning presentation. There, in an intimate studio off the cobblestoned sidewalks of the central Mitte neighborhood, a well-coiffed crowd with smooth blond ponytails, un-scuffed shoes, and sunglasses tucked into their plackets chattered warmly with one another before the show.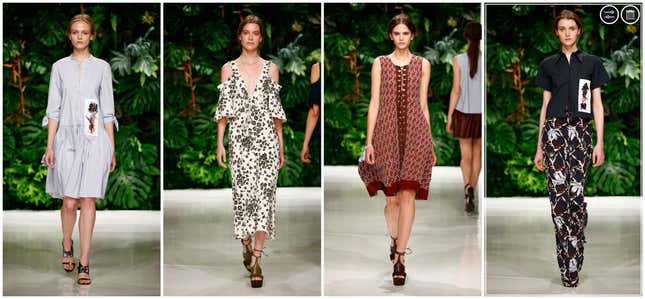 I've seen remarkable clothes this week in Berlin, but perhaps none as desirable for everyday life as Schumacher's. (No backless burkas here.) One wouldn't have to be waif to wear these boxy oxfords, knee-grazing dresses, and flowing tropical prints. Even the cutout shoulders of a group of raw-edged linen tops and dresses—my personal favorites in the collection—would allow a bra underneath.
Schumacher herself wore one of those tops in navy with matching cropped pants and a single graphite-colored crystal ear cuff. (Also, Apple watch tassels.)
The designer is a mother of four, and you get the feeling she's creating clothes for herself, and the equally busy women who work with her. (Schumacher's female-dominated company employs over 140 people from 16 countries.)
That said, nothing looked too serious. Chunky rhinestone embellishments and tropical prints kept things light, while laced-up plackets, the odd diving neckline, and an emphasis on the waist kept them sexy.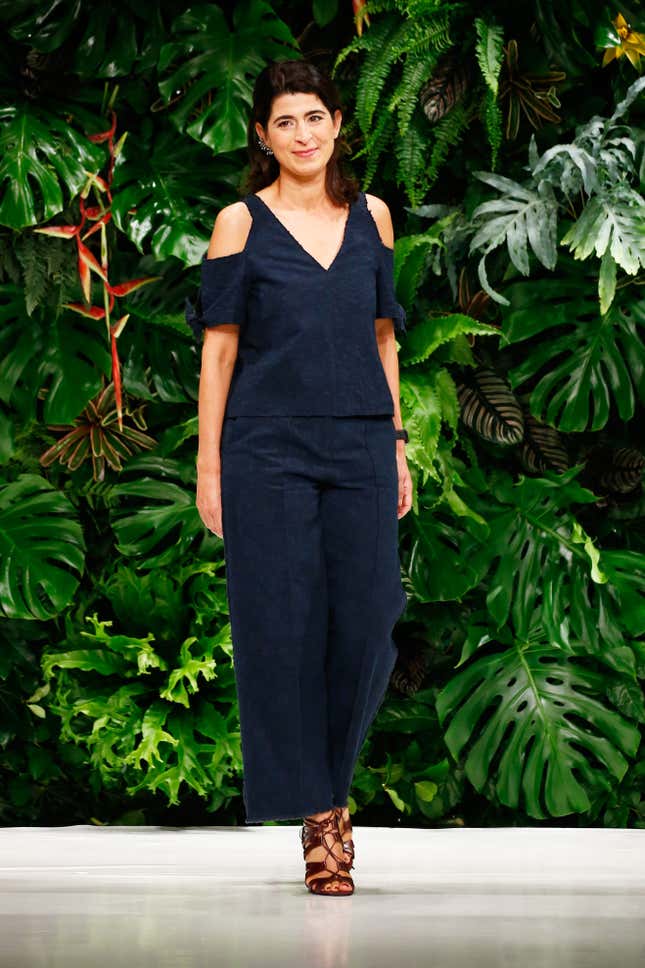 "We really have this desire for nature and more easiness, and down-to-earth attitude," Schumacher told Quartz. "It's a little bit looser, a little bit fuller."
Schumacher just celebrated 25 years in business; compared to past collections, which may have leaned a bit ladylike, this one was breezy.
Marina Hoermanseder, meanwhile, has been at it for just two years. It will be fun to see how her collection matures, and whether it maintains that very Berlin balance between wild and wearable.