China's epic stock market boom—and impending bust—is like déjà vu all over again. The stock rally that began last year bears a striking resemblance to the credit-fueled American stock bonanza of the late 1920s. It also, however, has much in common with the Japanese market frenzy in the twilight of the 1980s. The uncanny similarities of both episodes also hint at what might await China when its market finally returns to reality.
Wall Street, 1929
Industry was pumping. Construction was booming. Dizzying leaps in technology were boosting living standards and giving rise to vibrant consumerism. That's what set the scene to the epic American bull market of the late 1920s. But that description fits China of the last decade just as well. Here are some of the similarities between what's happening now in China and the US in the lead-up to the epic Wall Street crash:
Japan, 1989
China's stock market clearly has a lot in common with the late 1920s American bubble. However, the Chinese economy has even more in common with pre-crash Japan's, as we explored in more detail in an article last year:
By late 1989, Japanese stocks accounted for half of the planet's entire stock-market capitalization. Real estate was similarly out of control; Japanese real estate was worth nearly half the world's total land value. The central bank hiked interest rates suddenly, hoping to lightly chill the markets. The stock market began tanking. Real estate prices soon followed. The financial crisis that resulted lasted until the mid-2000s, during which seven banks were nationalized. The losses ultimately borne by Japanese taxpayers totaled at least 20% of Japan's 2004 GDP. More than 25 years later, Japan is still struggling to emerge from its "lost decades" of stagnating growth.
Recipe for a Great Depression
Stock market crashes don't always cause depressions—or, for that matter, lost decades. To understand why the US entered the Great Depression and Japan stagnated for two–plus decades, it helps to turn to the work of Yale economist Irving Fisher.
Two things tip a country from recession into depression, according to Fisher: too much debt, and the way dealing with that debt pushes down prices (i.e. deflation). The US messed up by failing to counteract falling prices by freeing up money—in fact, it catastrophically raised interest rates in the immediate wake of the 1929 crash.
When deflation sets in, falling prices cause the relative cost of debt to rise. That sinks debtors in even deeper, and makes would-be borrowers unwilling to take out loans to build their businesses. As people desperately sell off assets to pay back what they owe, they drive prices down even further—exactly what happened in the Great Depression. Unemployment surged to a quarter. More than 5,000 banks failed, taking with them untold sums of household wealth. It wasn't until 1939 that the US truly emerged from the Great Depression.
Japan made a different mistake
Japan avoided a depression after its stock crash—and the property market collapse that followed—by furiously expanding money supply and by ramping up government stimulus to replace vanished demand. So why is it still struggling to escape from its "Lost Decades"?
Bureaucrats and bankers believed that with enough time and loose money, they could grow out from under the debt burden.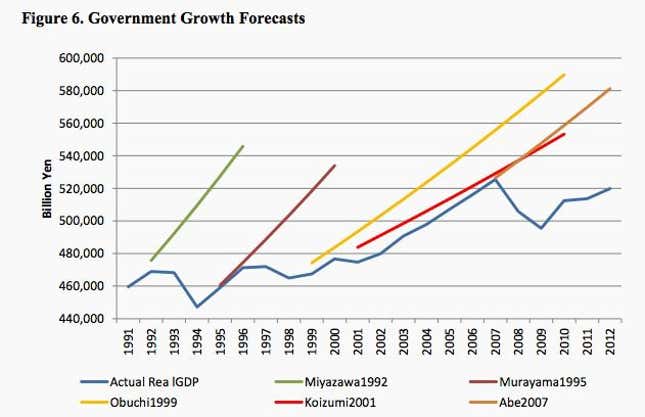 But Japan had too much debt for that approach to work. Loose money only went to keep broke companies alive—a phenomenon called "zombies"—instead of funding productive investment that might spur the economy. The chart below shows the percentage of bank customers whose loans were being rolled over. By the late 1990s, around 30% were being kept alive by this subsidized credit: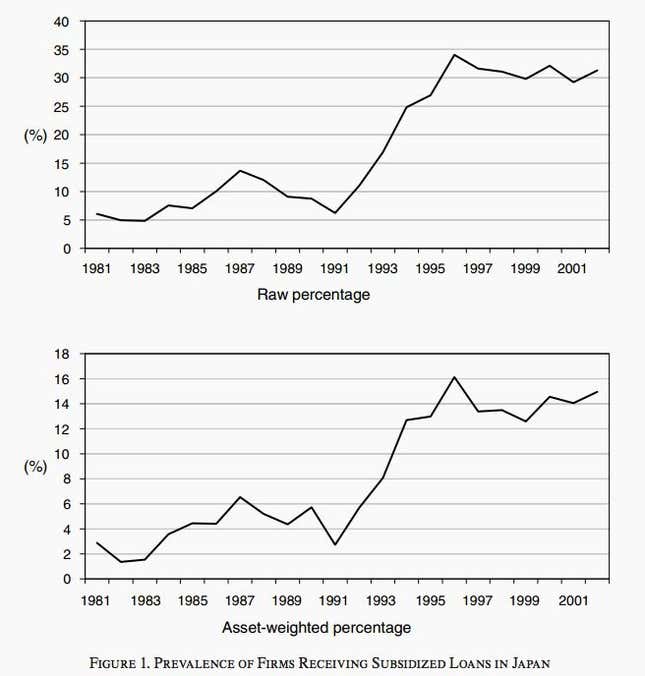 On top of that, by investing so heavily in industry, Japan built itself the capacity to churn out far more goods than anyone actually wanted to buy. The trouble isn't just that money could have been spent better building the means to make things people truly wanted. It takes a long time for a factory to need replacing. With enough industrial capacity to last it for many years—even decades—Japan had few other options in which to profitably invest. Fiscal stimulus couldn't make Japanese industry more productive, therefore. So as Japan waited a decade for growth to kick in once again, its debt pile mushroomed even more.
The lesson Japan failed to master is that too much debt makes it near-impossible to grow—and that the only way to get rid of that burden is therefore to recognize losses.
Whereas in the Great Depression, lots of companies and banks went bust, in 1990s Japan, hardly any did. America's bankruptcy epidemic destroyed huge sums of wealth and, as a result, damaged the economy. But it also cleared away debt problems, preparing the country to borrow, invest, and grow again. While the Great Depression lasted just shy of a decade, Japan's debt woes haunt it to this day, more than 25 years after its stock crash. Much of it's simply shifted onto the Japanese government's balance sheet. The threat of deflation still looms.
What's next for China?
The growth-obsessed Chinese government is clearly going to do everything to prevent a Great Depression—which, at least in the short term, is good news for the global economy.
What's worrisome, though, is the longer term. Along with the recent stock market bailout effort, aggressive credit loosening, revived infrastructure stimulus, and a steadfast refusal to let companies fail signals that the Chinese government is planning to grow out from under its $30-trillion debt burden. That suggests that China's leaders are already busy repeating Japan's mistakes.