This is the last in a series of four dispatches this week on the US-Cuba opening.
HAVANA, CUBA—I saw the first selfie stick twenty minutes after arriving in Havana. It was in the middle of Revolution Plaza, where Fidel Castro once delivered strident oratory to millions. Two tourists snapped pictures of themselves in what appears, without the crowds, to be an empty parking lot flanked by administrative buildings, nondescript except for the two giant wrought-metal portraits of the revolutionaries Ché Guevara and Camilo Cienfuegos. Two tourist buses pulled up, spilling out Europeans with more cameras.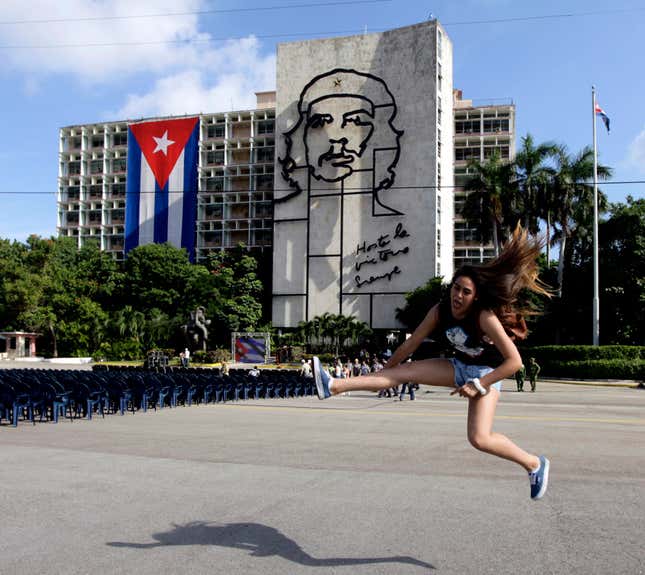 Practically every American I spoke with about travelling to Cuba said something like "I want to go to Cuba before it changes." That's a sign that the embargo cut America off from Cuba more than the reverse.
Middle-class Cubans are already listening to American rap music on the streets of Havana. Some of those I met were more up-to-date on HBO's Game of Thrones than I was, thanks to Cuba's unique samizdat version of the internet—the paquete, a weekly package of data that arrives on the island mysteriously and is distributed door-to-door by people with flash drives.
And besides, by what standard of authenticity is socialist Cuba more "authentic" than its previous iterations as an American client, a Spanish colony, or a pristine home to indigenous peoples?
Americans may fear the superficial evidence of global heterogeneity—a Starbucks on the Malecón is the new McDonald's on Red Square—but Cubans are eager for an American opening. In an April poll, 97% said that they saw normalization of relations as a good thing; 52% said they'd like to move to the US.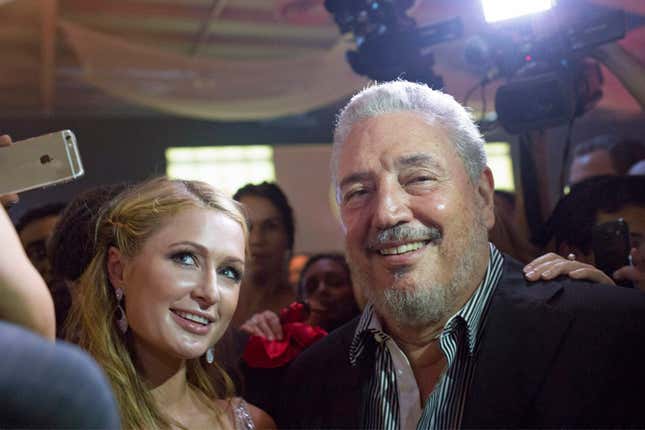 The likeliest near-term impact for the average Cuban is a higher standard of living. The socialist economy has underperformed, even in a tough region, relying on expensive imports and hard-pressed to find adequate housing for its growing urban population. That's why the government has, as we described earlier this week, passed its own reforms since 2011, expanding the private sector and allowing Cubans to begin buying and selling their own homes.
That's not to say that Cubans aren't concerned. The last time the US got cozy with the island—as a colonial occupier after the Spanish-American war, before leaving behind a series of governments that were often puppets for US financial and criminal interests—the end result was Fidel Castro and 50+ years of socialism.
Nor should anyone pretend US trade connections will be a panacea for an island economy. Puerto Rico, just next door to Cuba, is heavily in debt, economically sluggish, losing its youth to emigration, and teetering on the brink of default. But when Puerto Rico thrived, it was because US tax breaks sent direct investment and jobs to the island.
A more encouraging model is Costa Rica. After building on the foundation of its Cuba-like investment in social services, it used foreign investment to build up a trade economy. Today in Havana, it's cited as a potential path to prosperity.
And the reality is that Cuba needs money and goods, and the US has lots of both.
Things are moving fast now…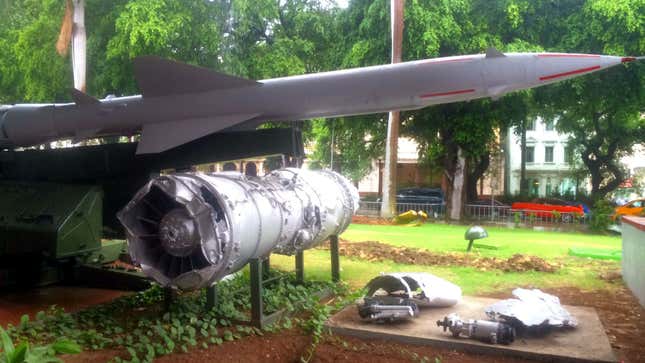 At the moment, relations are normalizing quickly, the result of 18 months of secret talks leading up to last year's announcement.
Two days before I left for Havana in May, the US dropped Cuba from the list of state sponsors of terrorism, which I can say was quite a relief. On Monday (July 20), it will re-open its embassy in Havana—symbolically, that is, since the hulking seven-story building by the sea has for decades housed dozens of US staff (paywall), under the pseudonym of the "US Interests Section of the Embassy of Switzerland."
Regular direct flights by major US airlines have resumed, and both passenger ferries and Carnival Cruise Line aim to begin regular visits as soon as spring 2016. It's still illegal for an American to visit Cuba as a tourist—but it's a lot easier.
Previously, American travellers had to request a license from the Treasury Department for one of several specific activities, including visiting family, religious work, and people-to-people cultural exchange. Now, the government lets you pick one of those licenses and go down without prior approval; maybe they'll audit you in five years to make sure you weren't lying.
The Carnival cruises, for example, will be under the company's "social impact" brand, Fathom—a sort of culturally conscious tourism—and be licensed as people-to-people exchanges. To avoid possible fines, the company will need to ensure its passengers spend most of their time on the ground in Cuba meeting Cubans, not tanning. (That, is presumably, what the sail from Miami is for.)
Initially, at least, the main effect of all this will be more visitors putting more dollars into the parts of the Cuban economy that are already changing.
…but there will be obstacles to a bigger American footprint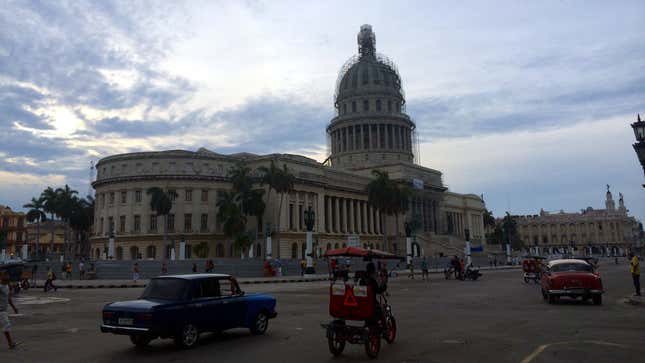 However, for all the diplomatic activity, it'll be some time before US firms can make significant direct investments in Cuba, lease real estate, or maintain inventory.
It's not that they don't want to. Bill Lane, a Caterpillar executive who works on government relations, has been working to get into Cuba since the late 1990s, and he's not alone. "For the average person that goes down to Cuba, they focus on the 60-year-old cars," he told me. "We focus on the 60-year-old roads; that is where our passion is. There is enormous infrastructure need, and everything that we make could be used to satisfy those needs."
But authorizing meaningful levels of trade—and legal tourism—is a decision for the US Congress. The Republican leaders who dominate it now, and have close ties to Cuban-Americans who fled the Castro regime, aren't likely to budge unless Cuba ditches its government. The full embargo seems unlikely to be lifted at least until a new Congress comes into office in 2017.
There will be a new president then, too. While Democratic front-runner Hillary Clinton has embraced Obama's policy, most of the leading Republican contenders have condemned the opening-up. But whether they would reverse it is an open question. "Anyone who is running for president can read the tea leaves… When you have businesses large and small all across the US that are in favor of a new relationship with Cuba, they may shift their own position," Jodi Bond, a US Chamber of Commerce official who works on Latin American issues told Quartz.
Even if the embargo is lifted, there's still the matter of resolving the $7 billion in outstanding US claims on Cuban property seized during the revolution—from such blue-chip companies as Exxon, Texaco and Coca-Cola—and the billions in counter-claims made by Cuba against the US for the damage caused by the embargo. Negotiators are said to be looking at mechanisms to resolve these disputes. Until then, real investment by US companies will have to wait.
And even then, they will likely have to work in joint ventures with the Cuban government. Unless they're toppled by a guerrilla uprising of radical capitalists, the Castro regime and its successors will likely move slowly on economic reform. It could be decades before Cuba adopts modern foreign-investment laws.
In short, yes: There's still time to see Cuba before it changes.
A new Cuban-American relationship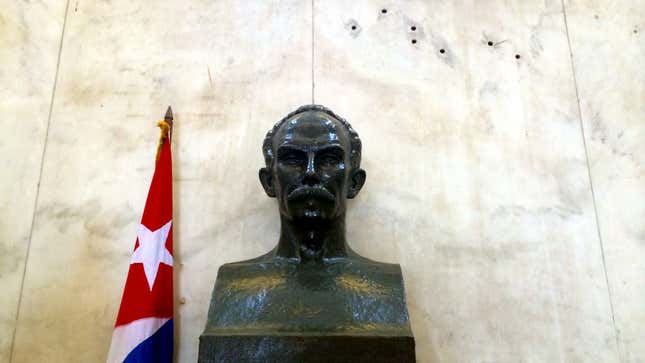 On the other side of Revolution Plaza—just in front of the headquarters of the Cuban communist party—is a massive stone monument to José Martí, the Cuban poet and revolutionary. You probably know his work; the most famous Cuban folk song, "Guantanamera," is based on his poetry.
You may not know that he lived most of his working life in exile from Spanish-colonized Cuba, including fifteen years in New York City—just one example of the deep connection between the two countries. Martí was exiled from Cuba at just 18 years of age.
Like Martí, albeit for different reasons, Cuba's youth have been leaving, seeking better lives in the US, Spain and other Latin American countries. That demographic pressure on the island's economy is one of the forces behind Raúl Castro's economic liberalization. Young Cubans want what young people anywhere want: Opportunity and a good lifestyle. When I asked what to bring down as gifts, I was given a simple list: flash drives, Android phones, Warby Parker glasses.
In the US, the powerful political bloc of Cuban exiles that promoted the embargo is aging, and fading in strength. Polls of Cuban Americans show the same generational divide as polls of Cubans—the younger they are, the more eager they are for normalization.
That's reflected in the very first steps the Obama administration took after the opening-up in relations was announced: to free up investments in small business, to bring down more Americans on exchange visits, and to open up communication links with the outside world. Those steps won't fundamentally change Cuba in the ways that many Americans fear. But they will give young Cubans more power to shape their country into one they want to live in.