Apple's biggest growth drivers last quarter were familiar ones. Its iPhone business—long the company's focus—grew by more than half, to $31 billion, on 47.5 million shipments. And its Greater China region sales continued their momentum, more than doubling to $13 billion—representing more than one quarter of the company's revenue.
But it's the intersection of the two that's interesting. The iPhone in China has become the Apple story right now.
Apple didn't specify how many iPhones it sold in China last quarter. But CEO Tim Cook said on the company's earnings call this week (July 21) that iPhone unit sales there grew 87% year-over-year. "This is particularly impressive," Cook added, "given IDC's estimate of only 5% growth for the Greater China smartphone market."
Apple's stolen share comes mostly at Samsung's expense. But it is also taking a big chunk of the profitable, high-end of the market away from Chinese handset companies, which include Lenovo, Xiaomi, and Huawei.
One local firm, ZTE, has tried to compete by shamelessly ripping off the iPhone 6-style design for its Blade S6 Plus. "We were impressed with ZTE's attention to detail in mimicking the iPhone's looks," a Jefferies analyst wrote in a recent research report, "including an inscription on the back saying 'Designed by ZTE in California Assembled in China'." The ZTE phone costs less than $350 in China, according to the report, while Apple's iPhone 6 Plus retails there for almost $1,000.
Why is the iPhone winning? It seems to be a combination of several factors, from the larger screen design of the iPhone 6 and 6 Plus to increased distribution and Chinese purchasing power.
Last year, China Mobile—the world's largest mobile operator, with more than 800 million customers—started selling iPhones. As faster networks have finally opened up—China Mobile reported 190 million 4G subscribers in June, up from 14 million a year prior—the iPhone is an increasingly attractive option. "China Mobile has become Apple's most important business partner," Neil Cybart, a former Wall Street analyst, writes on his Above Avalon blog.
China's growing consumer class also loves the aspirational Apple brand. According to a survey conducted by Hurun Report, Apple was by far the most desired luxury brand among wealthy Chinese—men and women.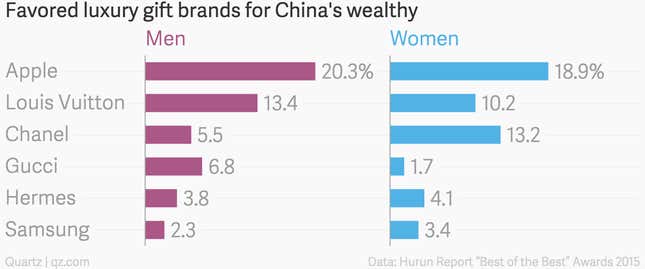 This, of course, has long been a key part of Apple's playbook, and its marketing efforts in China are palpable. It continues to open grand new flagship retail stores, with 22 now open in China, and a goal of 40 by the middle of next year.
More broadly, China represents Apple's most immediate, massive growth opportunity, as growth slows in its more mature markets, such as the Americas and Europe. Despite recent stock-market volatility, "nothing that's happened has changed our fundamental view that China will be Apple's largest market at some point in the future," Cook said.