This post has been corrected
Business is looking good for LVMH, especially for its marquee fashion label, Louis Vuitton.
The luxury group reported today (July 28) that revenue for the first half increased 19% over the same period last year to 16.7 billion euros ($18.5 billion), and its fashion and leather goods division saw revenue growth of 18%. Louis Vuitton's profitability "remains at an exceptional level," the company said (pdf), driven by strong sales in the US and Europe as customers continue to respond well to the work of creative director Nicolas Ghesquiere. Business was even good among Chinese customers, whose home country, in case you missed it, has been in a bit of a crunch lately.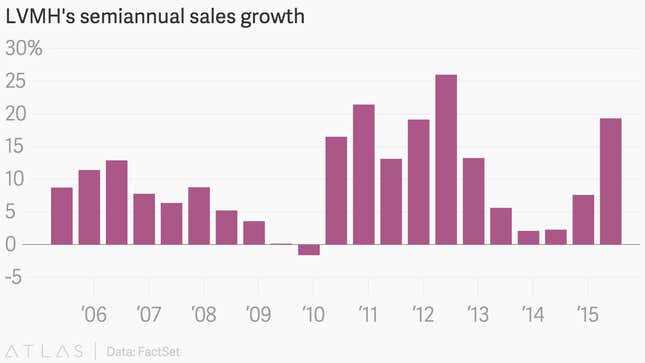 China is one of the most important markets for makers of luxury goods, but the country's economic growth has stalled, and its stock market has become increasingly volatile of late. Spending has seriously slowed in Hong Kong and Macau, two major destinations where travelers tend to drop lots of cash on luxury goods. Some brands, such as Burberry, are feeling the pinch.
While acknowledging the pressure of the overall spending slowdown, Jean-Jacques Guiony, LVMH's CFO, said on a call with analysts that Louis Vuitton's sales were up about 10% among Chinese consumers, who were doing more buying in Japan and Europe, and accelerated over the second quarter, suggesting growth could carry into the third. Notably, Guiony said the brand's iconic monogram items, which Chinese shoppers were once reportedly shunning as too flashy, were "strong."
In fact, most of LVMH's fashion brands, such as Fendi and Givenchy, were "benefiting from strong momentum with the Chinese client base," he said.
But as the Wall Street Journal reported (paywall), the weak euro could be making the numbers look better than they really are. The euro has been low all year. That means all those purchases made in Chinese yuan suddenly look bigger when translated back into euros for LVMH's books, and it gives Chinese tourists some extra buying power in Europe, helping to raise European sales.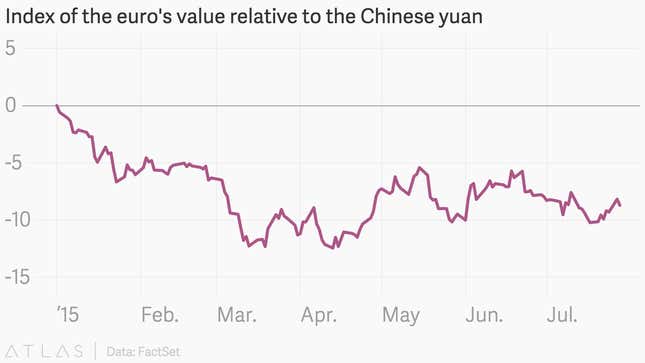 Correction: A previous version of this story said that Louis Vuitton's sales were thriving in China. Sales are actually up among Chinese customers, who are doing much of their shopping outside of China.