The devastating explosions that rocked chemical warehouse facilities in the Chinese port city of Tianjin last week killed more than 100 people, injured hundreds, and have raised serious questions about industrial safety and emergency preparedness in China.
They will also take a heavy financial toll on domestic and foreign companies active in the area, and local government. Here's a rundown of the costs from the blasts that have been made public so far:
Insurance premiums could exceed $1.5 billion
Chinese insurers are among the biggest financial victims. Fitch Ratings estimates the insurance premiums caused by the blasts could exceed $1 billion to $1.5 billion. If they hit the higher number, that would equal around 88% of the total direct premiums written in Tianjin in 2014, as the statistical rating organization noted.
Most claims will come from motor, cargo, liability, and property insurance, according to Fitch. Tianjin residents are also covered by a government-supported accident insurance plan in which each injured individual can get between $3,100 and $5,500, with around $7,800 being paid for each death.
Cars decimated were worth at least $700 million 
Tianjin's port handles about 40% of the foreign vehicles coming into China. International automakers using the port have lost at least $312.5 million due to the blasts, China Daily reported. Among them are Volkswagen, Renault, and Toyota. Renault reported about 1,500 of its cars were damaged; Volkswagen said it was still trying to verify the number, though Chinese media put it at 2,748.
State-owned Sinomach Automobile said that around 6,500 of its vehicles, worth $479 million (link in Chinese), were damaged in the blasts. The Shanghai-listed company said in an exchange filing that all the damaged cars are insured, and that it has started to claim compensation.
Lost revenue after company operations and shipments suspended
Toyota, which has manufacturing facilities near the blast site, suspended three production lines—and over half its production capacity in China—at least through today (Aug. 19), AP reported. Meanwhile Panasonic, logistics company Singamas Container Holdings, and US farm equipment maker Deere & Co. have also suspended their operations, according to the AP.
Some shipments slated for Tianjin have been diverted to other regional ports. That will raise transport costs but help reduce the overall economic impact, Roberto Giannetta, secretary general of the Hong Kong Liner Shipping Association, told the AP.
Fishing boat traffic fell by half the day after the blast, but has partly rebounded, AP reported, citing Genscape. Oil and petrochemical tanker traffic at the port is still normal.
Housing estates damaged
On Monday (Aug.17) several hundred residents whose homes were damaged in the blasts protested in front of a hotel where the local government holds press conferences, demanding compensation. They held banners reading "We victims demand: Government, buy back our homes" and "Kids are asking: How can we grow up healthy?"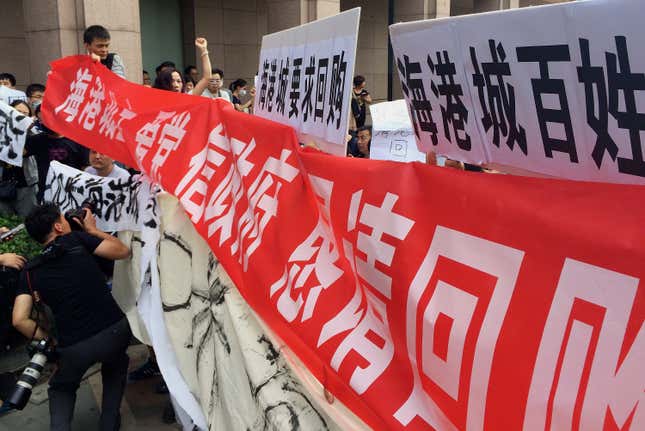 The nearest housing estate is located a mere 600 meters away from the blasts, and two other neighborhoods are situated within a thousand meters. Chinese regulations consider those distances unsafe, and residents didn't know that dangerous chemicals were stored that close to their homes, as Quartz has reported.
China Vanke, the nation's largest residential developer, handles the nearest housing estate, Harbor City. It denied rumors (link in Chinese) that it will buy back homes, adding it was still evaluating damage and had not begun giving compensation.
A 90-square-meter flat at the estate sells (or sold, before the accident) for around $140,000, according to a real estate site (link in Chinese). By the end of 2014, the estate's completed residential area was around 262,000 square meters, according to a company filing (link in Chinese) with the Hong Kong Stock Exchange. At 90 square meters for each flat, that equals nearly 3,000 flats.
Compensation for firefighters' families
When he visited injured firefighters on Aug. 16, Chinese premier Li Keqiang said families of the deceased official firefighters and contract counterparts will be compensated identically. Among the contract workers were teenage and untrained firefighters, who might have actually made the situation worse, given the chemicals present at the scene and how they react to water, as Quartz has reported.
As of 9am local time on Aug. 18, 50 firefighters had died in the blasts and 52 are missing, Tianjin authorities said at a press conference (link in Chinese).
Chinese officials have not yet revealed the amount of compensation. But local Tianjin authorities have begun to certify deceased firefighters as "martyrs" and to evaluate the compensation owed to families based on regulations, state-run news agency Xinhua reported (link in Chinese). Another disaster suggests a ballpark figure: After the January fire in the northeastern city of Harbin, families of deceased firefighters who were designated martyrs got around 2.34 million yuan (around $366,000), state media reported (link in Chinese).