One of the worst parts of the internet is actually getting on the internet. Wireless routers always seem to be finicky devices, beeping and blinking in the corner of the room, often dropping your connection for no apparent reason, sending you into a blind fit of rage as you sit there trying to restart the box. Google wants to change that with OnHub, a $199 router that's meant to be a lot easier to set up and use.
Google's router is controlled by an app, which lets users select a password they have a real chance of remembering, as opposed to an endless string of letters and numbers. The app also helps the router communicate any issues, so you'll no longer have to guess what the series of blinking lights on the front of the router are trying to tell you. OnHub's app will work with both newer Android and iOS devices, and will let users check which devices are hogging the most bandwidth, which will be perfect for parents wanting to snoop on whether their kids are actually doing their homework, or just watching Netflix.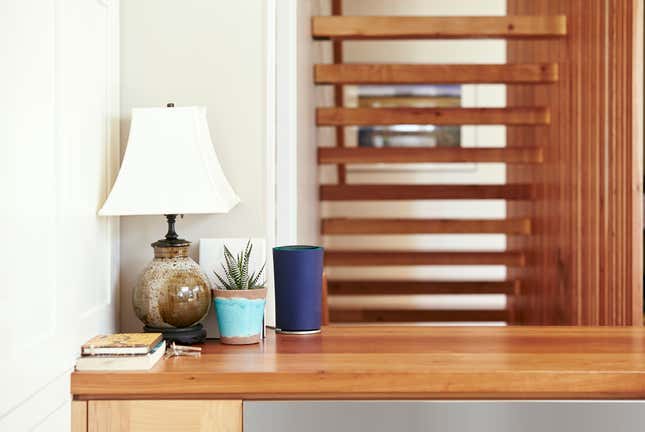 Google also suggests that OnHub users should expect better WiFi performance, as the device constantly switches between wireless channels to find the least crowded ones for new devices. The company also says the router's circular antenna—compared to the stick-shaped ones found in or on most conventional routers—will provide "more reliable" coverage in more areas of the home.
In a blog post, Google says the OnHub is designed to be prominently displayed, not hidden away in a corner in a nest of cables. Whether anyone would still want a router in the middle of a room (a conversation piece, perhaps?) remains to be seen, but Google seems to have taken some design cues from Echo, Amazon's speaker-meets-digital-assistant. Amazon also believes its tube-shaped device should be displayed for all to admire.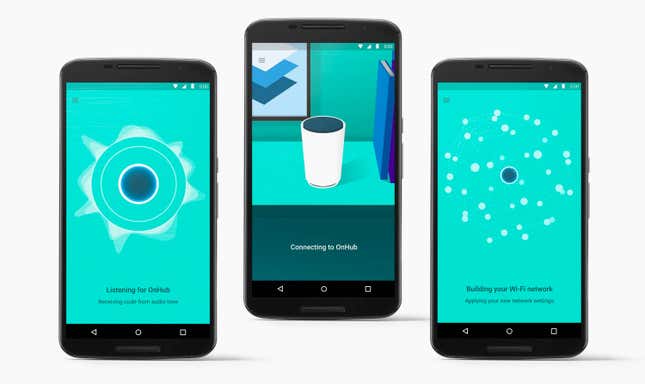 Google isn't the only company looking to re-invent one of the most annoying frustrations of the modern household. Eero, designed by the team behind Google's web-connected Nest thermostat, is also trying to become the simple router of choice. Both Google's and eero's routers are a bit more expensive than many consumer-level routers, but then, who can put a price on peace of mind?
Google told Quartz that it will collect some information from users, like Wi-Fi channel, signal strength, and devices connected to the router. It says, however, that the router will not track you across the web, or collect any information on your web-viewing habits. (It has been revealed in the past that Google's Gmail scans users' emails, to better target ads.) The company claims the OnHub is secure from hackers.
The OnHub is available for preorder in the US from big-box retailers—and Amazon—today [August 18], and will ship "in the coming weeks," according to the preorder page.