Japan's economy might be listless at the moment, but at least one sector is showing vigor: tourism. As the country prepares to host the 2020 Olympics, the number of international visitors reached just over 11 million between January and July, compared to about 7.5 million a year ago, according to the Japan National Tourism Organization (link in Japanese, pdf). For the year it estimates 19 million.
That's still small by international standards—Spain had over 60 million visitors in 2013—but the speed of the growth has made it challenging for Japan's hospitality industry to keep pace. Tokyo has about 100,000 hotel rooms, Reuters reported, with 7,600 rooms scheduled to be added in the next three years. That's roughly the same as Los Angeles, a city about 10 times smaller than metropolitan Tokyo in terms of population.
"The future health of Tokyo relies on the city rehabilitating its global reputation and addressing the constraints on international business activity," says Takeshi Akagi, head of research at real estate company JLL Japan. The push to accomplish that, he says, is attracting investment in hotels and other real estate.
Tourism in Tokyo, and Japan as a whole, has benefited from a weak currency. A dollar was worth a record low of 75 yen in 2011. Today, the dollar is hovering at around 120 yen. That means an average beer in Tokyo, at around 800 yen, which cost about $10.50 four years ago, now goes for around $7.
But as things stand now, hotels in Tokyo are struggling to meet the fresh demand brought by new international visitors. The accommodation shortage could mean that some ill-prepared visitors find themselves unable to find lodging in one the world's most sprawling cities. It's also helping open the way for lodging that's less conventional—and often cheaper—than the usual offerings.
Airbnb, which as in many countries operates in a regulatory gray area in Japan, is one source of quirky alternatives. While its Japan listings include all manner of accommodation, themed rooms stand out.
Visitors seem to dig them, but the rooms are known locally as ita-beya—or "painfully bad rooms." One in Roppongi, a bustling nightlife district, is garishly decorated with anime imagery.
Leanne Hanley, an Australian movie producer, was still impressed with her June stay in a Super Mario themed room. "Somebody had really thought about it and utilized every inch of space in the best way possible," she told Quartz. "I'd never seen anything like that."
The room is decorated in Mario memorabilia, though the owner insists it is for adults and avoids childish cliches. Still, it may not be to everybody's taste. "I am an anime nut and a bit of a gamer," said Hanley. "I like wacky things, I like Disneyland… I'm a big kid, basically."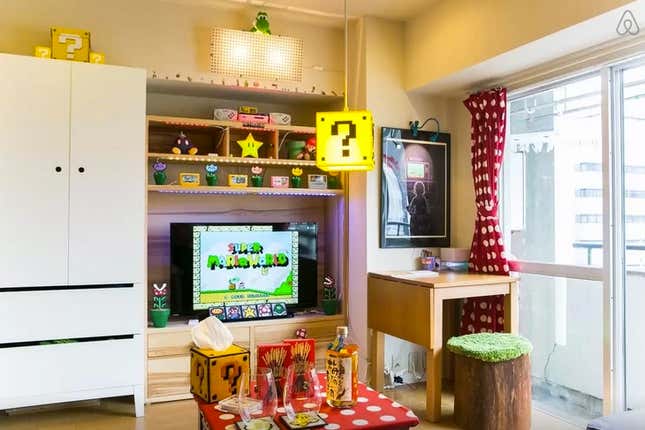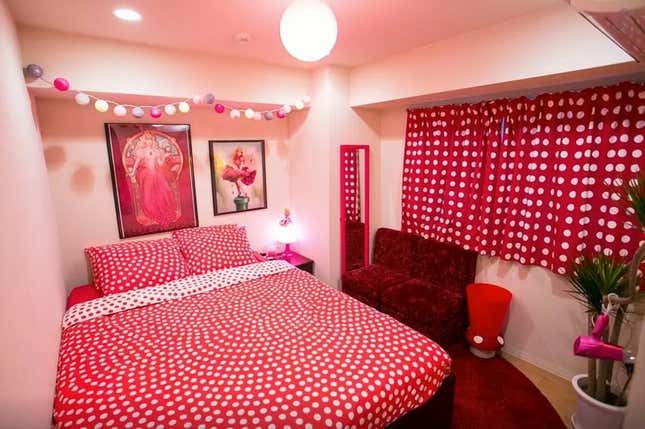 Another emerging source of unusual lodging is vacant offices converted to tourist accommodation. Grids Akihabara is a "hostel plus lounge" that occupies a former office building. Offering beds for as little as 3,300 yen ($28), it appeals to budget-conscious travelers keen to explore the neon-lit Akihabara neighborhood, known for its consumer electronics shopping—and a magnet for Japanese and foreign otaku (obsessive fans of, typically, manga and anime).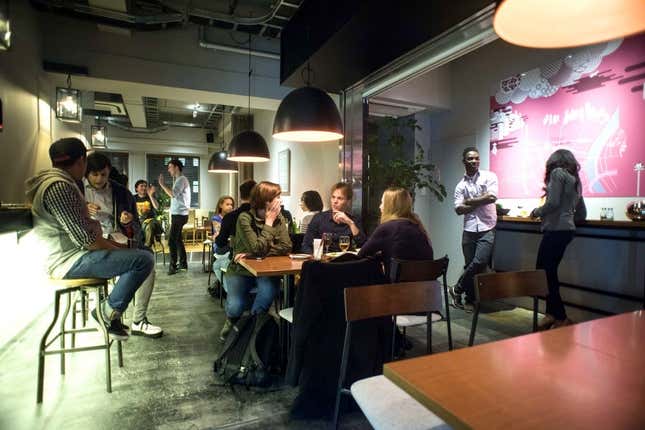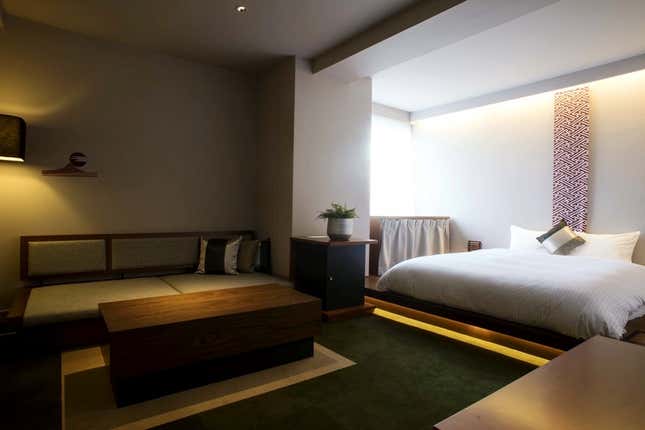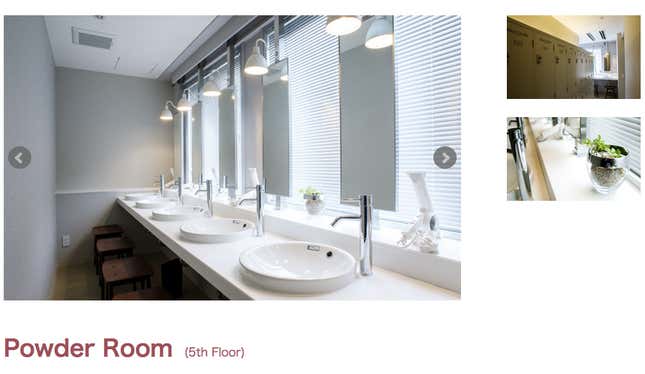 The hotel chain First Cabin has also been converting offices into rows of "cabins" either 4.4 meters or 2.5 meters wide.  It now operates three such locations across Tokyo and one each in Osaka, Kyoto, and Fukuoka. Its most recent hotel is in Tsukiji, where the famous Tokyo fish market is located. "There's too much competition in the office market recently, but hotels offer smooth, efficient returns," said Fumie Sato (link in Japanese), an executive at B-Lot, which operates the hotel chain.
But there's only so much that converting office space can do. Now authorities in Tokyo have begun to address regulations holding back other possible alternatives for the city's accommodation scene.
Under current rules, because a residential apartment lacks a hotel operating license, it cannot accommodate tourists staying less than 30 days in Japan, explains Yasokazu Terada, executive vice president of hotels and hospitality at JLL Japan. But authorities plan to relax regulations in Tokyo and other designated areas so that apartments can accommodate foreign visitors staying more than 10 days.
Of course, unusual accommodation alternatives are not entirely new to Tokyo, known for hosting many kinds of capsule hotels. Internet cafes, open 24 hours a day and providing comfortable chairs, have long been another alternative for drunk salarymen and budget backpackers. And love hotels, intended as places for couples to canoodle, also accept tourists.
Follow writer Richard Smart at @tokyorich.