China's banking regulator has admitted something most analysts have known for ages: The nation's lenders have doled money out to too many borrowers who cannot repay.
According to Chinese media reports, Shang Fulin, the chairman of the Chinese Banking Regulatory Commission, raised concerns at a mid-January meeting that over half of the 67 trillion yuan of loans held by Chinese financing institutions have been made to risky borrowers such as local government financing vehicles, property developers and industries with overcapacity. Shang added that such loans need to be "heavily fortified" and require "classified policies."
Back in 2009-2010, to mitigate the effects of the global crisis, Beijing officials encouraged banks to lend money to local governments and real estate developers to fund make-work projects that were either unnecessary or not yet needed, leading to a pileup of municipal debts. Schemes such as this replica of Manhattan in a city near Beijing and this huge theme park in Tibet became commonplace. The credit boom also encouraged developers to build too many apartment complexes and shopping malls.
But despite the CBRC admitting that such projects are risky and that Chinese financial institutions were exposed to that risk, investors shrugged off the warning. The Hong Kong-traded shares of ICBC, China's biggest bank, rose 0.5% today.
Chinese bank investors are complacent right now because the nation's economic growth is recovering from a slowdown last year. Manufacturers' profits are climbing (paywall) because the central government is, once again, approving lots of make-work infrastructure projects to burnish GDP figures—China is unusual in that almost 50% of its GDP comes from investment. But such projects are being funded by still more credit, adding to the existing trillions in toxic debt. Complacent banks investors are simply not pricing this in yet.
"It is understandable that economic recovery makes bank investors feel confident," says Mark Williams, chief Asia economist for Capital Economics. "Economic growth increases the ability of borrowers to repay debts."
But, there's a catch, says Williams. "This ignores very real risks at these banks that are lurking not too far beneath the surface."
Here is how investors in China's four biggest banks have been shrugging in the face of danger since last September: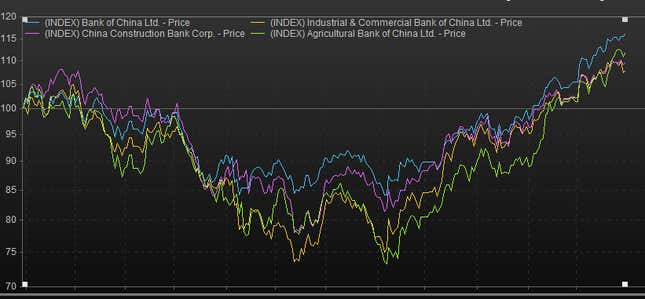 Rating agency Standard & Poor's said last year that 80,000 Chinese property developers faced bankruptcy. Very few have fallen, likely because Chinese lenders are ever-greening their loans by allowing them to refinance on terms requiring little or no interest payments.
Chinese lenders are reducing exposure to municipal and real estate borrowers. But that modestly good news is more than offset by banks' growing involvement in even riskier loans. In the face of central government initiatives to grow China's economy via credit-backed building of new roads, bridges or apartment blocks, companies and public bodies under pressure to get things done are finding credit. They are mostly turning to "shadow banking" entities such as trust companies and the Ponzi-style investment vehicles known as wealth management products that banks sell to ordinary depositors.
The CBRC is now making noise about reining in this type of lending. But there is not much the banking regulator can do, says Capital Economics' Williams. "They are in a position that is similar trying to deflate a balloon with your hands. You push down on one area, and air just pops out the other side," he says. "China's financial system creatively finds its way around regulations."
In a January 28 note, economists at HSBC argued that because China does need a lot of new infrastructure, local government balance sheets are perhaps not as stressed as bearish analysts think. HSBC said that 70% of municipal loans "have been invested in infrastructure assets, most of them useful."
Williams differs. China has built "too much, too soon," he argues, in its effort to keep economic growth high.
"There is quite a lot of room for productive investment in China," says Williams. "But when so much investment goes on, a lot of it gets wasted."