After spending years growing into one of the US's largest, most successful internet companies, Netflix is expanding aggressively in Asia. The company confirmed today that it will launch in Singapore, Taiwan, Hong Kong, and South Korea by early 2016.
The news comes weeks after the company officially launched in Japan, and five months after it launched in Australia. With its entry into the four new territories, Netflix will be available in a total of 84 countries.
Until relatively recently, Netflix has remained largely an Americas phenomenon, with most of its subscribers hailing from the US, and the bulk of its business in North, Central, and South America. But that's changing quickly as it doubles down on its marketing and expansion abroad. The company has 65 million subscribers, 23 million from overseas, and international subscribers are growing at more than twice the rate of domestic ones.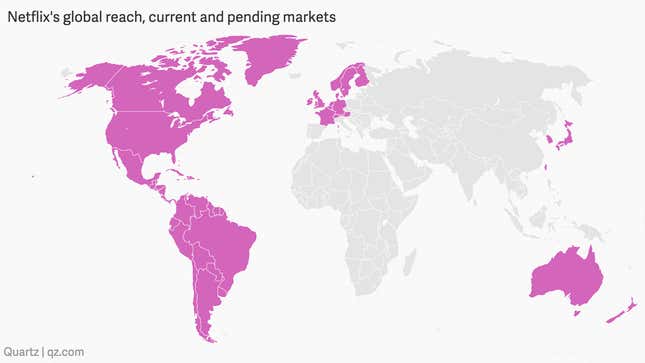 Netflix's fate in Asia will likely vary market by market, and depend on factors like license availability, license costs, consumer behavior, and competition from local companies.
In Australia, for example, Netflix steamrolled the competition upon arrival. Local competitor Quickflix, which offers analogous services, has been losing a 5,000 subscribers a month since Netflix moved in, and it has since ceased trading on the Australian Securities Exchange ahead of an expected buyout.
But Netflix might face difficulties in Japan—consumers there aren't used to paying for video, and they didn't embrace rival Hulu, which entered the market in 2011, and within three years sold its assets to Nippon TV.
South Korea, Taiwan, Hong Kong, and Singapore collectively are home to 85 million people, and there's plenty of competition.
Local video streamers including China's LeTV and iQiyi have been targeting Hong Kong, and local broadcaster HKTV has re-invented itself as an online TV channel. Singapore is home to iFlix and the upcoming HOOQ, which is affiliated with Singtel. With plenty of cash on hand, Netflix can purchase online streaming licenses for local TV shows from domestic distributors while offering exclusive access to high-quality, American-made shows like House of Cards as an incentive to sign-up.
There's no word yet on the company's plans for China, which could be the most lucrative new market for Netflix of all. Revenues from online video the online video market hit an estimated 68.2 billion yuan (about $10.6 billion) during the quarter ending in August 2014, although that came mostly from ads.
Netflix is "in talks" with a Chinese company backed by Alibaba founder Jack Ma to enter China, Bloomberg reported in June. But if that deal happens, Netflix will face competition from China's Youtube-esque streamers, which offer plenty of licensed content for free, as well as Alibaba, which itself launched a Netflix-esque subscription service last week.