A day after Volkswagen CEO Martin Winterkorn resigned in the aftermath of the automaker's shocking emissions scandal, the company has a replacement in Matthias Müller, according to multiple reports. He's currently head of the Porsche luxury brand at the company. The official announcement will come after a board meeting Friday.
In any case, Volkswagen presents its next CEO with one whale of a turnaround to engineer: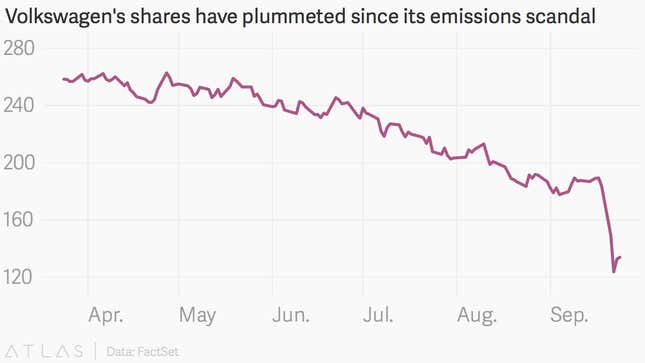 The company's US operations chief and several engineering leaders also look like they'll be casualties of the scandal, according to Reuters.
We've reached out to Volkswagen, which declined to comment on the speculation about the management changes.
Interestingly, Müller was apparently the person whom former chairman Ferdinand Piëch wanted to replace Winterkorn with during a bruising boardroom battle that now looks like a pyrrhic victory for the ex-CEO.
Müller rose from a start as an apprentice toolmaker at Audi to become head of product management of that brand, the Wall Street Journal reports (paywall). By 2007, he was responsible for projects across all of Volkswagen's brands, which include Lamborghini, SEAT, and Skoda. He rose to his current position as president and CEO for Porsche, a brand he's helped grow very rapidly, in 2010.
Winterkorn denied wrongdoing at Volkswagen but accepted responsibility for the scandal involving millions of its diesel vehicles, which were outfitted with software designed to cheat emissions inspections. Among the many problems facing his successor: Volkswagen doesn't actually know how bad things are going to get. It admits 11 million cars are affected, and may have to recall most or all of them. It's already set aside more than $6 billion in cash to deal with the issue, though it may take far more.
Meanwhile, the scandal sets back the company's burgeoning diesel business, badly hurts its ambitions to grow in America, tarnishes its brand worldwide, and saps the momentum that just recently propelled Volkswagen ahead of Toyota in terms of the number of vehicles sold worldwide. Müller will have no choice but to hit the ground running.