Google announced a metric ton of new hardware today (Sept. 29) at the company's saccharinely named "S'More to Love" event—referencing the company's new mobile operating system, Android Marshmallow. On show today: flagship phones, streaming devices, software, and a very square tablet.
In case you missed it, Quartz rounded up everything that was announced today:
New Nexus phones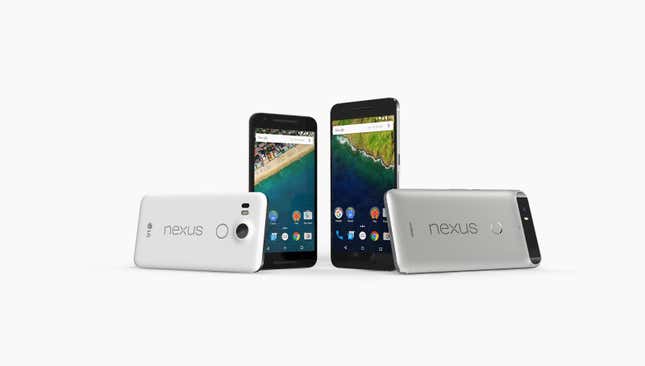 First phones running Marshmallow. Google isn't sitting idly by as Apple touts yet another weekend of record-breaking phone sales. The company today unveiled two new Nexus smartphones that will be the first to run the Android Marshmallow operating system. Here's what to know about the Nexus 5X, manufactured by LG, and the larger flagship Nexus 6P, made by Huawei:
Screen size. The Nexus 5X has a 5.2-inch display, while the Nexus 6P, which has an all-metal body, boasts a screen size of 5.7 inches—but with "roughly the same dimensions of many 5.5-inch phones," said David Burke, vice president of engineering for Android.
Fingerprint reader. The phones have a new fingerprint reader called Nexus Imprint, which works across all apps. Once trained, the sensor will be able to read a fingerprint in less than 600 milliseconds, and it "almost never fails," said Burke.
Crisper photos. The cameras are designed to work better indoors and in low-light environments. With a 1.55-micron sensor, the phones can capture larger pixels, which collect in more light and subsequently reduce shutter time—resulting in less motion blur and overall crisper photos.
Slo-mo video. The Nexus 5X can shoot videos at 120 frames per second, while the Nexus 6P can capture at 240 frames per second.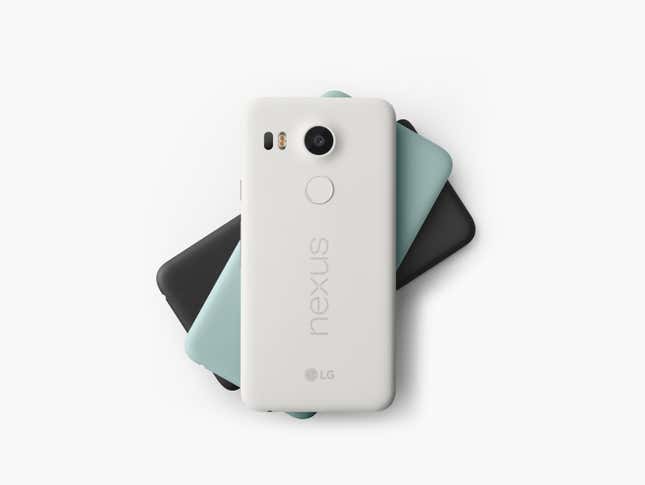 Low-power processor. Android Sensor Hub is a low-power secondary processor that monitors the movement of the phones, which allows the phone to activate its display in low-power mode when it detects the phone is picked up. "By offloading the sensor processing from the main CPU to Android Sensor Hub, [the Nexus phones are] able to run at a fraction of the power budget," said Burke.
Oops protection. Much like Apple Care, Nexus Protect is an add-on customers can buy for two years of coverage for technical problems and accidental damage. Nexus Protect will cost $69 for the 5X phone and $89 for the 6P flagship.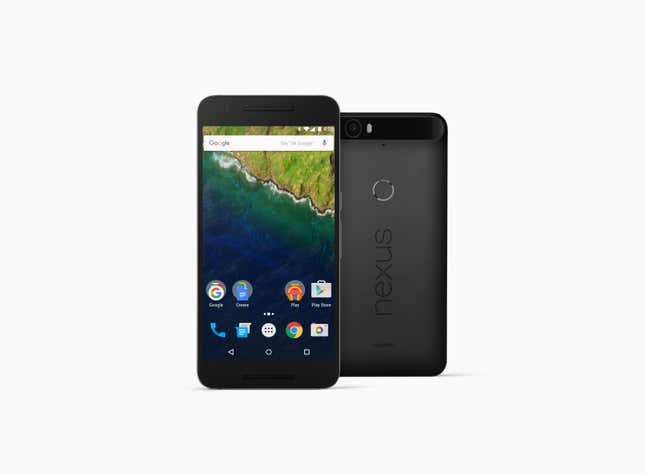 Freebies. The phones, which will be sold unlocked, will come with a $50 Google Play credit and free 90-day subscription to Google Play Music. The company also debuted a $15 monthly family music plan for up to six users.
Get it now. Both phones are available for preorder today in the US, UK, Ireland, and Japan from the online Google Store, with availability in more countries "in the next few weeks." The Nexus 5X will start at $379 for the 16GB version, and the Nexus 6P will begin at $499 for 32GB.
Google Photos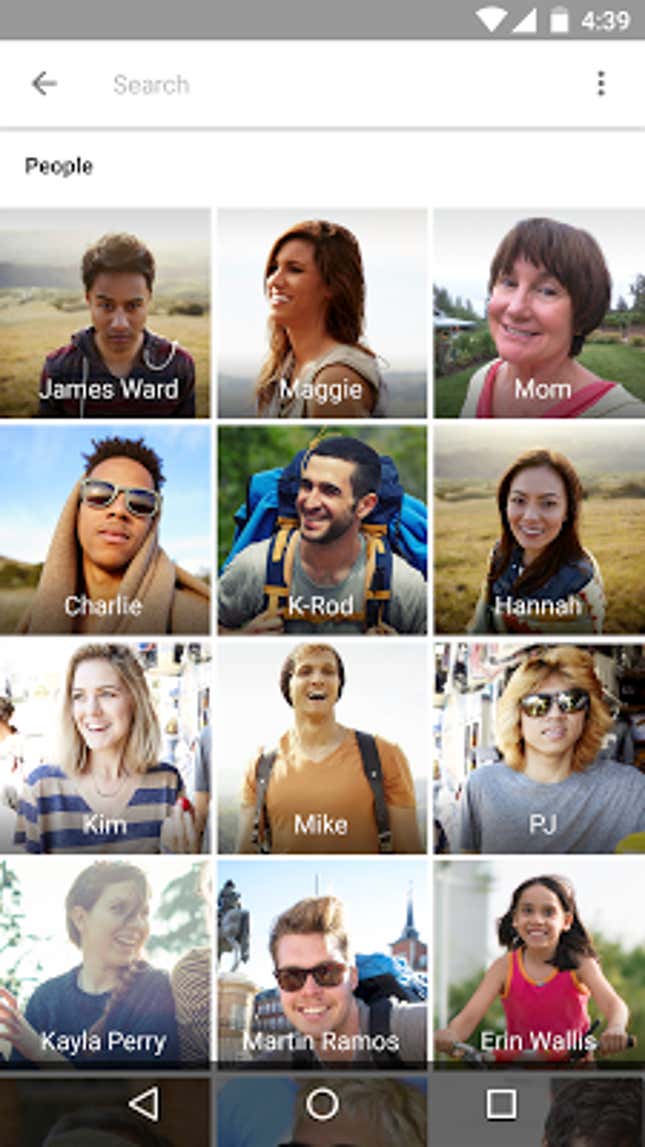 Progress report. Since its launch four months ago, the company said 50 billion photos and videos have been uploaded to Google Photos.
Sharing is caring. A new feature called Share Albums makes it easy for multiple people to contribute to and/or view an album, as well as receive updates when new images or videos are added. "We want to make it easy to hold onto the memories that matter, even if you weren't the one holding the camera," said Anil Sabharwal, director of product management.
Who's in that photo? To assist Google Photos' machine-learning features, users can label people who are featured in photos to make searching easier. The labels will remain private to the user.
More powerful search. Google Photos now supports compound searches, so users can narrow down their library of photos to find specific ones that contain multiple people or feature someone doing a specific activity ("Michelle hiking," for example).
Get it soon. These updates will be available on Android this week and heading to web and iOS "very soon."
New Chromecast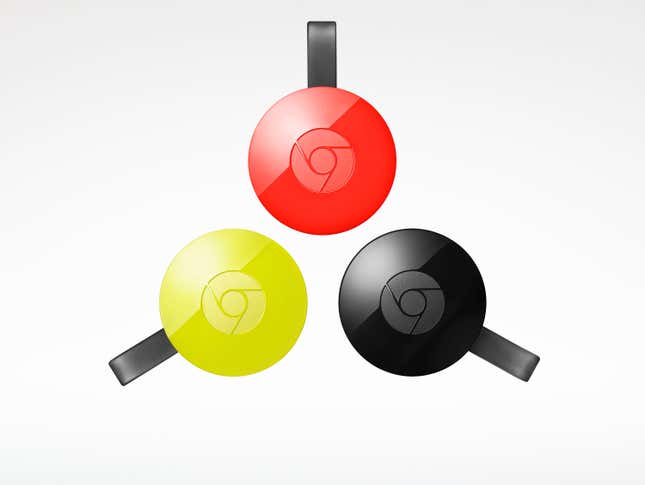 The sequel. Google said it sold 20 million of its original Chromecasts, and today announced an updated, cylindrical version. Still costing a paltry $35, the new Chromecast comes in three colors—black, yellow and red—although presumably almost everyone will be plugging it into the back of a TV where no one will ever see it.
Works faster. According to Google, the new Chromecast has a feature called Fast Play, meaning apps that are designed to work with the device should stream content much faster than before. No more awkward silence as you wait to see if Netflix is actually going to pull up the next episode of "Narcos."
New app. The Chromecast app, which up until now was pretty much a waste of space on your phone after you'd set up your Chromecast, will become a hub through which you can stream content. Instead of navigating to Netflix's website and then having to go to YouTube's, you can now find and search both from within the Chromecast app.
More content. Google announced that it's partnered with Hulu, CBS, ESPN, and myriad other content providers to populate the new Chromecast app. You won't have to dart around the web to find what you can stream onto your TV. On top of that, Google says you'll be able to open regular Android apps on the screen you're streaming to.
Spotify is here. One of Chromecast's big differentiators over Apple's latest TV offering is Spotify. Apple and Google both seem to think the future of TV is apps, and Spotify is one of the most popular music streaming apps. Other than the low price, this could be one of the features that leads people to choose Chromecast over Apple TV.
Also games. Like Apple TV, the new Chromecast supports mobile games. (Google demoed Angry Birds Go being played by a few people through their phones.) The company said that in the coming months, any iOS or Android smartphone will be able to be used as a controller for streamed games.
Get it now. The new Chromecast is available in 17 countries today.
Chromecast Audio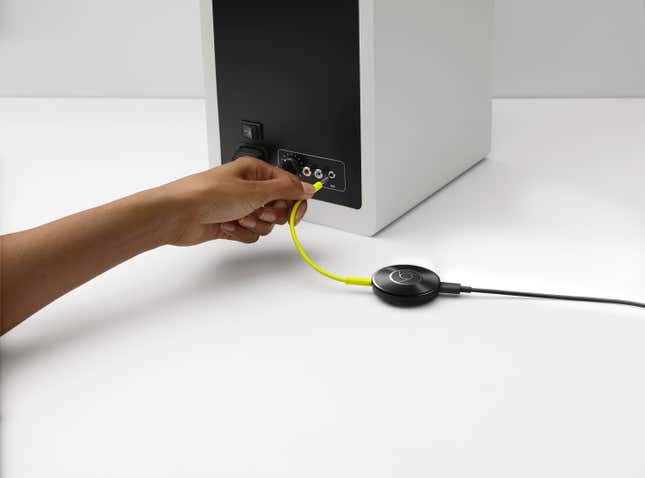 Watch out, Sonos. Not content with taking on Apple TV, Google announced another Chromecast device, just for audio streaming. Also costing only $35, the WiFi-enabled device can be plugged into any speaker system to turn them into a streaming music setup which can be controlled by any tablet, laptop, or smartphone. Google said the device's design was inspired by the look of a vinyl record—a thing you'll likely never listen to again thanks to this little dongle. Unless you're a hipster.
New sound system. Chromecast Audio lets anyone with the Google Play Music, YouTube, or Spotify app control the music from his or her mobile device. The device comes with an electric yellow AUX cable, and works with RCA and optical audio setups as well, meaning it should work with whatever home audio system you've got, however simple or complex.
Get it now. Like the regular Chromecast, the audio streamer is available for purchase today in 17 countries.
New tablet: The Pixel C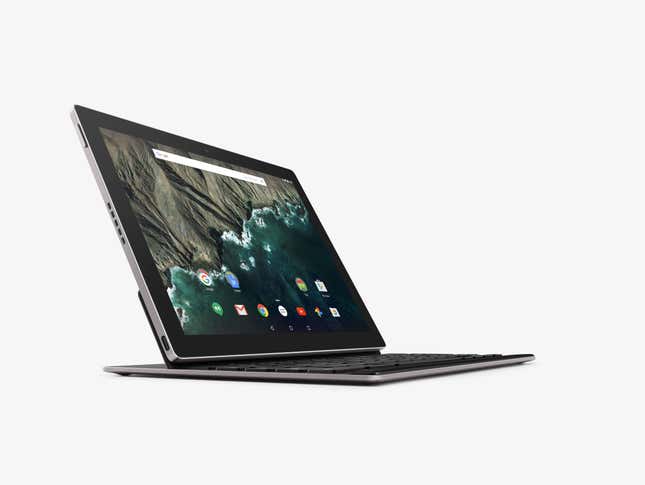 Keeping up. Google announced a tablet with a detachable magnetic keyboard, following hot on the heels of Apple, and not quite as hotly, Microsoft. The Pixel C is the tablet version of the oddly proportioned Chromebook Pixel laptop launched in 2013.
Not a laptop. The 10.2-inch tablet, however, won't be running the Chrome operating system Google developed for netbooks—instead it'll be running Android. Google also was quick to say in its release that this definitely does not replace the Pixel laptop. 
Competitive price. The 32 GB Pixel model starts at $499, with the metal keyboard attachment costing an additional $149. For reference, Apple's iPad Pro (without the keyboard) will start at $799, and Microsoft's Surface 3 costs $499, with the keyboard running an additional $129. 
Want it? Tough. Google didn't announce when its new tablet when go on sale.