For $96,000, you'd think it might really be made of gold.
That's the price one determined bidder recently paid for the gold-ish bikini that actress Carrie Fisher wore as Princess Leia in the movie Star Wars: Episode VI – Return of the Jedi.
In fact, the bikini is made of "flexible, gold-painted red dense-urethane rubber," according to the auction listing, and the fabric parts aren't even original. But none of that matters. Princess Leia's bikini is an icon of film history and nerd fantasies.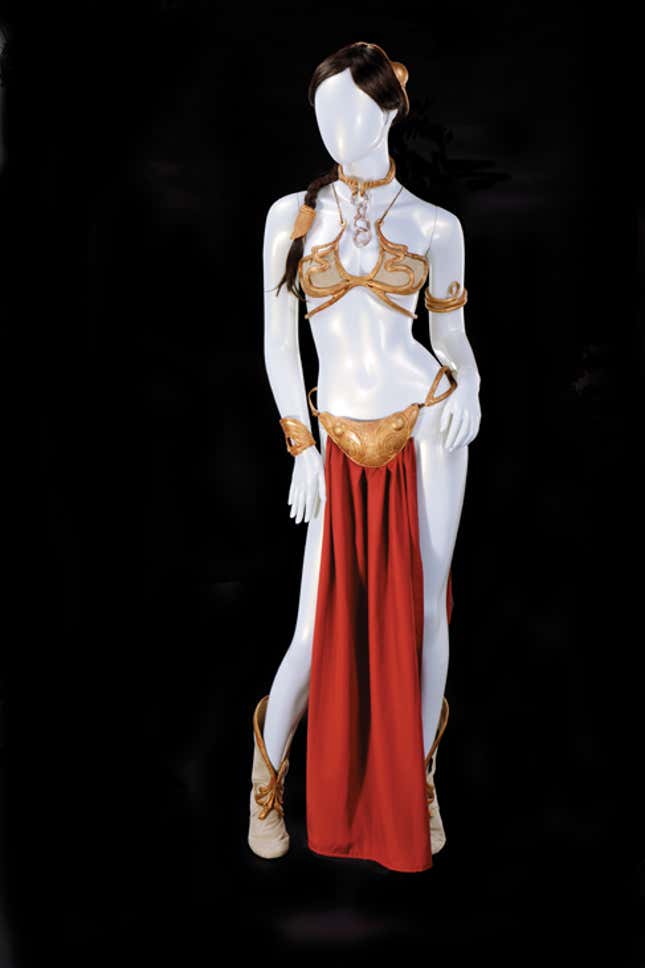 The bikini, conceived as Princess Leia's "slave outfit" during her capture by Jabba the Hutt, has its own Wikipedia page. It is the subject of tribute videos on YouTube, and has been imitated and parodied relentlessly in pop culture since its debut in 1983. Comedian Amy Schumer just appeared in a riff on the bikini, for the August cover of magazine GQ.
At the auction, held last week by Profiles in History, a memorabilia auction house, bidding started at $80,000.
It's probably a good time for auctions of Star Wars memorabilia. A new set of Star Wars movies is scheduled to start rolling out this year, and Disney recently announced that it is building massive new Star Wars-themed parks.
But while fans have loved the bikini for decades, Fisher may not have been such a fan. "If you stood behind me, you could see straight to Florida," she has reportedly said, adding that the rigid costume felt like "what supermodels will eventually wear in the seventh ring of hell."