One of the most quintessentially British cars will soon be driving into the 21st century. At a Bloomberg conference in London Monday (Oct. 12), Aston Martin CEO Andy Palmer said that the car company is working on an all-electric version of its Rapide sports car, which it plans to have available by the end of 2017. And it's going to be a beast.
"We're talking about an electric Aston Martin with between 800 and 1,000 horsepower—imagine having all that torque on demand," Palmer told Bloomberg. (For reference, the 2015 gasoline-powered Rapide model has 552 horsepower, whereas a Tesla Model S can have up to 691 horsepower.)
The company wasn't immediately available for comment on how the electric Rapide will differ from the current model, but Palmer said onstage that the new car will be based on the existing model. After that, the company plans to put out an electric crossover vehicle. The company showed off a concept car earlier this year, called the DBX—the first crossover the company has made—and Palmer said this would be the basis for the company's second electric vehicle.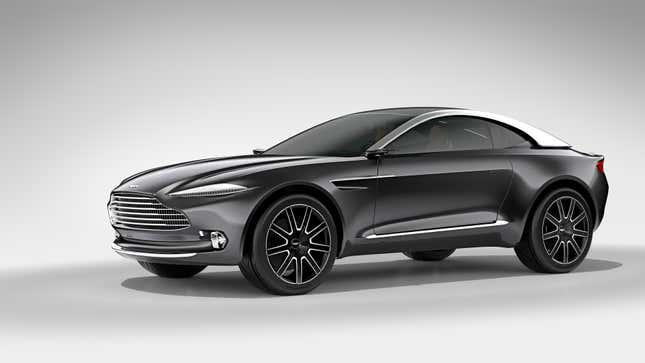 While Tesla currently has the luxury electric sports car market wrapped up with its Model S and recently announced Model X vehicles, the company will soon be facing increased competition. Audi, Mercedes, and Porsche have all announced their intentions to have electric vehicles on the road by the end of the decade. Tesla is likely to increasingly go after the rest of the market, however: CEO Elon Musk has said that the company's next car—the Model 3—will be more affordable, starting at $35,000. Palmer said that Aston Martin has no intention to leave the luxury market, whether it's electric or gasoline-powered, telling the conference he wants to avoid the "vanilla in the middle."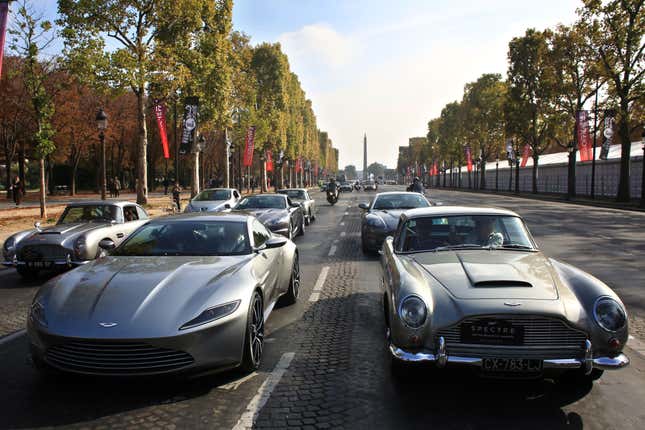 For years, James Bond, the protagonist of the British 007 spy films, has driven an Aston Martin. He's experimented over the years with Germans and Italians over the years, but seems to always find himself back behind the wheel of a British classic. In the upcoming Bond film, "Spectre," James will be driving the new Aston Martin DB10. And Palmer said there's a chance that an electric vehicle could make it into a Bond film in the future (assuming there's another one): "It's an awfully good getaway vehicle," he said. "I don't think James really cares what the power train is as long it's fast and beautiful."