Three and a half years after Tesla CEO Elon Musk first teased the public with the Model X—an electric crossover SUV with falcon-wing doors—the company has delivered the vehicle to its first customers.
In a splashy debut at Tesla's Fremont, California, warehouse, the company handed the keys of the Model X Signature Edition, a $132,000 model with all the trimmings, to five early customers who put down a $40,000 deposit to reserve the vehicle. At least a thousand more attendees at the Sept. 29 event registered to sit in the new car for a test drive.
The company, however, did not reveal key details analysts and buyers have been patiently waiting for, including the price tag for its base model, or the number of units that will be available this year. To date, Tesla has delivered more than 78,300 Model S sedans and 2,100 Roadsters.
Musk has called the Model X "the hardest car to build in the world," and indeed the first vehicles missed their promised delivery date by more than two years. The all-wheel-drive SUV includes three rows of seating for up to seven people. With the performance upgrade—what Tesla calls "ludicrous mode"—its power train (the same found in Tesla's all-wheel-drive Model S) can accelerate from zero to 60 miles per hour in 3.2 seconds, with a top speed of 155 miles per hour.
On a full charge, the Model X will be able to travel up to 250 miles—a bit less than the Model S's 265-mile range because of the SUV's heavier body.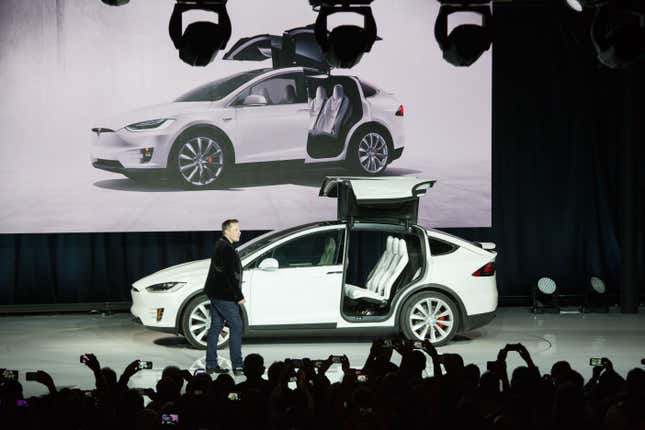 One of the most iconic features of the new vehicle is the futuristic falcon-wing doors, which open vertically instead of swinging out. Though flashy, Musk said the hinged doors are also more convenient. They open in tight spots better than traditional car doors (see demo in video below), and also make it easier to access the third row, especially if there's a child seat installed in the car. The doors needs only 30 cm of space on each side to open; a sonar sensor helps it avoid hitting potential obstacles.
Tesla is betting the Model X will appeal to families with its roomy interior—and in particular resonate with women, who buy 53% of small SUVs in the US, according to JD Power & Associates. In selling this as a family car, Musk emphasized that the Model X "is the safest SUV ever," with five-star safety ratings. And it can tow up to 5,000 pounds—ideal for family trips.
The sales tactic perhaps is already working; at least a few babies were spotted in attendance at the car's unveiling.
Though the Model X clearly targets a high-end clientele, Tesla wants to eventually serve the broader luxury car maket. Musk has a vision of selling 500,000 cars by 2020. Key to that will be the Model 3, with a price tag expected at roughly $35,000 price tag and rumors of a launch date in 2018. But by then, Tesla might face some stiff competition. Both Audi and Mercedes plan to start production on their electric cars by the end of the decade, and Porsche appears to not be too far behind in getting its concept electric sports car to market.