If you watched the latest episode of Showtime's Homeland on Oct. 11, and you can read Arabic, then you may have been a bit confused as to why the Emmy-winning TV series seemed to be condemning itself via several graffiti messages on the wall of one particular scene. "Homeland is racist," one of the writings said. "Homeland is a joke," read another.
Turns out, it wasn't the show trying to be self-deprecating.
During the episode, Carrie Mathison (the show's main character, played by Claire Danes) walks through a Syrian refugee camp in Lebanon (a production set in Berlin). Graffiti can be seen sprawled on the walls all around her. Before production began in June, Homeland had hired a group of street artists to make the Berlin set feel more authentic. But some of the artists it hired had other, more subversive intentions.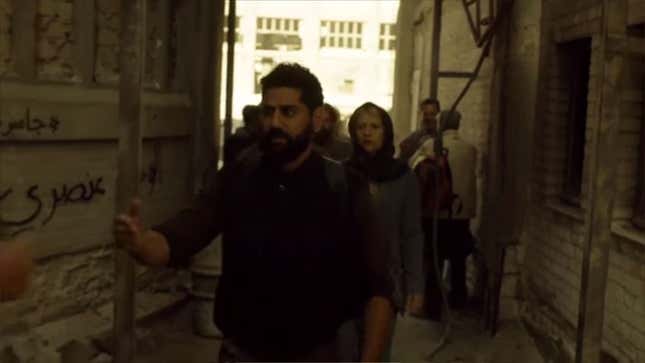 In an essay online, the street artists said they saw the gig as the perfect opportunity to sneak in their opinions of a show they consider extremely misleading and damaging to Muslims. The show's production company had given them images of real graffiti to use as examples, they said, including ones that showed support for Syrian president Bashar al-Assad. Otherwise, they were told to remain apolitical.
Instead, they wrote, they decided to "arm ourselves with slogans, with proverbs allowing for critical interpretation, and, if the chance presented itself, blatant criticism directed at the show."
The artists—Heba Amin, Caram Kapp, and "Stone"—said that the busy set designers focused on the look of the set. "The content of what was written on the walls, however, was of no concern," they said in their statement. "In their eyes, Arabic script is merely a supplementary visual that completes the horror-fantasy of the Middle East."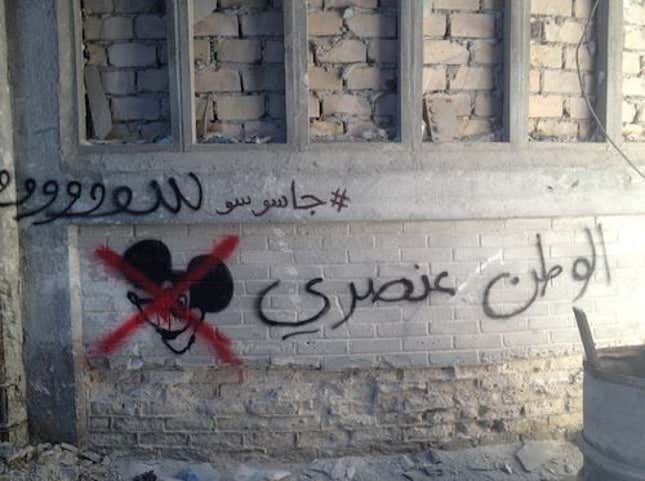 It's not just these artists who think Homeland is racist. Many Pakistanis were unhappy with the show's portrayal of their country last season, in which Pakistani officials collaborated with the Taliban, and an important terrorist happened to share a name with a real-life former Pakistani ambassador to the US. The show has also been criticized for failing to differentiate between different types of Muslims and for positioning many of them as "evil" antagonists to the white American heroes of the show. The Washington Post called it "the most bigoted show on television."
But others have defended the show for being earnest, having good intentions, and actually being more nuanced than its detractors suggest. Accusations notwithstanding, the show has won several Emmy awards, including one for best drama and another for Danes, who plays a bipolar CIA agent (though, in the current season, she has retired from the CIA and is working as an independent security contractor).
If you thought the people behind Homeland would be angry over the sabotage, that doesn't appear to be the case. "We wish we'd caught these images before they made it to air," showrunner Alex Gansa told Deadline. "However, as Homeland always strives to be subversive in its own right and a stimulus for conversation, we can't help but admire this act of artistic sabotage."