Google searches are like a stream of consciousness. We plug every idle curiosity, every thought, and every question into the search engine. Google has always kept careful record of these searches, which helps sell ads. But Google also keeps an audio log of the questions you ask its voice search function, OK Google, and now you can listen to those recordings online.
Back in June, Google launched a new portal for all Google account-related activities. It's where you can manage your privacy settings, see what you've searched for, and where Google has logged your location. The Guardian pointed out Oct. 12 that these archives include a section for voice searches, and it's a little unnerving to listen to every silly thing you've asked since the service launched.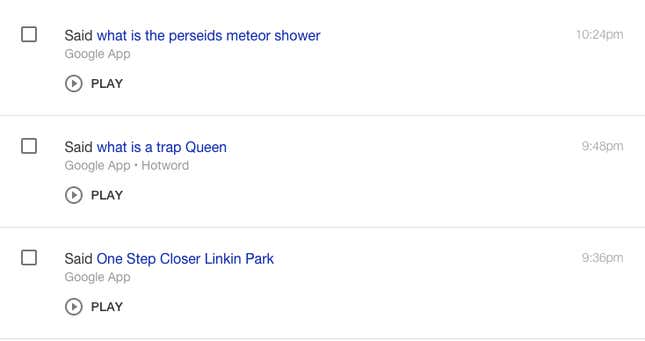 In recent months, I've apparently asked Google where I can eat nearby, how to take a screenshot on the OnePlus Two, what a Trap Queen is, what the Perseids are, and to play a Linkin Park song. It's all there—my dumb voice asking dumb questions that I thought were lost into the ephemerality of Google's search servers.
Thankfully, I'm the only one who can listen to them, and I can delete the recordings.
How to find and delete your recordings
Log into history.google.com
Click on the hamburger icon on the top left of the page
Go to "Voice & Audio Activity"
Scroll through your list to see all the silly things there is audio proof of you asking about
Click on one of the squares to select a recording to delete
Stop using the voice function if you don't want to listen to yourself again in the future
Google wasn't immediately available for comment as to why it's keeping the actual voice recordings of our searches. For advertising purposes, you'd think the text of the searches would've sufficed.
It's possible Google is using the recordings to better inform its natural language processing algorithms so that it can figure out the differences between a Brooklyn accent and a mid-Atlantic accent. Or perhaps it's using the data to build out the first fully-functional artificially intelligent robot. Hopefully it's not that.