Technology is always evolving, and fashion brands know they have a shot at boosting sales if they can leverage the latest innovations to create new customer experiences. The result is a lot of ambitious in-store experimentation in technologies like 3D body scanning and virtual changing rooms.
Case in point: Walk into the Tommy Hilfiger store on 5th Avenue in New York today (Oct. 20), and you'll be able to watch the brand's fall runway presentation in 360-degree virtual reality, as if you were sitting front row at Manhattan's Park Avenue Armory, when it originally showed on February 16.
You'll even get a peek backstage, and if you see any clothes you like, you'll be able to find them on the racks and buy them, which is precisely what Tommy Hilfiger is hoping will happen.
The installation, which debuts in New York but will soon roll out in other cities, including London, Paris, Zurich, and Moscow, is the result of a collaboration between Tommy Hilfiger and WeMakeVR. The Netherlands-based startup developed the 360-degree camera that filmed the show, and has also worked on virtual reality with IBM and the London Symphony Orchestra.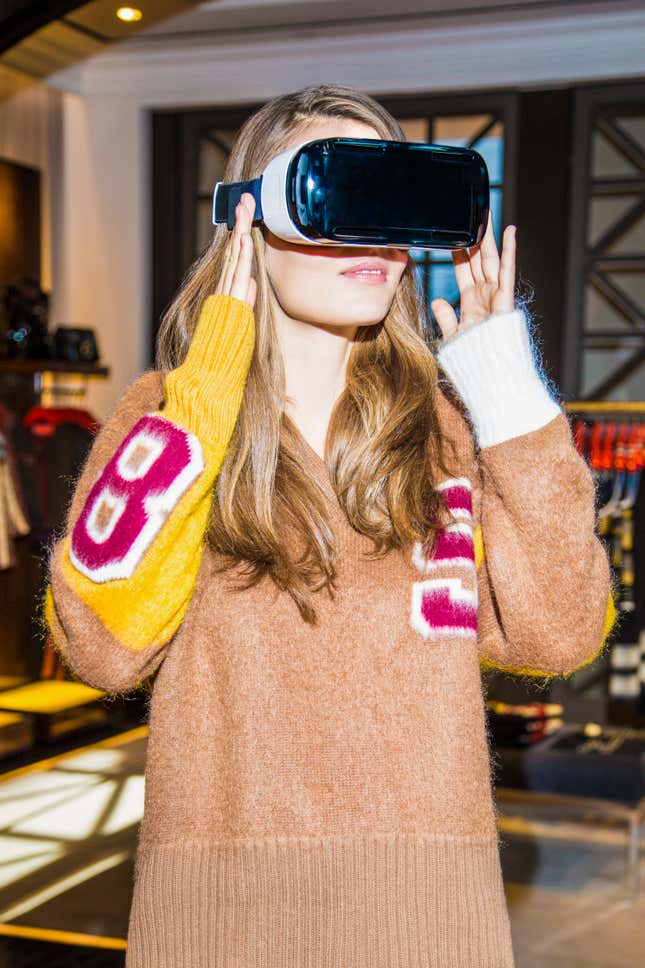 To watch the runway show, customers will wear Samsung's GearVR device, a virtual reality headset powered by virtual-reality trailblazer Oculus. And then they'll theoretically be able to look in any direction and see exactly what the show, and the clothes, looked like.
Tommy Hilfiger is one among numerous fashion brands toying with new forms of digital interaction, and not even the first to try out virtual reality.
Last month, fashion brand Rebecca Minkoff started selling a Google Cardboard headset that lets you watch its fall-winter 2015 show in virtual reality. Burberry has been a pioneer in technologically-enhanced stores for years. And in September, luxury conglomerate LVMH got serious about digital, poaching Apple executive Ian Rogers.
For many brands, technology offers a way to create unique, digital experiences in their old-fashioned brick-and-mortar stores. The execution isn't always flawless—these efforts can come off as gimmicks when they feel like they're done more for the sake of displaying the technology than improving the customer's experience. But brands such as Tommy Hilfiger believe there's potential to change what it's like to walk into their stores.
"From the incredible set and music to exclusive backstage moments, consumers will be able to watch the clothes move and see the collection in the original show environment—it's a compelling and interesting elevation of the traditional shopping experience," Tommy Hilfiger said in a statement.
A representative for the brand tells Quartz that it is also looking into how to use virtual reality on an ongoing basis, beyond just offering immersive access to its runway shows.
Undoubtedly other fashion brands are doing the same.