Lytro—the company best known for its cameras that let people shoot now and focus later—is using its image-capturing technology to produce what it's building up as the most refined virtual-reality camera rig to hit the market.
That said, many details of the Lytro Immerge have yet to be finalized—its precise launch date (sometime in the first quarter), price tag, or even the number of cameras within its array. But one thing's for certain: This camera isn't designed for consumers.
With no consumer headsets yet available for sale, virtual reality is very much in its infancy. If VR companies want the technology to move past early adopter territory, they'll have to dazzle consumers with high-quality content. (The hardware will have to be easier to use and come down in price, and consumers will ultimately have to be convinced of VR's value.) Studios specializing in virtual reality filmmaking have done well getting attention, funding, and big clients. Disney just led a $65 million funding round in Jaunt, a VR studio based in Palo, Alto, California. VRSE in Los Angeles is releasing today a film shot with the New York Times.
Thus far, many virtual-reality filmmakers have had to cobble together homegrown rigs using GoPro cameras. But some companies, including GoPro and Jaunt, are developing fully integrated hardware that's easier to handle (interacting with one system as opposed to 16 individual cameras) and bypasses having to stitch footage altogether.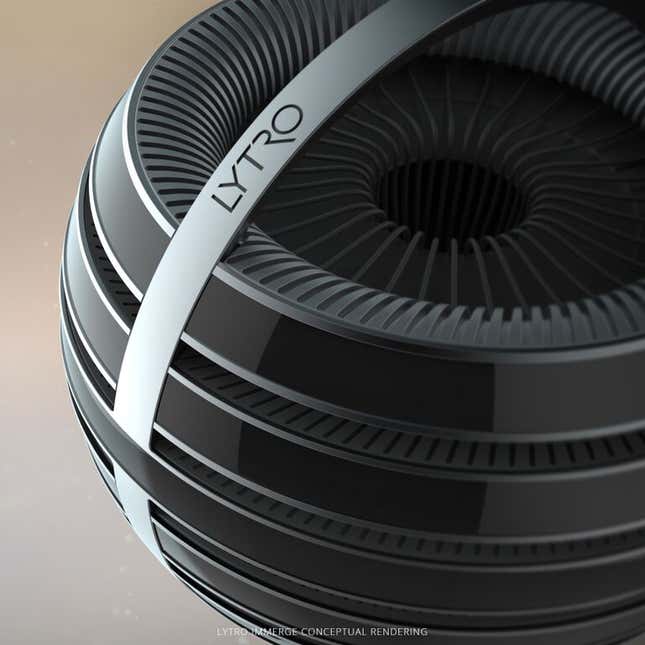 Lytro wants Immerge to be a fully controlled end-to-end system that takes some of the technical challenges out of VR filmmaking. The whole package includes storage, processing, editing tools, a server to stream VR video, as well as a Lytro application engineer to troubleshoot any issues. Altogether, it'll cost somewhere in the "multiple hundreds of thousands of dollars," Lytro CEO Jason Rosenthal tells Quartz.
While it'll certainly sell some units, the company expects to make money largely off rentals (at a daily rate of about 2.5% of the equipment's cost) and its "white glove" service.
Launching with much fanfare in 2011, Lytro was born from founder Ren Ng's Ph.D dissertation at Stanford, which "introduce[d] a new approach to everyday photography." It led to the development of megaray (instead of megapixel) sensors capable of capturing light in all directions through all points in space. The richness of the data made it possible for photographers to shoot "living pictures" that can be focused after the fact.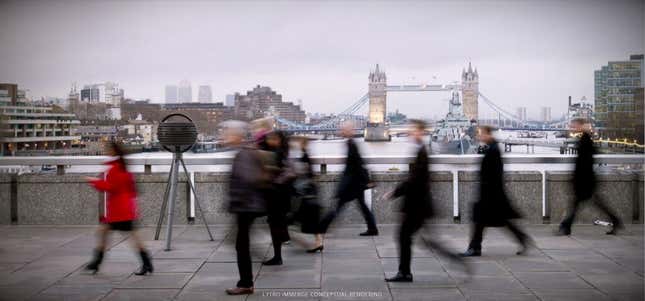 While it was a technological breakthrough, the new-age camera came across as a gimmick to serious photographers (in Lytro's early days, they had to use the company's proprietary editing tools and rely on its servers to host images) and turned off casual shooters with its $400 price tag. Reports suggested limited adoption, and layoffs hit the company in 2013. Lytro declined to reveal sales figures, but Rosenthal says Illum, its $1,300 second-generation camera released last year, "exceeded our highest expectations in terms of market reaction and sales."
Illum's launch paved the path for Lytro's transformation into a virtual-reality company. After the debut, VR filmmakers approached the company about using the technology to shoot more convincing footage, setting off 15 months of developments for the Immerge camera.
Virtual reality works only when it creates a sense of presence—essentially fooling the eyes and brain into believing what's in front, behind, and all around them is real. Headset makers like Oculus are tackling big problems like eliminating the delay between a person's change in position and what's displayed on the screen. (Nausea definitely takes away from presence.)
Lytro, meanwhile, is zeroing in on something much more subtle: depth perception. Unlike conventional VR cameras (if that is a thing), Immerge can capture the light volume—all the light flowing in a space—with sensors spread over five stacked rings of cameras in slightly different orientations, giving viewers a tad bit more realism. Because of this rich data, writing at 30GB per second, minuscule details like lighting, shadows, and the size of objects will change slightly to reflect the position of the viewer, just like seeing in real life. "This is a huge step toward creating a sense of presence," says Rosenthal.
The company says it remains committed to its consumer business, but Rosenthal notes that with 80 people, Lytro only has "bandwidth for one big hardware project at a time." Building completely new hardware for a completely new industry will requiring a lot of retooling and ironing out of kinks. Perhaps Lytro might decide that the light field was simply too hard a sell to consumers, and it's finally found its audience: professional filmmakers at the forefront of a new medium. Like they say, focus later.