Ria Heilena Pratiwi has had enough of the toxic smoke that plagues her hometown of Pekanbaru.
The thick haze is caused by fires set to clear land for palm oil plantations and other uses. The city of around 900,000 is the capital of Riau province, on Sumatra island in Indonesia. A single mother between jobs, Pratiwi lives in Jakarta but had until recently been contemplating a move back home, so that her mother could help out with the childrearing. But now she's decided to stay in Jakarta, and bring her mother there, away from the smoke.
"From a long time ago, every year the haze comes again," she tells Quartz. "So we decided to not live there anymore."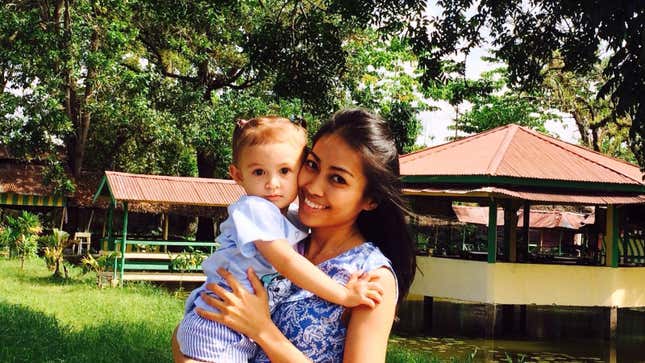 Pratiwi and her mother are among many people in Southeast Asia who are thinking twice about where they live. The smoke plagues much of the region every year, in Indonesia as well as Singapore and Malaysia. It's been recurring for decades. But it's especially bad this year, thanks to dry conditions made worse by the El Niño weather phenomenon.
The severity of this year's smoke has prompted some to move in with relatives, as is the case for Pratiwi's mother. Others are being helped by their employers to relocate. And some are just taking long vacations until cleaner air returns.
A matter of life and death
Getting out of town—or moving permanently—is a smart move. A 2012 study found that elevated exposure to the smoke during El Niño years caused around 15,000 cardiovascular-linked adult deaths per year in Southeast Asia. Of particular concern is the smoke produced by fires burning on drained and dried peatlands, which smolder deep in the soil, are fiendishly hard to extinguish, and produce enormous amounts of noxious fumes, far more than forest fires.
Unfortunately for Pratiwi's mother, who is now suffering from respiratory ailments, Pekanbaru receives some of the thickest smoke in Indonesia. According to Singapore's Straits Times newspaper, the air in Pekanbaru reached a staggering 984 on the Pollutant Standards Index in mid-September. Readings of between 200 to 300 are considered unhealthy, and anything above 300 is hazardous to human health. A doctor quoted by the paper said a reading of 984 should "trigger an evacuation," noting such levels could cause nausea, physical weakness, and, in the long term, cancer. Thousands indeed have left Pekanbaru.
To move to Jakarta, Pratiwi's mother will have to give up her open-air restaurant, which at any rate has had virtually no customers in the past three months as people opted to stay inside. Indonesia's capital is a more crowded, hectic, and expensive city to live in. But at least in Jakarta breathing shouldn't be challenge, thanks to the city being on Java, away from the smoke's direction. (One wonders, though, whether the smoke problem would have been properly addressed years ago if it did smother Jakarta—home to the nation's political elite and their families.)
While Pratiwi and her mother must pay for their move themselves, some are lucky enough to have assistance from their employers. Bank Indonesia recently evacuated the families of its staff based in Pontianak, capital of the West Kalimantan province, according to Bloomberg. The city is located on Borneo, which along with Sumatra sees heavy activity from the palm oil industry. The bank also urged families and children of its workers in Palembang on Sumatra to evacuate to the southern tip of the island, where the air quality is better.
"We can't rely on human effort to manage this disaster," said Dwi Suslamanto, the head of the central bank in West Kalimantan. "Our only hope is for the rain, and for the people who started the fires to not repeat what they did."
Smoke on the water
The smoke has forced some to question whether Singapore—located next to Sumatra across the narrow Strait of Malacca—is such good place to live, despite its high ranking on many livability studies. The smoke "is a problem that cannot be solved given how corrupt and ineffective the Indonesian government is," reads a mid-September post at the blog Limpeh Is a Foreign Talent, whose author is self-described as a former Singaporean in the finance industry:
With no solution in sight, the problem is just going to get worse and worse… for the sake of your health and the health of your family, this is a very good reason to consider moving to a far less polluted country where you simply don't have to worry about the quality of the air you breathe.
Last month, AsiaOne in Singapore tellingly posted an article called "5 places to escape the haze on a budget" in its travel section, suggesting Thailand's Chiang Mai and Vietnam's Hoi An, among other blue-sky destinations.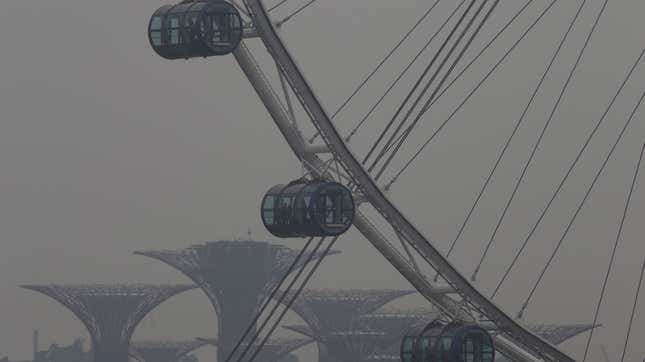 Of course, not everyone can afford a trip abroad, especially low-income workers in the hardest-hit areas of Indonesia. "I have to stay whether I like it or not. My livelihood is here so how can I leave?" asked a street vendor in the Borneo city of Palangkaraya, in an October article by Agence France-Presse. The vendor had to keep doing her job, she said, to pay her children's school fees, despite the toll on her health from working outdoors.
The article also profiled a 32-year-old pharmacist who fled the city with her three-year-old daughter and ended up in an evacuation center six hours away in Banjarmasin, sharing a basic shelter with nine other evacuees, mostly children, including a one-year-old boy suffering from a severe cough and diarrhea.
"The smoke was no longer white, it was yellow," she told AFP. "Usually we just endured it, even though we had headaches and felt nauseous. But it has got so bad lately, that I can't take it anymore. I can't even breathe fresh air."
In Indonesia, at least 19 people have died from effects of the smoke, and half a million are suffering from respiratory problems. Louis Verchot, a scientist with the Center for International Forestry Research, believes the actual number of the affected is much higher. During a workshop in mid-October he and others found many harmful gases in the air in Central Kalimantan on Borneo, including ozone, carbon monoxide, cyanide, ammonia, formaldehyde, nitric oxide, and methane. As the center noted:
The effects of any smoke on human health are well documented: headaches, dizziness, fatigue bronchitis, asthma, pneumonia, and cardiovascular disease. In Central Kalimantan, however, the full extent of long-term smoke inhalation on local people remains unknown. But given the levels of toxic gases measured during the workshop, researchers fear the effects of the fires may be far worse than they had anticipated.
Indonesian officials have promised to take action, but such promises have thus far failed to deliver results, year after year. It doesn't help when high-ranking Indonesian officials—notably vice president Jusuf Kalla—are openly disdainful of complaints about the smoke.
"In the future, I'm afraid the haze will come again," says Pratiwi.