Soccer. Athletics. Cricket. Baseball. Is there any sport that isn't corrupt?
It seems that it's impossible to turn on the TV or go to a sporting event without questioning whether the whole thing will be just annulled in six months time. But never fear. Quartz is here with a handy sport-by-sport ranking to help you determine if the athletic activity you love is as crooked as a dog's hind leg.
If these were awards, and they should be, we would call them the Seppies.
Athletics
Widespread doping, secret police inside anti-doping laboratories, bribes, the destruction of blood samples, extortion, and even intimidation—world athletics was thrown into turmoil after the World Anti-Doping Agency (WADA) published a scathing report into systematic doping. The findings sound more like a movie plot than a sporting investigation.
WADA'S report said there was a "state-sponsored" doping program in Russia, where athletes were pressured into doping, and the state covered it up by faking or destroying results. The scale of systematic effort at collusion came to light after German journalist Hajo Seppelt first investigated claims of systematic doping in Russia in a series of documentaries. WADA has called for Russia to be banned from athletics competition and warned that Kenya they could be next.
As officials fall over each other to out-condemn the report's findings, it's important to remember that world sport has been gripped by similar, or even worse, scandals before. After releasing the report, Richard Pound, chair of WADA's Independent Commission, warned that the problems of cheating go beyond one sport and one country.
Two years ago, a number of Jamaican athletes tested positive for performance-enhancing drugs. The scandal was described at the time as "the tip of the iceberg" for drug abuse in athletics. An investigation by the Sunday Times (paywall) from earlier this year—published before WADA's report—suggests that out of 5,000 athletes in a leaked database, one in seven blood tests results are "highly suggestive of doping or at the very least abnormal."
But WADA is clearly keen to weed out the cheaters. With stars like Usain Bolt stepping up to renew faith in athletics, and as long as other countries co-operate, there is some slim hope for the sport.
Quartz corruption rating: 8/10
Soccer
It was recently reported that FIFA president Sepp Blatter had been hospitalized after suffering from a "small emotional breakdown." Maybe he read the list of charges against him.
Fourteen current and former FIFA officials had been indicted by the US following a dramatic raid at a luxury hotel in Zurich in May. FIFA officials have been charged with racketeering, wire fraud, and money laundering after a FBI investigation accused them of accepting bribes to host the World Cup. Further investigations could strip Russia and Qatar from hosting the 2018 and 2022 cups, respectively.
These accusations have already tarnished the 2010 South African World Cup and the 2006 German World Cup—which affects Germany's bid to host the 2024 Olympics. Some question whether any World Cup bid has been won without bribes. The FBI investigation has so far shown a familiar pattern: any official could be bought for the right price.
Sadly, that has sometimes applied to the matches themselves as well. In 2013, four Nigerian soccer clubs got 10-year bans, with the players banned for life, for their involvement in a match-fixing scandal. The 72 goals in the second half might have tipped off authorities that something was off. And then there was this own goal in an international game:
And then there were comments this week from Arsenal manager Arsene Wenger saying that he while his team had always played clean, they often met teams not "in that frame of mind"—after a Dinamo Zagreb player failed a drug test following a win over Arsenal. Is there a drug problem in soccer, too?
Soccer truly deserves the title of the most corrupt sport of them all.
Quartz corruption rating: 11/10
Cycling
There has been no worse fall from grace than Lance Armstrong, the once-revered cycling god, who finally admitted to using performance-enhancing drugs in 2013. He was stripped of all seven of his Tour de France titles (paywall) and banned from the sport for life.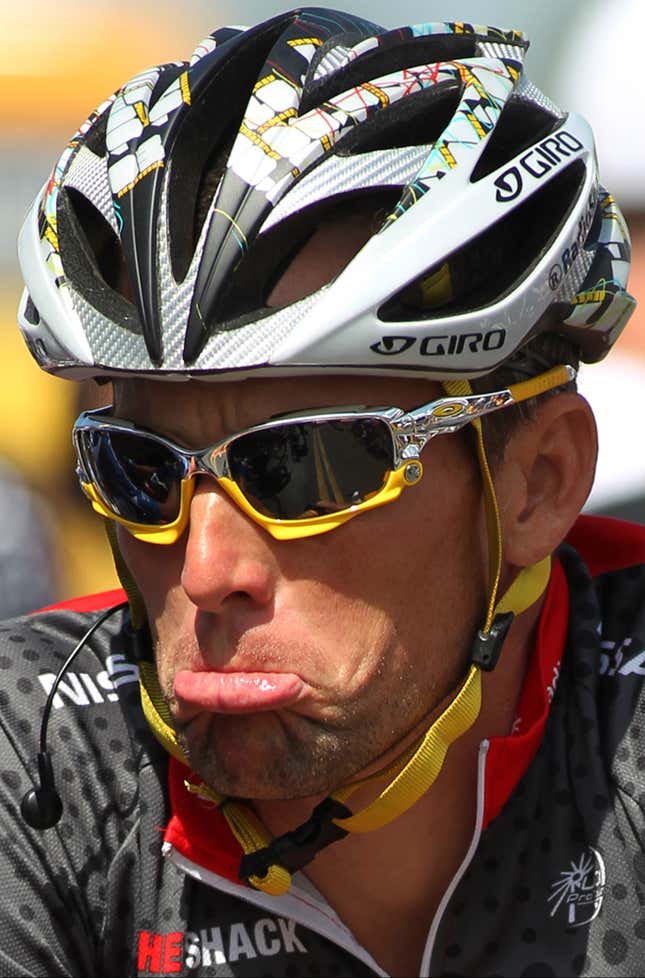 It's not about one bad apple; a 2015 report by the Cycling Independent Reform Commission concluded that "performance enhancing drugs was pervasive in the sport." Armstrong said he started using performance-enhancing drugs after his managers threatened to drop him for performing poorly.
While the Circ report clears the International Cycling Union's bosses of outright corruption, the commission does note a series of failures, where the UCI turned a blind-eye to cheaters and giving preferential treatment to stars like Armstrong. The report did, however, acknowledge improvements in the anti-doping effort since 2006.
As authorities are pursuing athletes more aggressively (paywall) in the last few years, cycling seems to be on its way to overcoming this scandal. Hopefully.
Quartz corruption rating: 8/10
American football
The National Football League is the most profitable sports organization in America. While the league has yet to face significant financial scandal, the NFL has been accused of putting profit over players' safety and violence against women, while others have grown increasingly uneasy with the relationship between politicians and the league.
The NFL has come under massive amounts of scrutiny on player head injuries in the last few years culminating in Will Smith's new film Concussion, which tells the true story Bennet Omalu, a doctor who fought against the NFL attempts to suppress his research on brain damage suffered by players.
As for on-the-field corruption, it's rarer—but "Deflategate" during the AFC championship game between the Indianapolis Colts and the New England Patriots didn't help. A 243-page report later set out the inappropriate activities of Jim McNally and John Jastremski, who tampered with the pressure of the balls. Superstar Tom Brady was banned for four games—until this was eventually overturned by a US district judge.
The NFL's inability to handle any of these scandals appropriately spells bad news for its future.
Quartz corruption rating: 7/10
Baseball
A number of America's most beloved baseball players were eventually implicated in the use of performance-enhancing drugs, when testing began in 2003.  The scandal saw many great players brought down, such as Ryan Braun, Jhonny Peralta, and Yasmani Grandal. Baseball's best player, Barry Bonds, was also tarnished—so much so that his record home-run ball was permanently asterisked (paywall).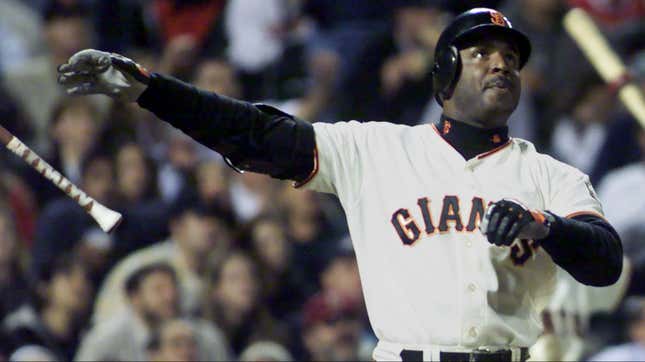 Yet the MLB has cleaned up it's act a lot since the steroid era and has been responding quickly and effectively to performance-enhancing drugs. Major League Baseball suspended 14 players in 2013 in a move that was meant to signal the league's commitment to stamping out drugs—though a string of players tested positive earlier this year.
It first introduced a 10-game ban for a first positive test, 30 days for a second fail, 60 for a third—but that's now been increased to a 80-game ban for a first offense, a season ban for the second, and a lifetime ban for a third. The sport has clearly yet to fully recover, but at least it's in recovery, with the MLB learning from past mistakes.
Quartz corruption rating: 5/10
Cricket
 The so-called gentlemen's sport has had its fair share of scandals. Cricket has been dogged by allegations of match-fixing—it's been described as the "game's cancer" that refuses to fade away.
The Indian Premier League, one of the world's richest cricket tournaments, is still reeling from a corruption scandal that broke in 2013, which saw two of the league's eight teams suspended. Dozens of people, including players and team officials, were arrested and later charged for illegal betting and match fixing. Then, some Kiwi cricketers were embroiled in a scandal.
More recently, three Pakistani players—Salman Butt, Mohammad Asif, and Mohammad Amir—were served five to 10-year bans after they were found guilty of taking part in a plot to throw games in the Lord's Test in August 2010. Butt and Asif's ban expired on Sep. 2 and both are eligible to play again.
In the last few years, the International Cricket Council has stepped up its efforts to effectively deal with the match-fixing scandals that plagues the sport. Cricket Australia chief executive James Sutherland says the sport can't afford to be complacent, emphasizing the importance of education in anti-corruption measures—young cricketers have been found to be particularly vulnerable to match-fixers' advances.
Quartz corruption rating: 8/10
Snooker
Even sweet, genteel snooker is not immune to scandal. The sport has been plagued with allegations of corruption since the late 1980s.
There was John Higgins, who was filmed agreeing to take a bribe, though he was eventually cleared; two snooker players who were being investigated for possible match fixing had their homes firebombed.
Stephen Lee is the latest player to be given a career-ending ban after he was found guilty of match-fixing in what officials say is "the worst case of snooker corruption we've seen." While Lee has threatened to "tell all" on the corruption in the sport, he has yet to reveal anything substantial so far. Officials appeared to have quickly dealt with issues of match fixing, and appear to be committed to ensuring that snooker is free from corruption
Quartz corruption rating: 5/10