A fast-growing Chinese developer who claimed to be able to build cheap, renewable 3D-printed houses that take just three hours to assemble has attracted plenty of media attention and investor cash in recent months in China.
Zhuoda Group raised about 10 billion yuan ($1.57 billion) from more than 400,000 Chinese investors by selling financial products linked to these homes that guarantee annual returns as high as 30%, Watching, a digital publication owned in part by Alibaba, reported this month (link in Chinese). But at least one of the company's supposed backers does not exist, and its financial products don't have any underlying assets to support those returns, Watching reports.
China's retail investors have long been looking for alternatives to the country's low-interest bank accounts and volatile stock market, and are diving into new financing schemes like Zhuoda and wealth management products issued by banks. Regulation in China is not keeping pace with the growth of these new products, though. Fanya Metal Exchange, a government-supported trading platform that lured an estimated $6 billion from around 220,000 Chinese investors is now suspected to be a giant ponzi scheme.
Too good to be true?
Founded in 1993 in North China's Hebei province, Zhuoda claims (link in Chinese) to have a net asset of over 100 billion yuan ($15.7 billion) and around 15,000 employees. In 2006, it set up a subsidiary Zhuoda New Material for modular home construction, in which buildings are factory-produced in pieces and then assembled on site. Zhuoda claimed it had created a new composite material  that could replace cement, wood, pottery clay, and stones—and could be recycled. The material could cut construction times and slash labor fees, the company said.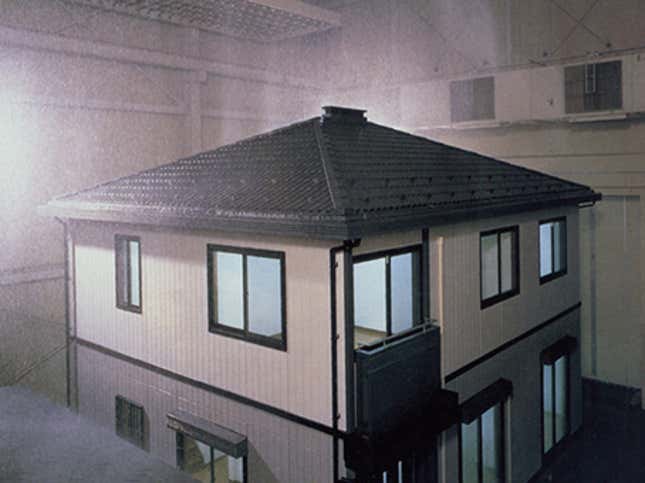 Zhuoda got tons of publicity in China for its 3D-printed houses as it showcased the technology in different Chinese cities, from both Chinese state media and 3-D printing enthusiasts and tech media around the world. It started winning contracts (link in Chinese) with local governments.
But as the excitement built, Zhuoda never clarified which parts of those modular houses were 3D-printed, nor linked its "new composite materials" with 3D printing on its website.  The company's promised returns were certainly high, when compared to financial products of other Chinese developers. For example, Wanda Group, China's largest commercial property company, promises an annual return of 12% in a financial product called "Stable Earner No. 1," which does online crowdfunding for building its shopping plazas
Zhuoda claims (link in Chinese) that its new materials subsidiary has 2 trillion yuan ($ 313 billion) in domestic and international orders in hand, and that the overall modular home market in China is worth 15 trillion yuan ($2.3 trillion). It claims its modular construction generates a profit margin of 33%, enough to pay investors' interest.
As big as Russia?
Watching and other Chinese media (link in Chinese) are also questioning Zhuoda's reported new materials deal with Russia. That's because Zhuoda claims the Russia deal is worth 600 billion yuan ($94 billion) a year—about the size of China's total trade with Russia in 2014.
"Who says my business can't be bigger than China's trade data? My business is responding to general secretary [Xi Jinping]'s call to open the Russian market," Yang Zhuoshu, president of Zhuoda Group, fired back in a video (link in Chinese) posted on the company's website. "If you oppose it, then you're opposing our support of Russia's national construction." If you hate us, then you hate Putin, he told viewers, and then you hate the Chinese Communist Party.
Zhuoda also posted its contract with Russia (link in Chinese) on the company website. The contract, dated 2013, states Zhuoda will provide "new construction materials" for Russia's government-subsided housing—92 million square meters construction annually over a 15-year term—but makes no reference to money.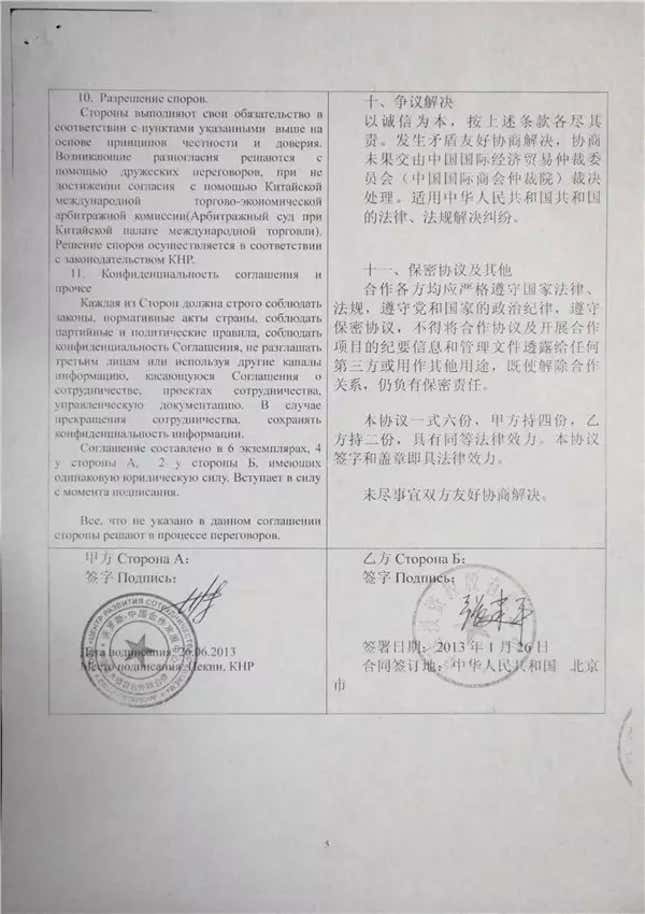 The Russian Embassy in China told Watching (link in Chinese) it had never heard of Zhuoda's deal with the Russian government. The embassy of DR Congo in China also said it had never heard of a contract Zhuoda claimed to have signed with the African country.
The Hebei provincial government's financial affairs office is now investigating Zhuoda's fundraising, Watching reported (link in Chinese) on Nov. 8. Two days after Watching posted the initial story, around 60 Zhuoda employees stormed Watching's office (link in Chinese) in Beijing, and stayed in the office for 12 hours until police demanded them to leave.
Watching has not written about the company since Nov. 11—perhaps because China's top media regulator said Nov. 14 that only central government-backed or Hebei provincial government-backed publications are allowed to cover the incident. Multiple calls made by Quartz to a Zhuoda spokesperson were not returned.