There's a buzz in the air: The mad rush for holiday shopping is just around the corner. According to the US government, Americans will give up to 1 million drones as presents this holiday season, making them one of the hottest gifts not made by Lego or Apple. Quartz has compiled a list of some of the best consumer drones on the market. Whether you or someone you know is looking to get into drone flying, or upgrade their current setup, Quartz has the drone for you:
For the beginner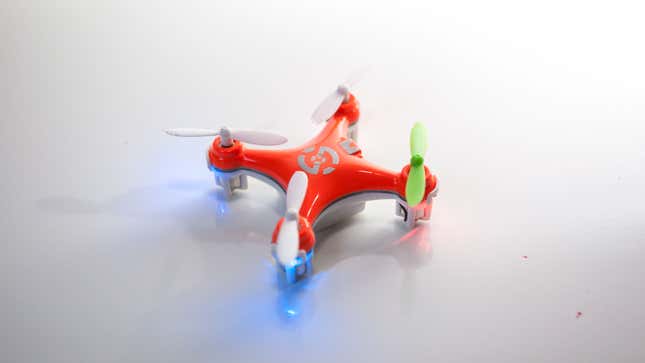 Microdrones. If you're looking to introduce someone to drone flying, the cheapest and simplest solution is to get them a microdrone. These are little quadcopters that typically weigh less than 1 pound. They'll still hurt if you fly them into someone, but they're a lot less menacing than some of the larger drone, and a lot cheaper. The Cheerson CX-10 costs $14, and can fly for about 8 minutes on a single charge. There's also the Syma X1, which has about the same flight time and costs $24. Both microdrones are relatively easy to master, and would make a great stocking stuffer for any drone-curious family member. Unsurprisingly, given the price, these drones don't offer much in the way of bells and whistles—they don't have cameras or any self-flying abilities, but they will help you figure out if you want to graduate onto something bigger, more powerful, and pricier.
For the intermediate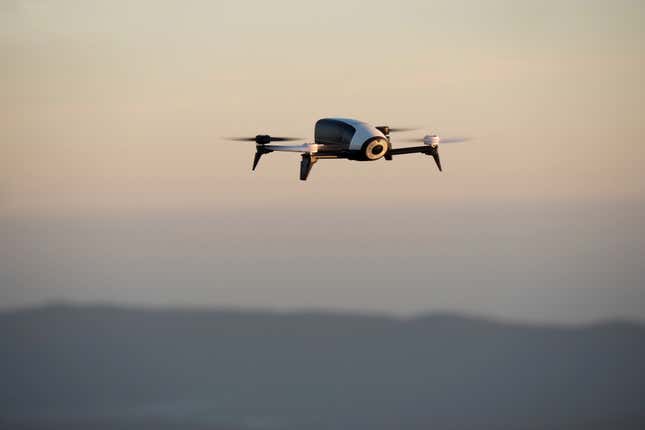 Parrot Bebop 2. Many of the higher-end consumer drones tend to cost around $1,000, and at that price you'll get live-streaming HD video, good camera quality, image stabilization, and self-hovering capabilities. The Bebop 2, a new drone from French manufacturer Parrot, has all those features, at about half the price. For $550, you get an easy-to-use drone that's supposed to be more durable and speedier than the original Bebop. You can control it through Parrot's mobile app, or, for an extra $250, you can get Parrot's Skycontroller, a physical remote that extends the drone's range. But if you're looking for a drone that can shoot professional video, look elsewhere: The Bebop 2 doesn't have a gimbal and relies on digital-image stabilizing to make sure its footage isn't completely jarred.
For the not very good at flying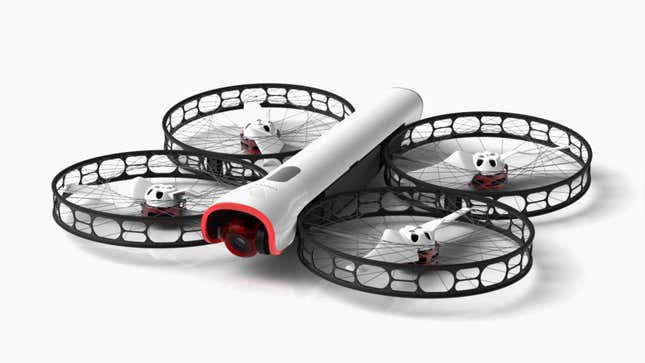 The Snap. If you're worried about getting hit by your "flying lawnmower" of a drone, Vantage Robotics' new drone might the choice for you. It's the safest drone we've flown: It has guards around its blades, which mean you can grab the drone in midair without worrying about losing a finger, and if for some reason the drone were to fall, it's held together by magnets, meaning it should disassemble on impact, limiting the damage if it hits something. It also has a self-stabilizing 4K camera and a bunch of programmable self-flying modes. The only catch: It won't be out in time for the holidays. But it's available for preorder now for $895, and will ship in the spring. Just put the order confirmation in their stocking.
For the prosumer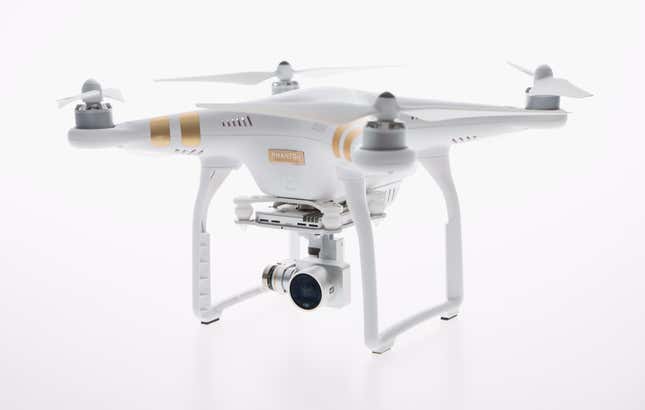 DJI Phantom 3. DJI's drones are regarded by some as the gold standard in consumer drones. The Chinese company announced the newest version of its Phantom line back in April, but they're still the best drones out there for around $1,000. The standard Phantom 3 costs $699 and can record 1080p HD video at 30 frames per second. But if you shell out $1,215 for the Phantom 3 Professional, you'll get full 4K video, also at 30 fps. Every drone in the line can live stream HD video directly from the drone to YouTube (through your phone's data connection), and send videos to Facebook right from DJI's app. DJI has also tried to idiot-proof this drone as much as possible, with built-in software that won't let you fly the drone near airports, or basically anywhere in Washington DC, and easy-to-fly software that lets the drone hover in place, and return home on command.
For flying under the radar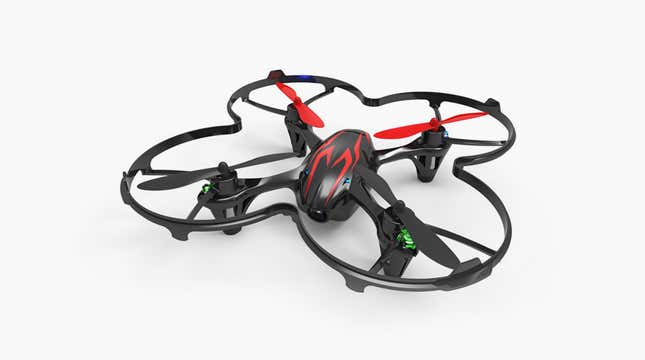 Hubsan X4 Camera. In the coming months, the FAA will likely institute some sort of policy where all drones weighing over 250 g (0.55 lbs) will have to be registered to a national database. While the details haven't been fleshed out yet, it seems that microdrones won't need to be registered. If you're not up for the bureaucracy of a bigger drone, consider the X4. This tiny drone, which only weighs about 2 oz, has a built-in HD camera that can record to an onboard microSD card (which you'll need to buy) and can fly surprisingly fast for such a small drone. And it only costs about $40. But beware: The Hubsan isn't the easiest thing to fly, so make sure your gift recipient has a lot of outdoor space to fly the X4 while learning its controls.
For the professional cinematographer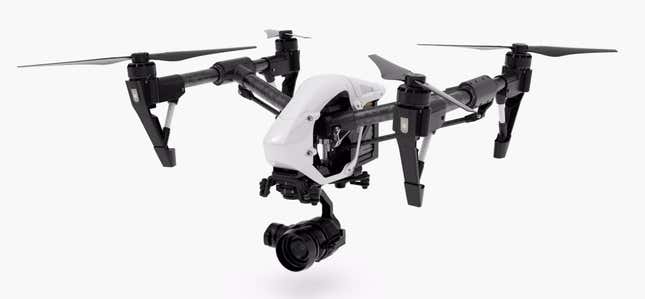 DJI Inspire 1 + Zenmuse X5. Drones are quickly making the jump from hobbyist devices for taking nifty videos of interesting things, to professional tools for making movies, real estate demos, and even wedding videos. DJI's carbon fiber-reinforced Inspire drone shoots 4K video with a gimbal system that results in some of the smoothest, most serene footage around. In September, DJI launched the Zenmuse X5—a micro four-thirds camera system with interchangeable lenses. Photographers can even use some Olympus, Panasonic, and Leica lenses on the X5 mount, and DJI's app lets you control the camera's aperture and focus while the drone is hovering in mid-air. The Inspire also has a bevy of auto-flying features, including automatic take-off and landing, and the ability to return home on command. The Inspire 1 starts at $3,099, and the X5 camera system will run you an additional $2,199. Save this for only the most serious of drone filmographers.
For the racer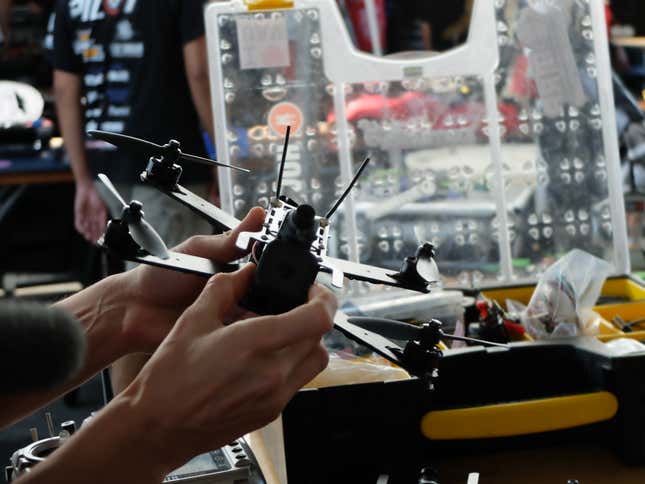 FPV drone kits. FPV (or first-person view) drone racing is starting to take off. It's like a cross between Formula 1 racing and piloting a pod racer from Star Wars. The US even held its first championship earlier this year. Right now, the hobby remains the domain of those who know their way around a soldering iron. But if one of your gift recipients is a bit of a tinkerer, they might love building their own drone racer. While some companies, like Hubsan and Parrot have FPV-like drones, the ones that are being used in races are all homemade. Amazon has some parts, but the best bets are sites like HobbyKing and GetFPV—both sites offer gift certificates and every part you could ever need to get an FPV racer off the ground. Some setups can run you close to $1,000, though DroneBench has a guide for building a racer for just $240. But don't forget: You'll need a pair of goggles to see what your drone is seeing. These can be costly—ranging from $100 to about $500—but without them, you'll be flying blind.
Feature image by CucombreLibre on Flickr, under license CC BY 2.0.