This article was updated with more specific information about Obama's speech.
The Islamic State, or ISIL, released a new propaganda video Wednesday (Nov. 25), containing a lot of the usual stuff. Surprisingly good production quality, self-aggrandizement, America-bashing, etc.
But there was a moment in the video that has simultaneously perplexed and angered the Chinese-speaking world: Among the flags of the countries that form the "Global Coalition Against the Islamic State" is that of Taiwan, which basically never gets high-level diplomatic recognition.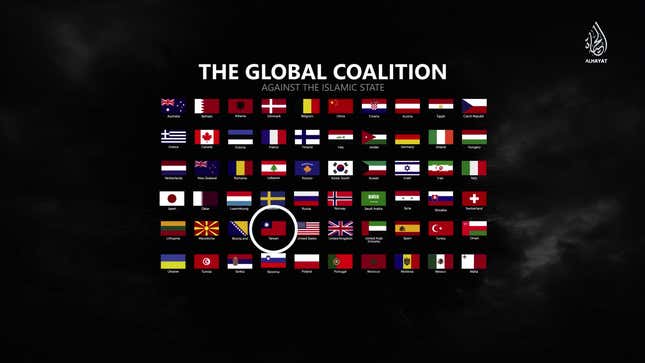 ISIL appears to have joined the very small club of political entities that acknowledge Taiwan. Only 22 countries recognize the island as a separate nation from mainland China, and they are mostly very small, relatively poor, and beneficiaries of considerable foreign aid from Taiwan's capital of Taipei.
What led Taiwan to get ISIL's attention? Probably Barack Obama who, speaking at an ASEAN summit in Malaysia earlier this week, mentioned several "partners" in Asia Pacific "that are members of [America's] coalition against ISIL", and included Taiwan in a list of nations like Australia, Malaysia, and New Zealand. Taiwan is in fact providing humanitarian aid and emergency relief to the anti-ISIL campaign led by the US, defense spokesman General Luo Shou-he told local reporters.
Inclusion on ISIL's list has been a bit surreal for the people of Taiwan, who are wont to feel a sense of national pride whenever their flag is given equal treatment to other countries'. Here they are placed alongside no less a country than the United States.
Clearly, this "victory" is a hollow one for Taiwan.
ISIL's inclusion of Taiwan is also sure to make China even angrier, after the first Chinese citizen was killed by the terrorist group this month. China views Taiwan as a renegade province that will eventually be reunified with the mainland, and any mention of it as a separate entity is considered an affront to Chinese national sovereignty—and sometimes forcibly stamped out by Beijing.
Taiwanese president Ma Ying-jeou has told his compatriots to remain calm in the wake of the video.
"We are nicer to Muslims than any other country," said Ko Wen-je, the independently minded mayor of Taipei, when asked about the video. "Why on earth would we be included on this list?"