WeChat, the mobile messaging service from China-based Tencent, is quickly stealing market share from its chief competitor, Sina's Weibo microblog. But Sina is not the only company that should be worried. Facebook ought to take note, as well, because WeChat is headed its way.
Caijing, a magazine based in Beijing, reports that WeChat will soon be expanding in the US with offices for R&D and customer relations. Tencent told Tech in Asia, "We recently put together a small project team for WeChat to study the US market and explore future potential opportunities." The company already has an office for mobile game development in Palo Alto, California, a short drive away from Facebook's headquarters: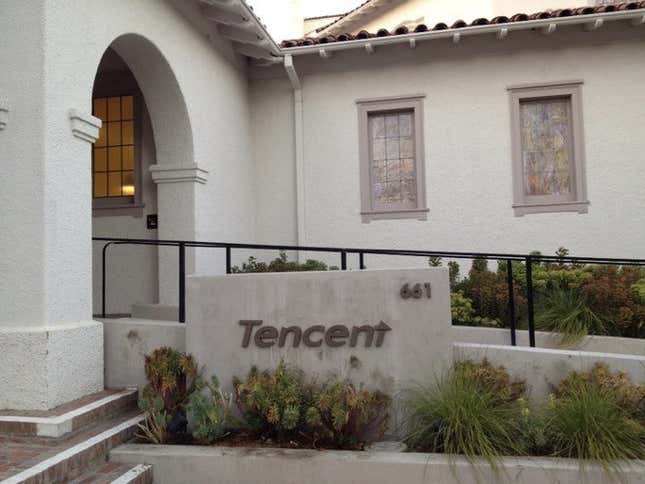 Before we get into what WeChat's US expansion could mean, here's what you need to know about the service: It supports one-on-one or group chat, along with photo and video sharing, and lets users send traditional text messages and voice calls, as well. In other words, as PandoDaily put it, WeChat is "like a hybrid of WhatsApp, Path, Instagram, HeyTell, and GroupMe." (Those are all very popular services. Instagram is owned by Facebook, and GroupMe is owned by Skype.)
WeChat has become a big threat to China's dominant social networks like Weibo because its a more natural fit on phones. The rapid shift to mobile by internet users across the world has already threatened Facebook, which grew up on personal computers. In theory, WeChat's compelling mobile chat platform could replace Facebook's mobile app as a way of managing communications with a circle of friends. Bad news for a company increasingly dependent on its mobile ad revenue. Facebook is now offering free messaging in 18 countries, perhaps hoping to head off a threat from services like WeChat.
WeChat's appeal outside of China isn't just theoretical. Though hard numbers are hard to come by, Value2020, a mobile internet strategy firm, offers this look at where WeChat's 300 million users live: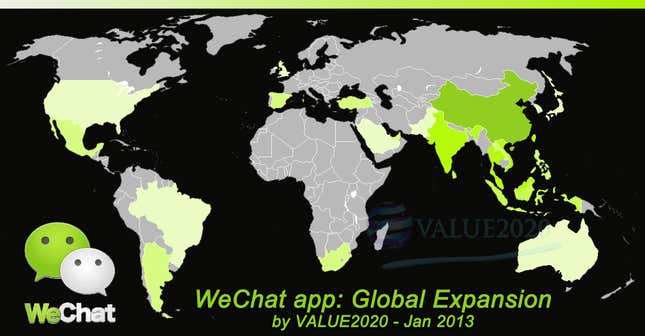 WeChat's path to global conquest has one major hurdle, however. Tencent can open all the US offices it wants, but it still censors Chinese-language content. As PandoDaily argues, that alone could "sink Tencent's US aspirations for WeChat."
So far, Chinese government censorship regimes affect only Chinese-language posts. If other languages were unaffected, would users care—or even notice? It's probably way too early to call that one. The green patches on that map above, though, suggest that many people are putting fun, convient chatting above taking a stand on free speech.