This article was updated at 1:45pm in Hong Kong on Dec. 10
US Republican presidential candidate Donald Trump's latest pledge that he would "ban all Muslims" from entering the United States is being roundly criticized in the US, even by prominent members of his own party. Former vice president Dick Cheney called Trump's statement "against everything we believe in," and presidential candidate Jeb Bush called Trump "unhinged."
The presidential race aside, these statements could potentially fiscally impact the Trump Organization that Donald heads, and which is helping to bankroll his presidential run.
That's because Trump's real estate and licensing income relies in part on wealthy Muslims, and Muslim-backed businesses, both located in the US and overseas—and particularly on a willingness to pay handsomely for things with the "Trump" name on them. Here's a look at some of the more prominent deals and partnerships with Muslim individuals, governments, and companies that have buoyed the Trump brand over the years.
Well-paying tenants
Qatar Airways: The state-owned flag carrier of Qatar, a constitutional monarchy ruled by Emir Sheikh Tamim bin Hamad Al Thani, has had a "corporate campus" in the Trump Tower on 5th Avenue in Manhattan since at least 2008. While details of the Qatar Airways lease were not immediately available, offices for rent in the building start at about $19,000 a month and can go above $100,000 a month. Qatar considers Islam the official religion and Sharia law the principal source of its legislation.
When Qatar launched flights to New York in 2007, Trump and his wife Melanie were guests at a star-studded party at Lincoln center, where they goofed around with Qatar Airways CEO Akbar Al Baker on the red carpet: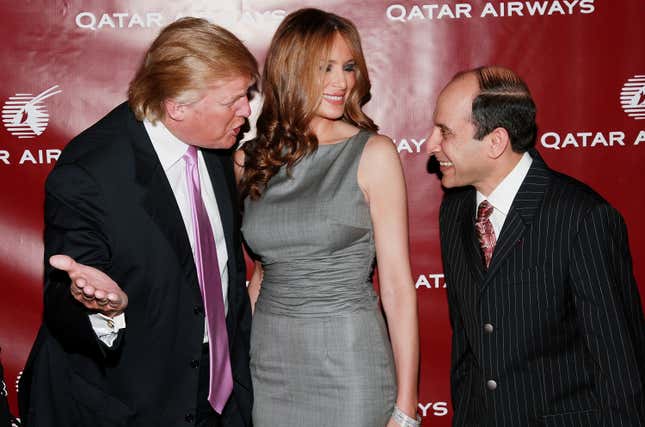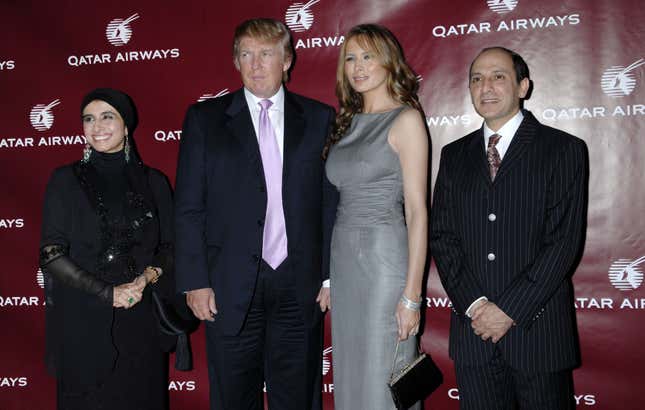 Saudi princes: Prince Mutaib bin Abdulaziz Al Saud, a former minister in the Saudi government, and member of the Saudi royal family, reportedly lives in a floor-through Trump Tower apartment. Other former Trump property tenants include Prince Nawaf bin Sultan bin Abdulaziz Al-Saud, a Saudi royal family member who owned a 10,500 sq. foot (975 sq. meter) condo at the Heritage at Trump Place that went on sale this year for $48.5 million.
Prince Alwaleed's buyouts
When Trump's businesses empire crumbled in the 1990s, the high profile Saudi prince, known for investments from Citigroup to Hyundai, agreed to take majority control of New York's Plaza hotel, giving Trump "more breathing room with bank creditors," as The New York Times wrote in 1995. Four years earlier, Alwaleed purchased Trump's nearly 300 foot yacht for $18 million as his Atlantic City casinos struggled.
Growing Middle East business
Earlier this year Bloomberg assessed Trump's wealth at $2.9 billion, based mostly on the value of his real estate properties. But the Trump Organization's profits are more dependent on "the parts of his company that slap his name on other people's things," as an in-depth article explained in September.
Many of the newest things that are getting the "Trump" name are in the Middle East, where the company has been adding real estate projects and partnerships.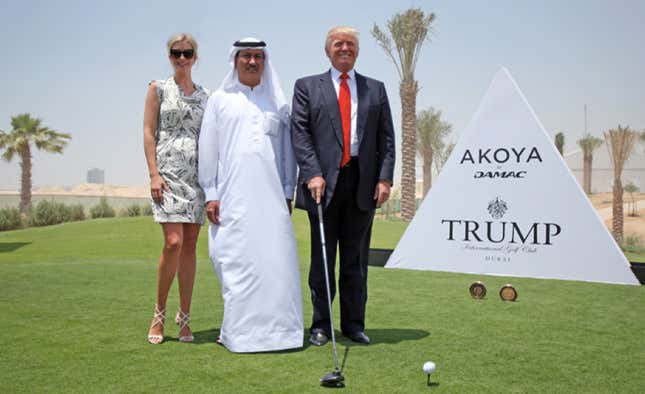 Trump International Golf Club: A club that Trump promises will exceed "all expectations" is at the center of a new real estate development called "Akoya" by DAMAC, a Dubai real estate development club. "It is great to be working with Damac Properties. Our ethos regarding quality is in sync," Trump said when the deal was announced in May of 2014.
Around the golf course, there will be nine apartments blocks and hundreds of villas. The first of these, the "Trump Estates" properties were rolled out in 2014. Trump promised that they would "set the new standard of luxury in the Middle East and beyond."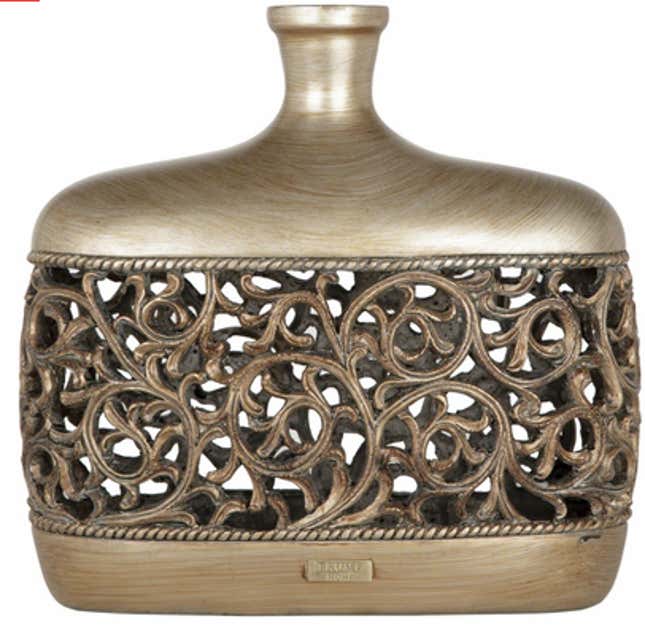 DAMAC senior vice president Niall McLoughlin told Quartz the company considered its partnership separate from Trump's political run. "We would like to stress that our agreement is with the Trump Organisation as one of the premium golf course operators in the world and as such we would not comment further on Mr. Trump's personal or political agenda, nor comment on the internal American political debate scene."
Trump Home: Dubai's Landmark Group, which owns the Lifestyle retail chain, partnered this year with Trump Home, to sell Trump Home branded products to "the region's style conscious consumer" who want "premium" brands.  There are dozens of Lifestyle stores in Kuwait, the UAE, Saudi Arabia, and Qatar. Update: On Dec. 9, the CEO of the Lifestyle chain, Sachin Mundhwa, said the company would pull all Trump Home products from their stores in the Middle East.

The Trump Organization did not respond to requests for comment.