The disappearance of a Hong Kong bookseller who is believed to have been abducted by Chinese officials is drawing criticism of China's central government from near and far.
Hong Kong's top leader Leung Chun-ying said Monday (Jan. 4) that it would be "unacceptable" and a violation of the Basic Law that governs the semi-autonomous city if mainland Chinese authorities were enforcing laws in Hong Kong. Authorities from Britain and Sweden are investigating the disappearance of the bookseller's colleagues, and a video by a pro-democracy activist in Hong Kong begging for international help has been viewed nearly 900,000 times on Facebook.

Now a mysterious handwritten letter, reportedly faxed by the missing Causeway Bay Bookstore employee Lee Bo to a colleague, has been made public hours after Leung's unexpected statement. In the letter, published by Taiwan's Beijing-friendly Central News Agency (link in Chinese) on Monday evening, Lee said he went to mainland China "my own way" and was "cooperating with concerned parties" in an investigation.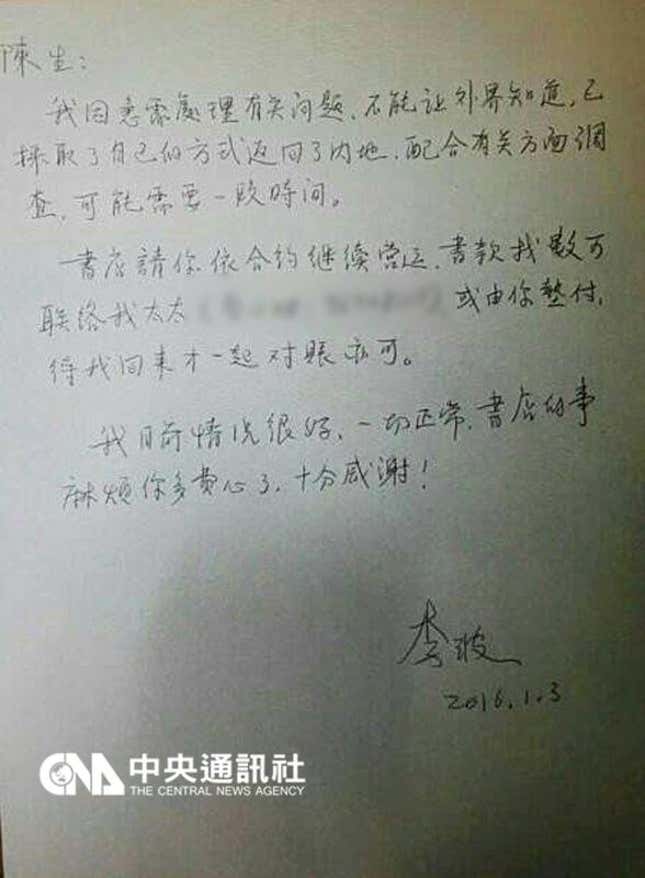 Mr. Chan,
I have something urgent to take care of, and cannot disclose the details to the public, so I returned to the mainland my own way to cooperate with concerned parties in an investigation, and it might take a while.
Please continue the operation of the bookstore based on the contract. You could contact my wife for book payments [contact info blocked] or you could pay them first. Or you could wait for me to come back to clear the amount.
I am in good condition and everything is normal. I am sorry to trouble you with the bookstore operation. Thanks much!
Lee Bo
2016.1.3
Lee was last seen on Wednesday (Dec. 30) collecting books at a Hong Kong warehouse. What his "own way" of vanishing from Hong Kong is unclear, and suspicions remain that he was forced by Chinese authorities to send the fax in an attempt to cool down the situation. Earlier reports by local media show there is no official record of him leaving the city, and his mainland travel permit is still at home.
On Monday afternoon, Lee's wife Sophie Choi went to Hong Kong police to withdraw her case, claiming a friend of Lee had been in touch with him on Monday, the SCMP reported. "I have no other choice but to trust the police, the government, and 'one country, two systems,'" Choi said earlier on Monday in an interview with a local radio station.
The mysterious fax has inspired plenty of skepticism. "I think it's a charade performed under duress," Claudia Mo, a lawmaker with the pro-democracy Civic Party, told the Washington Post. "He has obviously been smuggled out, but his wife has got the message that keeping a low profile would help his release, because the Chinese would save face."
Lee is the fifth person to disappear who is linked to the Causeway Bay Bookstore, which features titles critical of the Communist Party that are banned in mainland China. Three other bookstore employees and the Swedish-Chinese owner of the bookstore's publishing house disappeared one after another since October. Their disappearances may be because of an upcoming book about the love life of Chinese President Xi Jinping, a Hong Kong lawmaker said earlier.
Echo Huang contributed reporting